Introducing Fleet Management With LoRa Technology for Smart Logistics
23 February 2018 / by Semtech Corporate Marketing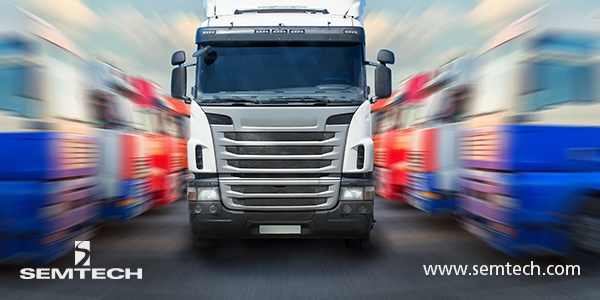 The global Internet of Things (IoT) fleet management market will grow from $3.17 billion in 2016 to an estimated $13.17 billion by 2023, according to Stratistics MRC's forecast on the market.
IoT for Smart Supply Chain
Based on the proliferation of IoT devices and technology in the supply chain and logistics field, the market is expected to grow at a compound annual growth rate of 22.5% from 2017-2023. Risk factors, including fleet safety and loss prevention, fuel waste, unnecessary vehicle maintenance, and high data rates for cellular and Wi-Fi networks, are steering players in the transportation and storage industries toward more efficient IoT options. As these companies work to maximize operational efficiency and eliminate risk factors, technologies such as Semtech's LoRa® devices and wireless RF technology (LoRa Technology), paired with the standardized LoRaWAN® open specification, provide solutions for this growing demand.
LoRa Technology has quickly become a leading IoT solution suitable for a variety of applications that operate on a global standard providing interoperability of devices around the world. Not only can LoRa-enabled base stations handle millions of communications per day while maintaining an extended battery life of up to 10 years on a single charge, the AES128 encryption helps to protect the data from cyber-attacks. Also noteworthy, LoRa-based sensors have low deployment costs and LoRaWAN networks have low monthly data costs.
LoRa Technology Use Case for Smart Logistics
LoRa Alliance® ecosystem member and GPS receiver/module manufacturer, GlobalSat Worldcom, leveraged its ability to provide customized electronic design, systems integration and software development to enter the fleet management market using LoRa Technology. LoRa-based sensors and gateways provide deep signal penetration inside buildings such as warehouses and can cover an area of up to 30 miles with a single gateway. This smart fleet tracking solution is also equipped to handle millions of messages each day, making it possible to sustain a substantial customer base. With Semtech's LoRa Technology, the possibilities are profound. GlobalSat Worldcom has also teamed up with other LoRa Alliance members in order to continue the development of solutions that improve the efficiency of supply chain and logistics.
How LoRa Technology Enables Smart Fleet Management
LoRa-based sensors relay information on a given application to LoRaWAN gateways

LoRaWAN gateways pass on information through a local network to a Cloud network

Information from the Cloud is optimized and can be accessed via the web, mobile devices, desktops, and tablets· Data can then be analyzed to make informed decisions that maximize efficiency and performance
Find the LoRa-based fleet management application brief and other use cases here.
About GlobalSat Worldcom
GlobalSat WorldCom Corp. was established in 2000 and soon became a major manufacturer of GPS receivers and module makers in the world. GlobalSat has accumulated profound experiences in all types of GPS application fields and refined its core product lines into GPS tracking devices, GPS/Bluetooth wearable sport devices, IoT products, and GPS modules and receivers.
Visit GlobalSat Worldcom to learn more about its use of LoRa Technology.
Semtech, the Semtech logo and LoRa are registered trademarks or service marks of Semtech Corporation.