Smarter Facilities Management With LoRaWAN®
10 December 2019 / by Byron BeMiller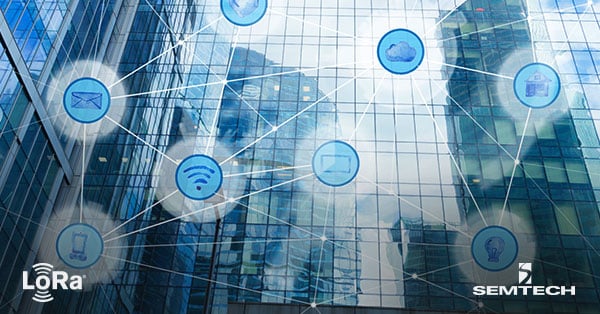 As the vertical market director for Smart Homes and Buildings in Semtech's Wireless and Sensing Products Group, and lead for the Smart Buildings Working Group of the LoRa Alliance®, I recently had the pleasure of attending the International Facilities Management Association (IFMA) World Workplace® Conference and Expo in Phoenix, Arizona. According to IFMA, the event is the largest and longest-running event series for facility management (FM) and workplace professionals, attracting an audience of nearly 5,000 professionals from 17 countries.
Innovative Demonstrations from the LoRaWAN® Ecosystem
As smart buildings are a key vertical market and LoRa®-based solutions offer proven business value, the LoRa Alliance exhibited at the event, and featured smart building solutions for facilities managers from several leading members of the LoRaWAN® ecosystem. Microshare demonstrated how to use occupancy data to migrate from existing time-based cleaning models to a predictive cleaning model based on usage data. Microshare reports that its customers have seen an up to 20 percent reduction in cleaning cost after implementing the predictive solution. FM companies additionally benefit from a digital trail of cleaning records and no longer have to rely on manual, "clipboard-based" record keeping. In a separate presentation, Microshare described the value of its facilities performance data to sustainability and green building initiatives.
Microshare Global Director Chis Leonard at LoRa Alliance booth (photo courtesy of Microshare)
OpenSensors presented its solutions in multiple locations at the IFMA expo, participating in the LoRa Alliance booth as well as its own exhibit space. OpenSensors leverages Semtech's LoRa devices and the LoRaWAN protocol to gather data from wireless sensors to measure space utilization from its analytics platform.
Building managers and facilities teams have instant access to real time occupancy data which helps them really understand how office space is used. Managers get an accurate measurement of utilization in comparison to manual surveys, allowing them to:
Efficiently manage space better in the workplace
Improve occupancy and increase real estate value
Identify ways to drive down operational cost
Improve employee productivity
Learn about OpenSensors' LoRa-based solution in the white paper, "How to Achieve Efficient Workspace Utilization with LoRa® Devices and the LoRaWAN® Protocol."
Visitors to the LoRa Alliance booth
I was also pleased to host a panel discussion on smart building utilization to a standing-room-only crowd. The panel discussion featured Microshare and OpenSensors, and introduced the audience to the concept of using Internet of Things (IoT) to plan space usage at a high level. The use cases described above were presented as proof points. With a lively Q&A, it was clear the audience were highly engaged and curious to explore how their businesses could benefit from a digital transformation.
Standing room only crowd awaiting the start of the LoRa Alliance smart buildings panel discussion
Most occupancy solutions rely on simple motion sensors connected via a LoRaWAN network. An alternative approach is offered by Sembient, which uses image processing algorithms at the edge to provide the actual number of people in the space. This is especially useful for measuring conference room utilization, which helps assess whether a building contains the optimal variety of room sizes.
Solutions for the Intelligent Building of Tomorrow
Beyond the exhibitions from the ecosystem members mentioned above, it was apparent that the demand for IoT solutions for smart buildings is growing - a significant shift from just a couple years ago. I noted that many major platform vendors now offer a space utilization module as part of their integrated workplace management systems (IWMS).
Facilities managers implementing LoRa-based IoT solutions can maximize efficiency and cut cost with minimal infrastructure and maintenance investment. Capgemini, a world-leading software developer with around 400 buildings worldwide, has implemented Semtech's LoRa devices in its SmartOffice solution. Learn about this smart building transformation use case in our new white paper.
Explore more LoRa-based use cases for smart buildings on our website.
Semtech, the Semtech logo and LoRa are registered trademarks or service marks of Semtech Corporation or its affiliates.