Wash Water Bill Troubles Away with LoRa-enabled IoT
07 November 2018 / by Semtech Corporate Marketing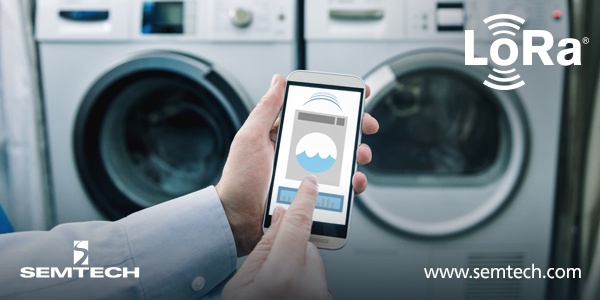 Water is one of the more expensive items on the utility bill – costing Americans on average $15-$77 per month. From the dishwasher and washing machine, to toilets and the shower, water use is unavoidable. At the same time, consumers all around the globe are aware of the need to conserve water in order to minimize environmental impact, prevent drought and create a more sustainable planet. A recent report from ABI Research indicates IoT smart city technologies could drive more than $20 trillion in economic benefits by 2026.

With Semtech's LoRa® devices and wireless radio frequency technology (LoRa Technology), it's easy and affordable to manage home water usage and guard against potential water or moisture damage in the process. The LoRa-enabled sensors measure water use and send this data off for analysis – if a problem is detected, applications can automatically shut off the water supply and alert the homeowners. Additionally, the LoRa-based system can send periodic updates to inform the users of their consumption trends. This allows the homeowners, landlords and business owners to see their problem consumption areas and formulate a plan for smarter, more efficient water use.
Eddy Solutions, a Trusted Name in Water Damage Prevention
Eddy Solutions, a leading producer of residential and commercial water technologies, chose LoRa Technology for its newest group of management and monitoring products for a number of reasons:
Easy maintenance and installation – LoRaWAN

®

-based networks, on which LoRa-enabled devices communicate, can be deployed into an already existing network infrastructure, greatly reducing up-front cost to get started. LoRa-enabled sensors offer a remarkable up to 10 years of charge per battery as well.
Long range – LoRa-enabled sensors on LoRaWAN-based networks can communicate in dense buildings more effectively than other wireless technologies which require line of sight or minimal barriers. This is useful in the often-challenging conditions in a home's piping and water systems.
By utilizing Eddy Solutions sensors with LoRa Technology, homeowners and property managers alike can remotely view and check on the status of their property's water usage.

Setting Up an Eddy Solutions Smart Solution
The first step to implementing a smart water management solution involves installing LoRa-enabled sensors on the property to monitor the water coming into the home. Wireless moisture sensors can be deployed at high-risk areas of the home to monitor seepage and humidity conditions, or mold. Sensors connect to the LoRaWAN-based network through a gateway, which works similar to a Wi-Fi router. Information from the sensors is pushed by the gateway to the Cloud where it can be analyzed by a third-party application and push alerts to homeowners' devices – smartphones, computers, etc.
Property owners can then use this information to analyze their consumption trends and formulate a plan to better conserve. Smart solutions can be put in place through the sensors to notify if a sprinkler system has been on longer than normal or if a sink has been left running. Additionally, Cloud-based applications can be used to evaluate patterns that may indicate leaks, pipe damage, or other water-related abnormalities in the home. Insurance companies have begun to offer lower premiums to homeowners who have installed a LoRa-based water solution. Check with your insurance provider to see if you could be saving with a LoRa-based solution!
Want to learn more about how LoRa Technology and LoRaWAN are creating a smarter planet? Explore LoRa-based smart home and building use cases.
Learn more about Eddy Solutions.
Semtech, the Semtech logo, LoRa and LoRaWAN are registered trademarks or service marks of Semtech Corporation or its affiliates.