Transforming the Smart Building with LoRaWAN®
23 September 2019 / by Byron BeMiller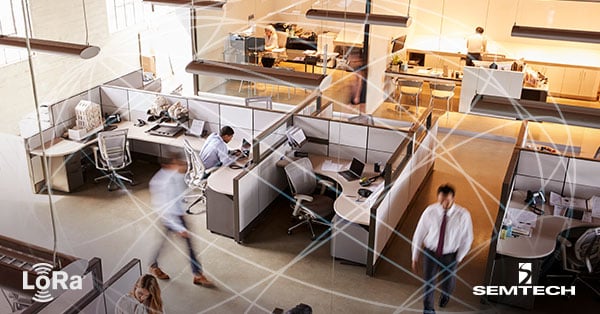 The emergence of smart buildings is not a new development. Building automation has been around (typically behind the scenes) since the mid-80s, having evolved from BACnet to a host of IEEE protocols, and recently from strictly wired, to both wired and wireless sensors. Building Management Systems (BMS) have played an important role in this evolution. However, historically these have had a limited role outside the realm of managing HVAC systems and the other physical operations within a building.
Companies face a very competitive environment today and must find ways to operate more efficiently and sustainably, increase worker productivity and implement features that will attract a workforce that increasingly expects technology to make their lives simpler.
So what has changed that allows us to make buildings and workspaces more intelligent than before? Simply said: the emergence of long range, low power, and inexpensive sensor devices, the rapid advancement of Big Data, and the development of more open platforms to address the "soft" aspects of workspace management on a day-to-day basis. Together, these offer the facility manager insights into the ways workspaces are used that were unheard of a few years ago.
Capgemini: a Leader for Internet of Things (IoT) Solutions in the Smart Building
One company that has aggressively used these tools is Capgemini. Capgemini has over 200,000 employees across 400 offices worldwide. The company also encourages a very flexible work environment and is constantly trying to attract new talented workers to the workforce. Recently, Capgemini turned to IoT to align its buildings' operations with its corporate objectives.
Through manual surveys, Capgemini found that it had an average occupancy of 65 percent in its offices – i.e. 65 desks/seats occupied per 100 available. The goal was to increase this to at least 75 percent, but achieving this target would require access to extremely accurate data. Accuracy was vital because local managers tend to decide on occupancy at peak moments and need access to convincing data to change operations.
Additionally, the company wanted to solve its problem of 30 percent 'no shows' in meeting rooms. This occurs when employees schedule a meeting and book a room, but fail to use the space though the reservation remains. Addressing this issue would not only maximize the use of floor space, but also lead to increases in employee productivity by not wasting meeting spaces.
With an initial investment of 2 percent of its total office/facilities budget, the company expects annual savings of more than 10 percent of its real estate costs by increasing occupancy to more than 75 percent in many of its offices.
Developing with LoRaWAN®
To achieve this very rapid payback on investment, Capgemini developed its "SmartOffice" IoT sensor solution based on Semtech's LoRa® devices and the LoRaWAN protocol consisting of:
Presence sensors – used in meeting rooms to see real-time usage, which is shown on a floor plan in a mobile app
Desk sensors – used for desks and meeting room tables to measure actual usage; this information is used for right-sizing, but also to show in real time where seats are available
Comfort sensors – used to measure CO2, noise, temperature, humidity, and light to provide this information to the office (and also to signal extremes)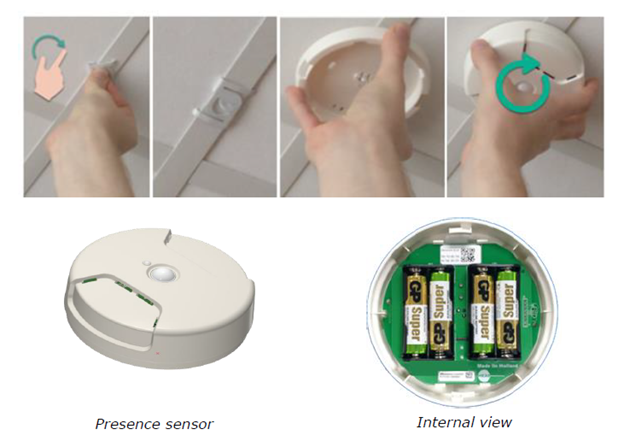 © Capgemini
For Capgemini, it was important that its smart building transformation be based on a solution that is truly scalable across offices, meaning wired sensors were dismissed because installing and maintaining them would be hugely labor-intensive. Without the flexibility offered by the LoRaWAN protocol, Capgemini would have struggled to roll out its global transformation so rapidly and effectively.
Capgemini found that Semtech's radio frequency technology was the obvious choice in the development of its line of IoT solutions because the technology enabled the battery life of sensors to be extended significantly (up to 10 years), while delivering on key requirements of range, sensitivity, reliability, and ease of installation.
Combined with the Capgemini SmartOffice app, employees now have access to real-time meeting and desk availability data and tight integration with the Outlook calendar application. This is just the first step on the journey to a fully connected employee experience.

Today, Capgemini offers its clients an off-the-shelf version of its SmartOffice solution consisting of asset management applications combined with LoRa-based sensors and LoRaWAN connectivity. The products meet the differing requirements of many types of business, from small start-ups to large corporations.
If you would like more detail about the Capgemini solution and its benefits, download our new white paper on the subject.
For more information on LoRa-based solutions in smart home and buildings, and a wide array of other vertical markets, visit the LoRa Applications page of the Semtech website.
Semtech, the Semtech logo, LoRa, and LoRaWAN are registered trademarks or service marks of Semtech Corporation or its affiliates.