Transforming Switzerland's Postal Service With LoRaWAN®
27 April 2021 / by Roelof Koopmans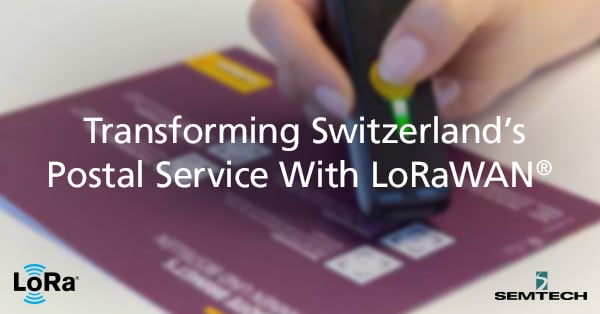 Postal delivery companies face a highly competitive landscape as customer expectations have evolved. The demand for fast delivery times, low prices and exceptional service has driven rapid innovation: new solutions are needed in order to meet the needs of smart cities worldwide. Postal companies must also reach customers in rural areas, which are often much more difficult to serve due to inaccessibility and lack of infrastructure able to handle communication demands. Rural postal customers also tend to be older, which can present technological literacy issues.
The Swiss Post, Switzerland's national postal service, plays a central role in the lives of its citizens, many of whom live in remote mountain villages. Switzerland's Postal Services Act requires that the Swiss Post ensure postal service access to all users: post offices must be within a 20-minute walk or public transit trip for 90% of each federal state's population. This poses a significant challenge in rural areas. Limited Wi-Fi connectivity in these locations represents another obstacle to providing postal services, given customers cannot easily place orders online.
In response to connectivity roadblocks and increasing customer demands, the Swiss Post improved its range of services by collaborating with leading technology providers to create a battery-operated optical identification (OID) device, the SmartButton, that optimizes the postal service ordering process for consumers and businesses and has the potential to enhance smart supply chain management in communities worldwide.
LoRaWAN® and the SmartButton
In order to create the device, the Swiss Post collaborated with leading technology design services company, Miromico. The devices needed to leverage the Internet of Things (IoT) in order to facilitate customer postal supply and service orders, and would also need to rely on Low Power Wide Area Network (LPWAN) technology in order to serve rural customers, given that the system would cover physical distances too substantial for cellular or local area network (LAN) technologies to accommodate.
Of LPWAN technologies, the LoRaWAN protocol offers the broadest range of connected applications and the ability to connect hundreds of thousands of LoRa® integrated, battery-operated sensors over long distances. Integration with LoRaWAN also provides the SmartButton ecosystem with openness, robust security, bi-directional communication, mobile optimization, and scalability.
Swiss Post has started rolling out SmartButtons to homes in villages too small to require a physical postal office branch. The devices, which run on batteries that last up to 10 years, allow users to order postal services as needed with the click of a button, do not require configuration or set up and do not need to be connected to Wi-Fi. The SmartButton has been expanded beyond rural areas and can now be used by any Swiss citizen wishing to simplify the postal ordering process.
B2C Applications
Beyond postal service use, the SmartButton facilitates a broad range of potential B2C applications. Businesses can use the device to simplify and digitize the ordering process; orders placed via the SmartButton appear in the web application instantly, replacing the need to compile and log information on each item ordered. The SmartButton's plug and play installation, stand-alone communication network, feedback functionality, and low maintenance needs also make the device extremely compelling for business use.
To learn more about the digital transformation of the Swiss Post, download our whitepaper:
Semtech, LoRa and the LoRa logo are registered trademarks or service marks of Semtech Corporation or its affiliates.