Transforming Smart Retail with LoRaWAN®
20 May 2021 / by Marc Pégulu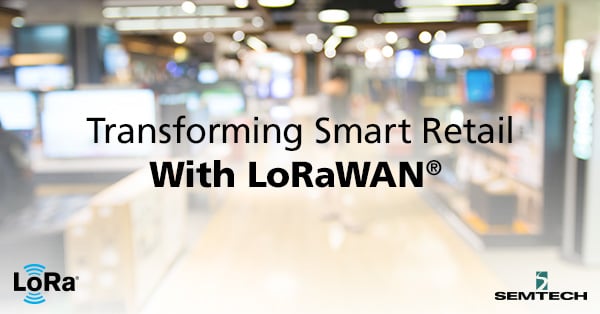 Smart retail, which refers to the hybridization between traditional shopping methods and modern "smart" technologies, is transforming the retail landscape. Through the Internet of Things (IoT), data is accumulated via communication between implanted devices and computers. As a result, consumers may enjoy a more personalized, faster and more intuitive retail experience. This can manifest as individualized coupons and smartly curated inventories.
As IoT continues to shape the world, its effect on the retail industry has been dramatic. IoT is revolutionizing the retail industry; IoT retail use cases are numerous and exemplify the many ways that retail is evolving. Smart retail solutions are altering the sales industry landscape via centralization (the ability to optimize and adjust through automation), transparency (readily available data) and optimization, all attributes, which allow smart retail to be versatile and dynamic, benefiting retailers and shoppers.
Access to data enabled by IoT retail applications creates efficiency: retail operators are able to detect and resolve potential issues before they become broadly problematic. Automation of various processes can increase security and ensure output sustainability. Smart retail also provides consumers with a faster and more targeted shopping experience.
InVue and LoRa®
Semtech, in collaboration with InVue – the leading global provider of intelligent hardware and software systems for retail, consumer electronics and data centers – has integrated the LoRaWAN® protocol into InVue LIVE®, InVue's latest solution for retail display, security and operations.
InVue LIVE®, a connected platform of products that retailers use to track, monitor and manage store operations in real time, offers a compelling example of IoT applications in the retail industry. The system leverages Semtech's LoRa® devices and the LoRaWAN protocol to supply low power, wide area networking to the entire retail environment and delivers actionable data and insights, leading to heightened efficiency and security, as well as a more seamless experience for shoppers in stores.
Retailers looking to integrate smart technologies in their operations need ease of deployment, adherence to robust global security standards, and highly scalable connectivity across several products on a single network. With LoRaWAN, InVue can provide this value in a simple, secure and scalable way. InVue's integration of the LoRaWAN protocol into its InVue LIVE products represents one of the first implementations of LoRaWAN into the broader retail industry.
Facilitating the User Experience
The collaboration improves many key areas for retail, including product availability, convenience and customer insight generation, which ultimately elevates the shopping experience. InVue's suite of products gives retailers the ability to monitor and manage multiple operations through a single platform, as well as deliver actionable data and real-time insights that are extremely valuable to retailers.
InVue LIVE devices use the LoRaWAN network to connect to the internet wirelessly, and facilitate real-time merchandizing, which brings significant cost savings. The product suite delivers features to track customer interaction with display merchandise, reduce theft, measure on-shelf availability, and automate processes for TV displays – including planogram reporting. Bidirectional communication, end-to-end security, as well as mobility and localization services, offer retailers a revolutionary approach to modernizing their operations and service to customers.
Download the infographic here to learn more about LoRa in smart retail, and how InVue's product offerings deliver value to the retail space.
Semtech, LoRa and the LoRa logo are registered trademarks or service marks of Semtech Corporation or its affiliates.