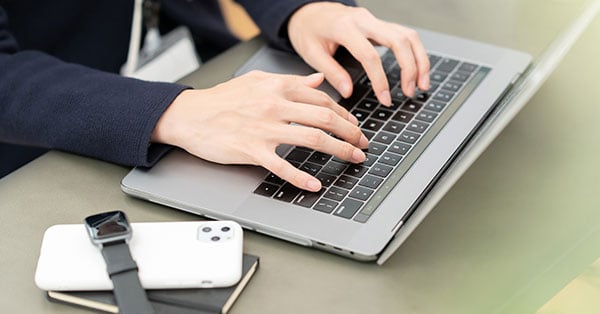 Solving SAR Compliance Concerns on Mobile PCs
15 November 2022 / by David Wong
Laptop and tablet users want the same lightning-fast connections and long battery life as smartphone users. Whether they are on a video conference for work or playing a AAA game for fun, they expect nonstop performance — and their already-high expectations are only increasing with the emergence of new technologies and wireless protocols like 5G and Wi-Fi 6/6E.
According to Strategy Analytics, the COVID-19 pandemic drove a 25% increase in the number of cellular-enabled mobile PCs sold in 2020, and 5G-enabled mobile PCs are expected to comprise 69% of the entire cellular-enabled mobile PC market by 2025. To support many different wireless protocols, OEMs need to incorporate additional high-performance radio frequency (RF) antennas into consumer devices.
Adding RF antennas to support high-band applications can create design challenges for OEMs, who also need to maintain compliance with worldwide Specific Absorption Rate (SAR) standards for RF emissions. Semtech's PerSe® intelligent proximity sensors are designed to address this need to deliver both peak performance and SAR compliance.
Balancing Performance with Compliance
SAR is a measure of the rate at which energy is absorbed per unit mass by a human body when exposed to a radio frequency (RF) electromagnetic field. SAR is measured for connected devices such as a laptop, tablet or smartphone.
To meet SAR standards, which vary by country, OEMs need to build wireless devices with compliant RF levels. In the U.S., the Federal Communications Commission (FCC) mandates a SAR limit of 1.6 W/kg (over 1g of tissue), with a separation distance of 25mm from the body. In Europe, the SAR limit is 2.0 W/kg (over 10g of tissue), with a separation distance of 5mm.
Especially as demand for 5G-enabled devices grows and mmWave 5G comes to more laptops, OEMs need to find smart ways to maintain SAR compliance while incorporating more high-RF antennas into their builds to support both 5G networks and legacy network requirements.
Intelligent Sensors Adjust to Human Presence
PerSe stands for "Person Sensing," which is the key function that enables Semtech's smart technology to help OEMs balance compliance and performance. The sensors intelligently detect human presence near wireless devices, enabling RF control when the user is in close proximity.
If a person is typing on a laptop or tablet in their lap, the smart sensor automatically detects the user's presence, and the RF exposure is lowered to comply with SAR regulations while still delivering optimal performance. When the user is farther away — for instance, a laptop on a desk — the device can once again transmit at optimal RF power.
Depending on their needs, OEMs can choose between PerSe Connect and PerSe Connect Pro sensors. Both portfolios deliver best-in-class sensing performance with exceptionally high signal-to-noise ratio, so OEMs can design devices with longer detection distance within a smaller sensor area.
PerSe Connect sensors are designed for wireless technologies including 5G sub-6, and Wi-Fi in laptops, tablets and smartphones. PerSe Connect Pro sensors are power-density sensors for OEMs who need the highest sensing capability to manage RF exposure and performance in high-frequency 5G mmWave laptops and other devices.
Smart Technology That Makes Sense
OEMs face a balancing act to ensure SAR compliance while giving laptop and tablet consumers what they want — more performance, faster connectivity and longer battery life. PerSe Connect and PerSe Connect Pro smart sensors make that possible. The best-in-class sensors can detect human presence and automatically adjust RF emissions while keeping mobile PCs running at the peak performance consumers expect.
Learn more about how PerSe technology works.
Semtech and PerSe are registered trademarks or service marks of Semtech Corporation or its affiliates.