LoRa Technology Is Powering the IoT Revolution in India
22 October 2018 / by Vivek Mohan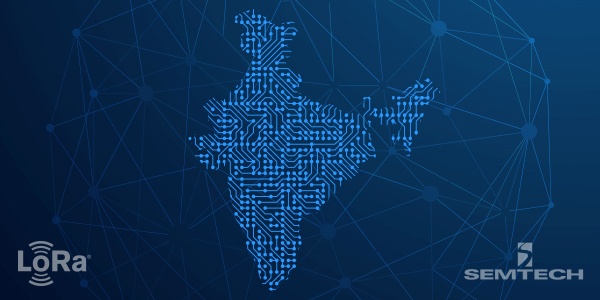 In the past several years, there has been a significant expansion of the Internet of Things (IoT) in India. Leading IoT network providers Tata Communications and SenRa have rolled out public LPWANs (Low Power Wide Area Networks) making India more interconnected. With the rise in IoT adoption and market evolution, device manufacturers are creating value-added devices such as sensors for chlorine detection in drinking water, smart manhole covers, transformer monitoring, cattle tracking, and smart cities applications.
LoRa-DNA of IoT in India
IoT is rightly referred to as the fourth industrial revolution, where technologies, data and sensors are driving the planet. IoT and Semtech's LoRa® devices wireless radio frequency technology (LoRa Technology) is reshaping the world. It is changing the ways industries like manufacturing, healthcare, agriculture, utilities, transportation and logistics work. Not only is it creating an automated and connected world, it is helping us improve quality of life.
IoT Analytics LPWAN report forecasts a compound annual growth rate (CAGR) for LPWAN connections of 109% over 2017-2023, with annual spending for connectivity surpassing US$ 4.7 Billion over the timeframe. LPWAN technologies like LoRa Technology offer a long range, low power wireless platform with battery lifetime up to 10 years. LoRa Technology is available now and easy to deploy, enticing buyers that may be put off by promises of future success from other tech providers. Public and private network providers across the world are rolling out LoRaWAN®-based networks at a high pace, enabling global IoT adoption and applications that are easily scalable and flexibly deployed.
IT industry body Nasscom estimates the global market for IoT in 2020 to be worth US$373 Billion in revenue, of which India accounts for US$10-12 Billion. With favorable developments in India and a boom in digital space, the GOI (Government of India) and Indian companies have welcomed IoT and are progressing towards building empowered, IoT-enabled smart societies. Government schemes like 100 Smart Cities Mission, Centre of Excellence for IoT by NASSCOM, Digital India, Drafting IoT policy and Make in India, along with huge investment by the GOI and big MNC's act as a catalyst in redefining the way data is transmitted.
LoRaWAN Adoption in India
Tata Communications and SenRa are committed towards extensive LoRaWAN-based network deployment across India and are playing a significant role in driving the growth of IoT in India.
Tata Communications, a leading digital infrastructure provider, is building the foundation for IoT in India with an IoT network spanning nearly 2,000 communities and touching over 400 million people. Tata Communications is providing the LoRaWAN network across 45 cities in India, with more cities planned for implementation over the next two years. The company, with the support of an ecosystem of developers and technology partners, aims to offer end-to-end IoT solutions to both enterprises and the government for a digitally enabled future. Tata Communications has successfully completed the deployment of 300 LoRaWAN-based street lights in JUSCO (Jamshedpur Utilities and Services Company), one of the first smart cities in India, and aims to install a total of 15,000 lights in the city in the coming five years. In addition, Tata Communications' LoRa-based safety watch used by Tata Steel factory workers is a location tracker and health monitoring wearable device, which gives real time data about workers' locations in deep indoor areas, body temperatures, heart rates, pulse rates and fall detection, minimizing the occupational hazards and better ensuring the safety of workers.
SenRa, another dedicated LoRaWAN-based network provider, is accelerating the LoRaWAN and IoT augmentation in India by focusing on verticals such as smart water, smart agriculture, smart buildings, smart waste management and smart cities. SenRa aims to expand its LoRaWAN network across 30 cities by this year's end, and is committed to enabling more than one smart city each month going forward. Working with the LoRa Alliance®, myDevices, and institutes like IIT Bombay, SenRa is paving the way for strong research communities and encouraging young developers to work on LoRa. SenRa has successfully conducted PoCs with companies like Amritsar Smart City Limited (under the Smart City project) for deploying smart parking sensors in Amritsar city, NAS (Nordic Automation Systems) for LoRaWAN-based metering applications, Imtac for smart cities solutions and IoT wearable, SmartEnds for industrial and smart bin sensors and Chariot for deploying LoRaWAN-based smart water meters in Delhi.
With "Make in India" and "Startup India" initiatives imputed by GOI, Tata Communications and SenRa are working towards making India a global manufacturing hub and world-class IoT solutions provider. Collaborating with different hardware and application vendors, tie-ups with colleges and universities, organizing hackathons and boot camps, both companies are enhancing IoT innovation and empowering its impact in India.
Powering the IoT Revolution
India is seen as one the fastest growing economies and it reaffirms a strong belief in the world to be center of the digital game. Early adoption of consumers towards IoT and high mobile internet penetration in India would lead to wider scale of IoT adoption than many developed countries. It is very important to select the IoT technology according to the use case, business requirements and outcomes to be achieved. Industrialists should choose the IoT technology according to their data need, power requirement, criticality of response, security and safety requirements. LoRa/LoRaWAN is a proven LPWAN success story and a prime enabler of IoT offering low power, secure data transfer over long distance, flexibility and scalability, and current availability.
Curious about other applications of LoRa Technology? Check out Semtech's applications page. Here is where you'll find different examples of how LoRa Technology makes business and life more efficient around the world – from smart city solutions, to smart agriculture and healthcare, LoRa Technology is a proven leader for the IoT.
To learn more about the partners who help create the solutions that make LoRa Technology great, have a look at our ecosystem page. Here's where you'll find partners like Tata Communications and SenRa, as well as members of the LoRa Alliance and the companies behind the sensors, gateways, networks, and software!
Semtech, the Semtech logo, LoRa and LoRaWAN are registered trademarks or service marks of Semtech Corporation or its affiliates.