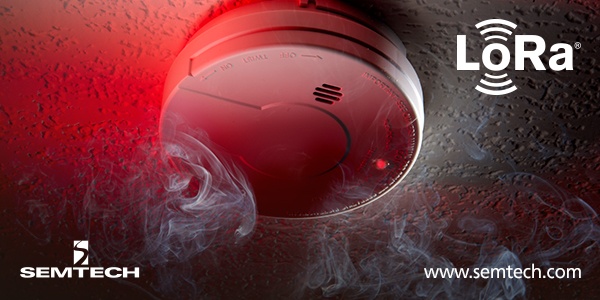 The United States Fire Administration estimates that nearly $14.3 billion in property damage was lost to fires in the U.S. (2015). The vast majority of these fires are small commercial fires, which do the most property damage, and are the largest risk for human injury. These fires can spread in a number of minutes; so early detection is key to preventing property damage and loss of life.
By implementing a fire detection system that utilizes Semtech's LoRa® devices and wireless radio frequency technology (LoRa Technology) and a LoRaWAN™ low-power wide-area network, homeowners, property managers, and first responders can be notified of a fire faster and respond quicker.
Connecting Smoke and Heat Detectors to the IoT
Semtech's LoRa Technology allows real-time analytics, sensing, connectivity, and geolocation to measure fire levels, predict their movement, and detect trends. Here's how it works:
First, a LoRa-enabled sensor collects data – namely levels of heat, smoke or gas in a given room of a home/building. Data from each sensor is periodically sent to a LoRa gateway. A gateway is what connects the device to the network, similar to a router. Additionally, each gateway can handle the messages of several devices at once. Once a message is sent to the gateway, it is forwarded on to a network server where in can be analyzed. From here, an automatic response can be triggered depending on the conditions in the building. The response is sent to emergency personnel and the property manager via mobile device or computer allowing them time to respond effectively.
The Benefits of a LoRa-Enabled Fire Detection System
Other than just detecting the presence of smoke or flames in a room or building, sensors detect the thermal changes associated with a fire, helping to assure accuracy.
Sensors can send the property status to emergency personnel. This gets information to first responders much faster than it would take a bystander to notice and phone it in.
Setting up a LoRa-based sensor is easy, and its low power operation ensures batteries can last up to a remarkable 10 years at a time.
There could be a day in the near future where insurance companies offer discounted rates for having smart home and building solutions, given the enhanced monitoring enabled by LoRa Technology. Insurance companies de-risk their businesses by installing these LoRa-based systems themselves at no additional cost to the homeowner. With a lower risk profile, the insurer can allocate part of the revenue received from the insured party to pay for the system and its installation. This is yet another way to create a safer, smarter planet with LoRa-based IoT solutions!
Interested in learning more about leveraging LoRa Technology for smart homes and buildings?

Explore more LoRa-based applications for smart homes and buildings.
Semtech, the Semtech logo and LoRa are registered trademarks or service marks, and LoRaWAN is a trademark or service mark, of Semtech Corporation or its affiliates.