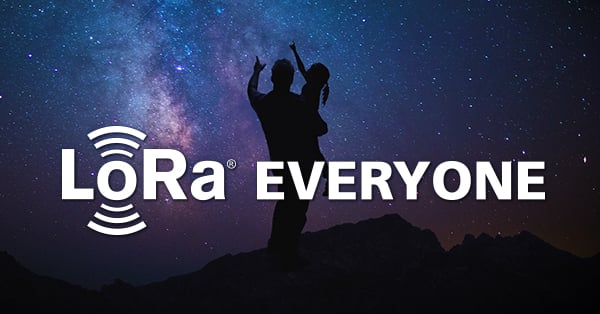 Internet of Things (IoT) applications for LoRaWAN® networks have been deployed on every populated continent and even currently orbit the Earth via satellite. More than 158 million end-devices featuring LoRa® have been deployed, with use cases ranging from tracking cattle on connected ranches to monitoring energy use in the home. In January 2020, Semtech shared examples of how LoRa devices and LoRaWAN networks provide a unique combination of flexibility and scalability, connecting applications to better care for, conserve and connect our world in our LoRa Everywhere campaign. Read the LoRa Everywhere blog to learn more about those choice applications creating a smarter planet today.
LoRa Everyone
As a follow up to the LoRa Everywhere campaign, we now introduce LoRa Everyone to dive deeper into how solutions based on LoRa meet the needs of today's health, community and home use cases. Flexible and simple deployment advantages make LoRa the ideal platform to connect a wide range of applications from the home and small neighborhoods to dense cities, as well as enable health regulation compliance in the workplace and address the needs of medical professionals.
Watch the LoRa Everyone video, read more below and download the new infographic to learn more about the applications enhancing quality of life for millions who currently experience LoRa daily.

HEALTH
Enterprises and government organizations are increasingly leveraging smarter IoT solutions to respond to today's public health challenges. Amid the ongoing COVID-19 pandemic, these entities must balance health, safety and financial concerns while returning workforces to the workplace. IoT applications empower the return to work by enabling solutions, such as contact tracing, to enable compliance with stricter health regulations, as well as simplify and optimize processes for medical professionals.
Interested in learning more about contact tracing and workplace health code compliance? Semtech recently hosted a webinar on the topic – watch Enabling COVID-19 Health & Safety Compliance with LoRa Devices now, featuring SmartConnect, a leading provider of IoT solutions for the industrial, oil and gas market. Additionally, visit the LoRa COVID-19 hub for more about how LoRa devices enable smart solutions for health, safety and preventing the spread of disease.
COMMUNITY
Previously, home and community applications had to rely on power-hungry Wi-Fi networks, ill-equipped to connect devices more than a few hundred feet from the router. By contrast, LoRa devices offer the ideal combination of connectivity advantages for both indoor and outdoor solutions. This long range and low power operation means that sensors based on LoRa devices can scale based on need and flexibly deploy throughout the home and into the neighborhood. This enables a new range of applications for consumer use, including smart lighting, door and window sensors, security systems, smart locks, smart irrigation, and even location trackers for bikes, children and pets.
In September 2020, Semtech announced it has teamed up with Amazon to enable its new network, Amazon Sidewalk. Operated at no charge to customers, Sidewalk is a crowd-sourced wireless network that simplifies device setup and management, extending the range for smarter applications up to miles from the home. Read our blog for more information on how LoRa enables community applications on Amazon Sidewalk.
HOME
Many of today's leading companies are making use of the same smart and flexible IoT technology deployed in logistics, metering or industrial applications, and developing consumer solutions for the home. These solutions enable the easy and accessible monitoring of garages, door locks, utility use, pipe leakage, pest traps, swimming pools, and more. Among the leading home IoT offerings available today is YoSmart's YoLink platform of devices, built on LoRa devices. YoSmart's products deploy in a matter of minutes and enable the homeowner to access real-time insight into processes such as energy use to create efficient and sustainable homes that reduce homeowner expenses. Learn more about the YoSmart product line in our blog.
Download the infographic to explore how products based on LoRa devices and the LoRaWAN protocol create a safer, more sustainable and comfortable planet for EVERYONE.
Semtech, the Semtech logo and LoRa are registered trademarks or service marks of Semtech Corporation or its affiliates.