LoRa Edge™ Tracker Reference Design for Rapid Development of Geolocation Applications
26 October 2020 / by Sree Durbha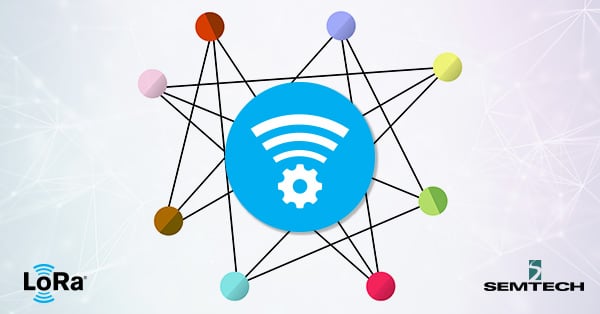 Asset tracking is one of the most widely deployed applications for the Internet of Things (IoT). The IoT's economic impact on factories, retail settings, work sites, offices, and homes could total as much as $6.3 trillion by 2025, according to McKinsey Global. A variety of industries, including home and building, healthcare, agriculture, and food services in addition to the industrial and logistics markets, are investing in smarter technologies to replace siloed legacy systems with automated asset management solutions. Many existing geolocation applications are power hungry and require multiple devices, software and services from multiple vendors, resulting in increased complexity and cost.
Semtech's LoRa Edge™ Tracker Reference Design – a versatile, hardware, software and services platform – simplifies and accelerates time to market for asset management solutions. It is comprised of three components – LoRa Edge LR1110 transceiver, LoRa Basics™ Modem-E, LoRa Cloud™ (Geolocation and Device & Application Services.)
The LoRa Edge transceiver (LR1110) is a disruptive multi-technology geolocation solution that helps customers significantly lower the cost and reduce design complexity of their IoT asset tracking and monitoring solutions. The transceiver utilizes Global Navigation Satellite System (GNSS) tracking for outdoor applications and Wi-Fi passive scanning for tracking indoor assets – enabling continuous indoor-outdoor tracking on a single chip.
The LoRa Basics Modem-E is a powerful new embedded software that provides the tools to connect and transmit device location data over the widely adopted LoRaWAN® protocol, and is certified by the LoRa Alliance® as LoRaWAN CertifiedCM. It seamlessly integrates core modem functions with provisioning, geolocation and device management into device-side APIs that seamlessly interact with the Cloud-based solver and services. End devices will no longer need powerful MCUs to host the modem stack. They can run the application on simplified MCUs.
LoRa Cloud is Semtech's hosted Cloud-based geolocation solver, device and application management service created for the LoRa Edge platform. Firmware updates over the air (FUOTA) enables functionality with the latest version of the LoRaWAN protocol and any security enhancements are available for download on the tracking devices.
Underpinning the LoRa Edge platform is security at every level, from chipset to the Cloud. Keys are securely injected and stored on the device during manufacturing at Semtech's secure room facility and therefore are never in jeopardy of being exposed during the deployment process. There is no need for files, databases, printouts, or other less robust methods of distributing those keys. The provisioning information is accessed directly through the LoRa Basics Modem-E interface and then used to provision the tracking device via the LoRa Cloud Device Join service. Once the device is claimed via the service, the network will authenticate the device and enable LoRaWAN traffic to flow securely to the designated LoRaWAN network server.
Creating Smarter, More Efficient and Highly Integrated Asset Management Solutions
Semtech's LoRa Edge Tracker Reference Design is the ultimate realization of Semtech's vision for a commercial asset management solution based on the three key elements of the LoRa Edge asset management solution – the LoRa Edge transceiver, the embedded LoRa Basics Modem-E software, and LoRa Cloud (Geolocation and Device & Application Services). It is encapsulated in a sleek and streamlined commercial-ready product that demonstrates the complete set of asset tracking capabilities for IoT applications. It serves as a blueprint for customers looking to build an end-to-end tracker solution based on the LoRaWAN protocol.
The LoRa Edge Tracker Reference Design provides device manufacturers and systems integrators the means to create applications to monitor asset location, traceability, loss, and recovery, and geofencing, and delivers the following benefits:
Accelerates Time to Market – High-quality reference design of complete "track and trace" solutions based on LoRa Edge reduces research and development time when building a solution. The companion LoRa Edge Config Android and iOS app enables fast-track configuration and connectivity.

Reduces Design Complexity – The documented design journey includes performance reports and design files. Instant connectivity is available with LoRa Cloud services when using LoRa Basics Modem-E.

Decreases Development Cost – Ability to leverage the design of a complete tracker system without license fees. Reduces certification costs with a solution that is fully FCC certified. Saves on the cost of an external secure element chip with LoRa Edge AES-128 bit compliant, FIPS-140 compliant, and is LoRaWAN Certified with LoRa Basics Modem-E.
LoRa ecosystem companies Actility and Tago.IO provided the network server operating the LoRaWAN protocol and integration with the application server respectively for the LoRa Edge Tracker Reference Design. Along with the LoRa Edge Tracker Reference Design, a complete set of collateral is provided to help with the customer design journey. In addition, Actility will ship its own version of the Semtech LoRa Edge Tracker Reference Design, in the form of a complete starter kit including a gateway and set of trackers pre-configured to run on its network server.
Learn more about LoRa Basics Modem-E and the LoRa Edge Tracker Reference Design in the infographic below.
Semtech, LoRa and the LoRa logo are registered trademarks or service marks, and LoRa Basics, LoRa Cloud and LoRa Edge are trademarks or service marks of Semtech Corporation or its affiliates.