LoRa® Devices Enable Smart Building Transformation Worldwide
08 April 2020 / by Byron BeMiller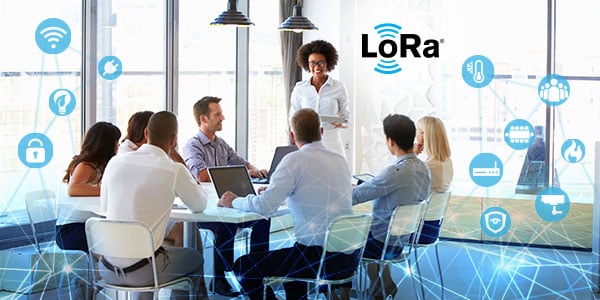 Managing a building certainly isn't easy, but the Internet of Things (IoT) sure can make it feel that way.
As smart technology capabilities grow, building managers around the world are implementing new systems to optimize efficiencies. They've successfully paired remote monitoring devices, like LoRa®-based sensors, with IoT applications to track and manage utilities, routine maintenance, occupancy, and so much more.
These smart systems make it possible to manage the entire building all from a mobile app or computer. They can even send out maintenance reminders and alert you to things like changes in water pressure or low meeting room use.
LoRa-based sensors and networks based on the LoRaWAN® protocol have increasing media attention lately as more and more buildings make the transformation. New smart buildings and smart building retrofits make it possible to manage entire business complexes remotely while improving efficiencies to maximize profits.
Today, we're taking a look at how some are implementing LoRa-based long range, low power sensors for optimal building management.
Cutting Costs and Improving Efficiency
Smart Buildings Magazine recently showcased Capgemini's successful transformation to smart buildings using LoRa devices and the LoRaWAN protocol.
Capgemini managers discovered their 400+ buildings were averaging a low occupancy level, about 65 percent most days. Even when meetings were scheduled, and the building appeared to be at capacity, 30 percent of meeting rooms booked stood empty. That all changed when Capgemini implemented its new LoRa-enabled smart solution.
In fact, Capgemini was so impressed with the results in its first 25 buildings that it continued the roll out and even developed a solution called SmartOffice, now available to Capgemini customers interested in optimizing efficiencies.
Read more about Capgemini's Smart Building Transformation >>
Entering the Decade of Smart Buildings
IoT for All and Mordor Intelligence predict a 23 percent compound annual growth of the smart building market beginning in 2019 and ending at the close of 2024. It calls out LoRa devices and the LoRaWAN protocol as key players in improving total building efficiency and reducing regular operating costs.
A new article praises LoRa sensors for the ability to increase occupant safety and improve energy efficiency by continuously monitoring and reporting on things including indoor air quality and temperature, lighting, fire alarms, and structural integrity.

Intelligent Smart Building Adoption
This article, published by Facilities Management Magazine, tackles the issues of disruption and adoption when launching a new smart building system. Among the many available options, it identifies LoRa devices and LoRaWAN-based networks as one of the best for the job.
The article cites three critical needs of a reliable smart building system. The first is a strong signal that has the ability to pass effortlessly through heavy walls, between floors and span miles to other building locations. Second, all data should remain secure to protect proprietary business information and customer privacy. And finally, sensors should be battery-powered for ease of installation and maintenance.
LoRa-based sensors and the LoRaWAN networking protocol meet all these building needs while simultaneously keeping operation costs low.
Smart Fire Prevention
No one ever expects their building to catch fire, but accidents do happen. In fact, U.S. building managers report around $10 billion in damages annually. This new article by IoT Agenda presents modern solutions for proactive fire prevention with the help of smart devices powered by LoRa-based sensors.
Smart smoke detectors can report on real-time fire conditions, empowering firefighters with real data to fight fires and save lives. Additionally, smart exit signs installed throughout the building can analyze the fire and redirect occupants toward the safest and quickest evacuation locations.
These LoRa-based smart solutions increase positive outcomes and reduce damage potential when it really counts.
Learn More About Smart Solutions for Fire Prevention >>
Smart Buildings Based on LoRa
LoRa adoption continues to grow as smart buildings pop up all across the globe.
LoRa-based sensors and the open LoRaWAN protocol are designed for user-friendliness and quick adoption in commercial and residential buildings of all sizes and they're clearly catching on.
Want to learn more about transforming your buildings into smart buildings?
Semtech, the Semtech logo and LoRa are registered trademarks or service marks of Semtech Corporation or its affiliates.