Helium's LoRaWAN® Network Reaches More Than 1,000 Cities
09 September 2020 / by Marc Pégulu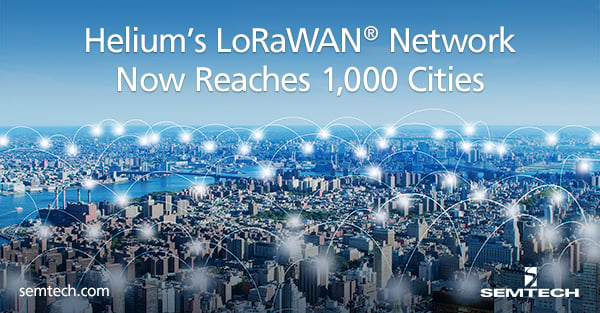 Helium's LoRaWAN® network infrastructure has grown to over 1,000 cities in North America, including Los Angeles, New York, San Francisco, Chicago, Miami, and Austin. The world's first peer-to-peer wireless network based on Semtech's LoRa® devices and the LoRaWAN protocol is also expanding throughout Europe.
Earlier this year, Helium announced it would integrate the LoRaWAN protocol into its LongFi architecture. Combining LoRaWAN with Helium's Blockchain eliminates the need for a business to deploy its own gateways or network infrastructure. Helium's decentralized approach to LoRaWAN networks links individually-owned and connected Hotspots to form one homogeneous network.
Internet of Things (IoT) devices leveraging LoRa devices and connected via the Helium Network receive the following capabilities:
Frictionless onboarding: As many devices as necessary onboard without additional configurations or third-party assistance.

Device roaming: Devices map to a company ID on the blockchain and become trusted by the network – letting them connect and send data via any Hotspot.

Micropayment transactions: The Helium model incentivizes Hotspot owners to maintain reliable connectivity as they earn a new cryptocurrency (HNT) when devices transfer data through their Hotspots.

Blockchain integration: This provides a cryptographic notary useful for audit trails as transaction data from devices, including connectivity time and location, are added to the blockchain and is immutable, inspectable and censor-resistant.
A Unique Model Creating New Network Opportunities
With Helium's open source blockchain technology, individuals are incentivized to deploy Helium Hotspots, which simultaneously mine cryptocurrency and provide LoRaWAN network coverage for hundreds of square miles. These hardware devices enable anyone to own and operate a wireless network for their IoT applications.
Users earn HNT, a new cryptocurrency, for providing and validating wireless coverage when devices on the network connect to the Internet through Hotspots. The Hotspot serves as both the backbone of the network and as a node for the Helium Blockchain which powers the reward system. Since Semtech and Helium announced collaboration, more than 10,000 Helium Hotspots have been sold, facilitating the Helium Network's rapid growth.
Helium provides a scalable method for long range, low power IoT device communications. Operating its ubiquitous "The People's Network" allows any manufacturer, developer or application to use LoRaWAN to connect devices and transfer data. This opens up a number of use cases, including asset tracking, supply chain and logistics, smart buildings, and agriculture.
Removing Complexity to Bring IoT Solutions to Market Faster
More than 8,000 software developers in the LoRa ecosystem can solve IoT use cases faster with Helium's robust network coverage, developer tools and open-source approach. Developers can leverage off-the-shelf commodity hardware to rapidly create applications without the need to deploy network infrastructure, while eliminating the high costs and short battery life associated with cellular networks.
Several leading IoT solution providers currently use Helium's network infrastructure, including:
In addition, Helium is working with Cal-Chip Connected Devices, a division of Cal-Chip Electronics, to help distribute Helium-compatible LoRa-based devices and solutions for use throughout North America and Europe.
For more information, visit the Helium website.
Semtech, the Semtech logo and LoRa are registered trademarks or service marks of Semtech Corporation or its affiliates.