Helium's Decentralized Approach to LoRa®-based Networks
05 March 2020 / by Marc Pégulu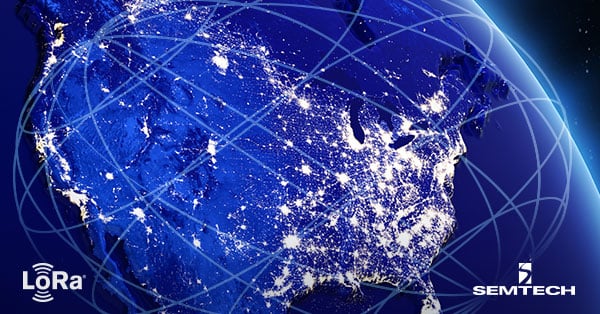 One of the greatest hurdles to plague any wireless industry is network coverage. That same hurdle is true for the Internet of Things (IoT). Over the last several years, Semtech has worked to create a vibrant ecosystem to drive demand for IoT applications based on its LoRa® devices and the open LoRaWAN® protocol. With a permission-less, omnipresent network in the unlicensed spectrum, some of the barriers to creating and adopting a new class of low power, wide area applications have been removed.
In 2019, Helium, with its unique economic model, changed everything. By leveraging the self-built Helium blockchain, individuals are incentivized to build a new IoT network with Helium Hotspots, which simultaneously mine cryptocurrency and provide LoRaWAN network coverage for hundreds of square miles. Its unique model links these connected Hotspots together to form one homogeneous network without roaming requirements
Now, after launching less than five months ago, Helium's network is one of the fastest-growing peer-to-peer wireless networks, available throughout the nation in major markets and more than 745 key U.S. cities, including New York, Los Angeles, Chicago, San Francisco, Miami, and Austin.
Devotion to Open-Source Development
With Helium's commitment to using Semtech's LoRa chipsets, and recently announced support for LoRaWAN-enabled devices, there is now greater accessibility to a LoRaWAN network throughout the U.S.
Helium's model not only motivates consumers to own and operate a piece of the network, but also reinforces a commitment to open-source architecture using the LoRaWAN open standard, designed to change the game for developers. This powerful combination of the LoRaWAN protocol and Helium's distributed, open-source networking approach allows manufacturers, developers or applications to utilize high-quality, off-the-shelf LoRa-based technology to connect devices nationwide.
The Highlights:
Helium's peer-to-peer LoRaWAN-based wireless network is available in 745 cities in less than five months
4,300 new gateways powered by individual consumers using Helium Hotspots create 'The People's Network'
Open-Source IoT: Opening the door for any developer throughout the U.S. to create IoT devices on a LoRaWAN network with nationwide coverage
This is a major milestone for LoRa-based network deployment in the U.S. and our customer Helium!
Get your own LoRaWAN-enabled Helium Hotspot and help to build The People's Network. Visit the Helium website to learn more.
Semtech, the Semtech logo and LoRa are registered trademarks or service marks of Semtech Corporation or its affiliates.