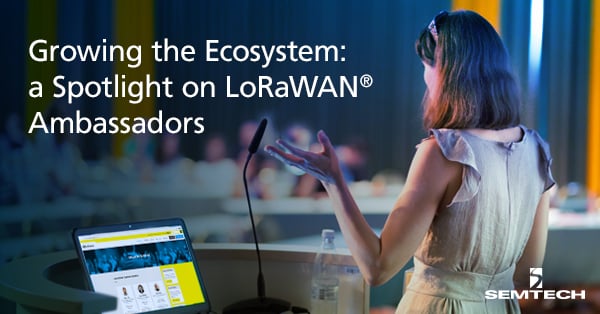 With leading long range and low power, LoRaWAN networks are being utilized today in hundreds of innovative applications for smart cities, homes and buildings, agriculture, metering, supply chain and logistics, and more. The LoRa Alliance® is committed to enabling the large-scale deployment of Internet of Things (IoT) applications operating on the LoRaWAN® protocol. Members benefit from a vibrant ecosystem of active contributors offering solutions, products and services to create new and sustainable business opportunities worldwide.
Among the LoRa Alliance's most successful outreach programs is its Speaker Bureau. The LoRa Alliance Speaker Bureau currently consists of 65 experts, or "LoRaWAN Ambassadors," and continues to grow its global roster of leading individuals with a diverse set of expertise from a range of the LoRa Alliance's Sponsor and Contributor Member companies. In this blog, Olivier Beaujard, Sr. Director of the LoRa Alliance at Semtech, explores the program, breaking down its function, track record of success and how it helps expand the global reach of LoRaWAN.
Spokespeople for the Growth of LoRaWAN
The program's main aim is to promote and educate the market on the LoRaWAN protocol in local markets, in addition to opportunities at higher profile conferences. There is often great coverage for global, vertical market or even regional areas; however, individual countries are at different stages of LoRaWAN network implementation and companies or regulatory bodies in these countries often want to know the latest to advance their country's adoption. The LoRa Alliance aims to increase publicity and accessibility in each country where LoRaWAN networks are operable.
Being a LoRaWAN Ambassador offers great value for Member Companies and its representatives as it delivers a chance to become the "go-to" or "point person" for LoRa Alliance news and access to the global ecosystem. This helps the LoRaWAN protocol grow regionally as well as increase the profile of the Member Company and its individual representatives.
In addition, the LoRa Alliance offers comprehensive support for its representatives, including:
Researching and sharing industry and regional opportunities with ambassadors
Supporting the submission of speaking applications by creating topic abstracts and determining key takeaways for the event audience
Providing training sessions throughout the year, including reviewing best practices for the program and for delivering presentations to in-person or virtual audiences
Supporting content creation for and review of presentations, such as brainstorming key use cases and solutions
Promoting events and sessions and ensuring the ambassador has end-to-end support and information to be successful
Record of Success
Despite ongoing challenges because of the COVID-19 pandemic, LoRaWAN Ambassadors have had a busy 2020, participating in 17 events as of October, with more planned to come. A variety of recent and upcoming ambassador opportunities can be found below with links to access key resources, view the session and more.
Discover the LoRa Alliance
The LoRa Alliance provides its members the amazing opportunity to collaborate with global leaders in promotion of the LoRaWAN protocol. If you are an ecosystem leader at a LoRa Alliance Sponsor or Contributor member company, passionate about the LoRaWAN protocol and looking to join the LoRaWAN Ambassador Program, the LoRa Alliance recommends you reach out to Megan Leonard, Global Events Manager, for more information.
For more information about the LoRa Alliance, including articles and expertise for the development or deployment of leading, effective IoT solutions based on the proven LoRaWAN protocol, explore the resources at the link below.
Semtech, the Semtech logo and LoRa are registered trademarks or service marks of Semtech Corporation or its affiliates.