DLMS Over LoRaWAN®: What It Is, and Why It's Important
23 June 2020 / by Rémi Demerlé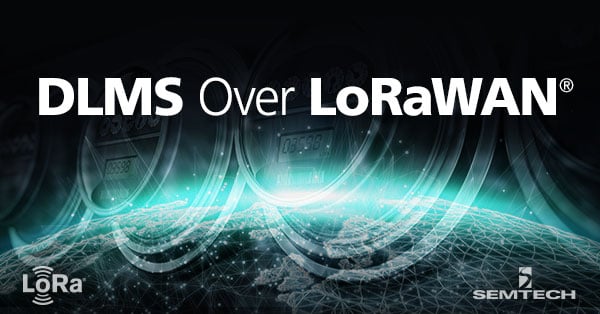 In a webinar hosted by the LoRa Alliance® and moderated by Semtech, the President of the DLMS (Device Language Message Specification) User Association, announced the future release of the first DLMS profile over the LoRaWAN® protocol. The DLMS User Association and the LoRa Alliance have been collaborating for more than two years to define a reliable and secure way to support the DLMS protocol over a LoRaWAN network. Having proven the feasibility via several demonstrations in 2018, continuing into subsequent years at European Utility Week 2019 and the Indian Smart Utility Week in 2020, this new profile is a key achievement of the liaison that will provide reliability and interoperability in future implementations of DLMS over LoRaWAN.
What is DLMS?
DLMS is the suite of standards developed and maintained by the DLMS User Association. First published in 1999, it was adopted in 2002 by the International Electrotechnical Commission (IEC) and the European Committee for Standardization (CEN) organizations in its series of IEC 62056 standards for smart metering. Recently, it was adopted in 2019 by the ANSI, the American National Standard Institute. It has been widely adopted, with over several hundred million meters worldwide using the DLMS/Companion Specification for Energy Metering (COSEM) standard – including by global utilities such as EDF, Ibedrola, EDP etc.
DLMS supports a variety of wired and wireless communication standards, including Cellular, PLC, Zigbee, WMBus, and Prime-PLC. Its flexibility to offer an application layer independent from the media layer enables utilities and end users to have the same application over any one, or a mix of many, communication technologies.
Why Add LoRaWAN to That List of Communication Profiles?
As explained during the webinar, as Internet of Things (IoT) solutions based on low power, long range radio technologies such as Semtech's LoRa® devices proliferate, utilities are becoming more and more interested in leveraging low power wide area network (LPWAN) connectivity to support its own needs for IoT solutions. Utilities benefit from the rapid deployment of energy and cost efficient connectivity that LoRa enables for traditional IoT applications like smart metering applications and for new applications that require remote monitoring and control, for example, smart grid management. Beyond that, many utilities are also seeing the potential in new markets, such as smart cities and smart homes where the ability to use a single application protocol standard like DLMS for multiple applications makes it much easier to integrate data that was previously siloed (e.g., energy consumption from metering and smart building sensor data) to offer more value to customers.
Why is DLMS over LoRaWAN Important?
Vocal support for DLMS over LoRaWAN comes from many players in the value chain, like utilities, network operators, meter manufacturers and solution vendors. The French energy utility EDF, the LoRaWAN operator and solution vendor Lar.Tech (which has deployed 50K DLMS meters in Russia) and also the network infrastructure company American Tower have commented:
"EDF strongly supports the creation of a DLMS profile over LoRaWAN® networks and foresees many useful applications of IoT for the utility business with DLMS." - Vincent Audebert, EDF IoT Expert and LoRa Alliance Member. LoRa Alliance Press Release, April 3, 2019.
"With over 85M power meters deployed in Brazil, three standards are in use: ABNT, DLMS and the American standard. DLMS is by far the most used. ATC recognizes that seamless, easy-to-implement interoperability between DLMS and LoRaWAN, as well as FUOTA capabilities, are key to enabling and fostering this vertical." - Daniel Laper, Head of IoT, ATC. April 9, 2020
"Being one of the first companies to implement DLMS over LoRaWAN for the management of energy meters, Lar.Tech is strongly interested in the further development of the links between the two communities. We strongly believe that joint efforts and open communication will help our customers and the market to quickly adopt joint technologies and advance the ecosystem's maturity." - Dmitrii Poltorak, General Director, Lar.Tech. April 14, 2020.
Webinar panelist, Alexander Pelov, CEO of Acklio, LoRa Alliance member and originators of Static Context Header Compression (SCHC) technology, explained in detail how the new communication profile of DLMS over LoRaWAN is based on a combination of proven standards with the SCHC layer. This layer is based on standards recently released by Internet Engineering Task Force (IETF) as Request for Comments (RFC) 8724. This is a key difference from other approaches built on contrary with a proprietary bridge intercepting DLMS messages and extracting payload content. Hence, the SCHC adaptation layer provides a seamless and standard non-broken IP channel to allow DLMS protocol from end-to-end with transparent support of COSEM (data model for metering) and OBIS codes.
Enabling New and Improved IoT Solutions
With this new profile, utilities can benefit from the security and all mechanisms of DLMS with bidirectional support to push messages and get commands, and moreover from the security of network transmissions that exists by default in LoRaWAN networks. Together, certifications provided by the two associations will allow a safe use of such a new profile, for superior reliability and interoperability.
This among the first time ever that a standard IP-based protocol can be used over LoRaWAN within a complete specification. We are now looking forward to guiding LoRa-based developers and adopters of DLMS to benefit more from this synergy.
For more information on DLMS over LoRaWAN for developers, download the LoRa Alliance's new white paper.
Semtech, the Semtech logo and LoRa are registered trademarks or service marks of Semtech Corporation or its affiliates.