Smart Homes Connect Indoors and Outdoors With Long Range, Low Power Technology
03 August 2021 / by Marc Pégulu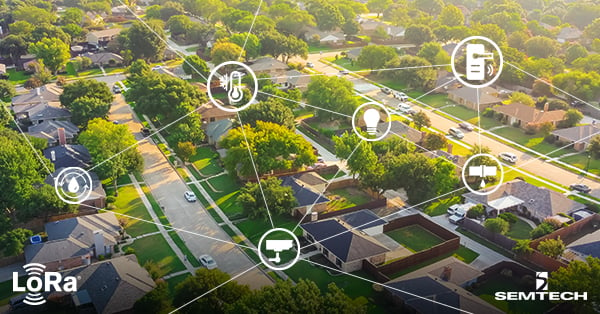 The market for smart home technology continues to grow at a rapid pace. Research from Statista shows that revenue in the European smart home market is projected to reach £18,504m in 2021, growing to £31,682m by 2025, by which time there will be over 97m smart home users.
Across the board, from home automation to smart kitchen appliances and voice assistant-enabled lighting, consumer electronics companies are using the Internet of Things (IoT) to connect everyday devices to the cloud, bringing new opportunities and control for consumers.
The global pandemic has added to this growing trend, causing people to spend more time at home and think afresh about how their home is used and controlled. An April 2021 report by International Data Corporation (IDC) shows that video entertainment, smart speakers and security and monitoring were the top categories in smart home technology in 2020 as householders sought to improve their homes.
As the technology and market has developed, users' expectations have changed. At first, users were attracted to gimmicky applications but are now more concerned with real world uses that bring actual benefits to their lives. Moving forward, the smart home market will start to see more products that can have a significant impact on the consumer's day to day life. This wide range of products includes technology and applications such as pet geofencing, which can set boundaries for a pet and warn the owner when it strays outside this area. Other examples could be connected pest traps, telling householders when the trap has been activated.

Connectivity Options for Smart Homes
As well as offering a wide range of devices, the market also provides several choices for connectivity. Wi-Fi is familiar to users as a way to connect their devices over short ranges, while 5G is also in the wings as an even more capable technology. However, device manufacturers are increasingly interested in IoT platforms that can offer both indoor and outdoor connectivity, such as low power wide area network (LPWAN) technology.
This is largely because people are blending and mixing the outdoors with their indoor spaces. Technologies such as outdoor TVs are becoming more common, and people want to continue to use their portable devices as they enjoy their gardens. The pandemic has promoted this trend with home offices in the garden, and the challenge is providing seamless connectivity from one spot to the next. Manufacturers are looking favorably at battery-powered, long-range and low-power IoT solutions to achieve this outdoor connectivity. These solutions offer extended battery life, often years in duration, meaning that homeowners can use them for extended periods without worrying about needing to replace the battery at frequent intervals.
With many applications being used at the periphery of the home or in the garden, these solutions offer the ability to connect devices to the same platform as those indoors, for which legacy systems fail to offer the required range. Consumers are taking advantage of long range, low power connectivity technology in numerous use cases.
Water Leak Detection
A water leak is every homeowner's nightmare – the cost and inconvenience can be horrendous. This could be much worse for a leak that goes undetected for some time, perhaps in an area of the house that is not often occupied, or if the homeowner is away from home. In any of these cases, time is not on the homeowner's side.
Damage caused by water leaks is a significant threat for homeowners and renters, as well as causing extensive costs for their insurance companies. As well as the costly structural damage, leaks can encourage the quick growth of harmful molds that affect people's health.
IoT technology and advanced connectivity can be used to predict and prevent water leaks in the home, no matter where they happen. In areas with a high risk of water damage, such as kitchens, utility and laundry rooms, bathrooms and areas housing boilers and water tanks, wireless, battery-powered humidity and temperature sensors can be installed. These sensors will gather information and share data with the homeowner or other trusted parties, in real time over a public or private network. If a leak occurs, real-time alerts notify the residents, allowing swift action to prevent serious damage to the property.
Smart Gardening
The pandemic altered the everyday lives of millions, with many people finding themselves spending extended periods at home. The good weather plus time on their hands meant many people took to their gardens. Although physical visits to garden centers were disrupted for obvious reasons, people got on the Internet and contributed to a boost in online sales of gardening products of 25%.
This renewed interest in gardening has led to growing numbers of homeowners looking into smart home technology to help their plants thrive. Data that can be harvested by smart garden technology can include information on plants' vitals and their growing environment, helping to encourage positive growth.
Plant sensors can measure metrics such as soil moisture and fertilization, and compare it against information in a plant database to give gardeners tips on how to improve conditions or provide better irrigation for each specific plant. Home gardeners can take it a step further with more advanced sensors to measure light, humidity and temperature to further improve growth.

Senior Care in the Home
Another vital task is looking after the elderly and infirm. Whether in a home or a senior care facility, monitoring the location and health of old people has usually been a manual task. Caregivers or family members have needed to be very vigilant to keep individuals safe and comfortable. This is made more difficult as caregivers themselves age and the care industry struggles to attract enough staff to look after the burgeoning population of care homes.

IoT is making this a lot more seamless and safer for those involved. An example is connected wristband trackers to locate and monitor people affected by dementia.
Patients with this disease often wander away from home, risking injury. A connected IoT system can allow caregivers to set up their own virtual boundaries using a geofence, allowing a tracking application to send alerts when the cared for person has left the defined area. The device can provide real-time monitoring for the wearer both inside and outside their home, keeping the elderly person safe while offering peace of mind to caregivers and family members.

The Impact of Amazon Sidewalk
Amazon Sidewalk is a crowd sourced wireless network for the U.S. that can simplify device setup, extend the range for low bandwidth applications, and provide limited functionality even when devices fall offline. Semtech's long range, low power LoRa® devices provide long range, low bandwidth connectivity for Amazon Sidewalk, giving consumers the power to extend the range of their home networks to connect devices both outdoors and indoors.
The collaboration with Amazon reinforces LoRa's position as the de facto platform for IoT applications. These can include smart lights, security systems, pet trackers and sensors for asset tracking, as well as many additional low-cost devices needed for smart homes and smart communities. Using this extended range, mobility and low power consumption, a vast range of low touch consumer IoT applications can be deployed very quickly.

When the Smart Home Extends to a Smart Community
It's not just the home where smart technology can improve peoples' lives – it can also play a role in the wider community, with the long range capabilities of smart sensors bringing new possibilities for asset tracking and geofencing. Solutions such as Amazon Sidewalk allow many devices to extend their range by up to half a mile, a big improvement on the few hundred feet achievable with other technologies.
What's unique about Sidewalk is that customers will be able to access it using two types of devices: Sidewalk Bridges and Sidewalk-enabled devices. Sidewalk Bridges are devices that provide connections to Sidewalk, while Sidewalk-enabled devices connect to Sidewalk Bridges to access the network.
With people working more from home, contacting friends and family electronically and ordering many more goods online, the pandemic has highlighted the need for better connectivity, which can ultimately lead to greater adoption of smart home technology.
This article was originally published on hiddenwires.co.uk.

Semtech, the Semtech logo and LoRa are registered trademarks or service marks of Semtech Corporation or its affiliates.