Q&A: IotaComm, TEKTELIC and Semtech Discuss Product Agreement
06 October 2021 / by Marc Pégulu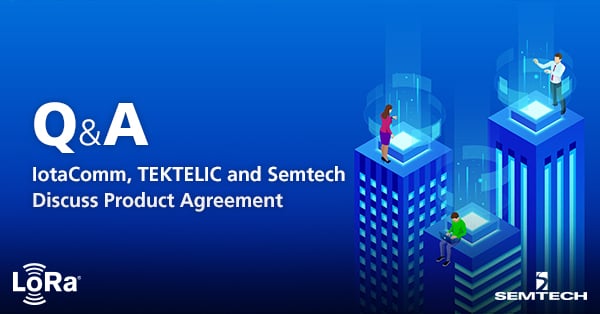 IotaComm, TEKTELIC and Semtech recently announced a product development and licensing agreement to develop a gateway based on the LoRaWAN® standard and Semtech's LoRa® chipset.
The gateway can simultaneously support data transmission in the North American standard ISM band (915 MHz) as well as in IotaComm's FCC-licensed spectrum, and will facilitate deployment of a number of unique Internet of Things (IoT) solutions for industrial, enterprise and consumer applications and use cases.
We spoke with key stakeholders from each company involved to learn more about the new offering and its broader impact on the IoT landscape.
Can you tell us more about the collaboration between the three companies?
Terrence DeFranco, IotaComm: IotaComm has aggregated a nationwide portfolio of FCC-licensed 800 MHz radio spectrum that has significant potential value as a digital asset. Our goal is to leverage our spectrum to create a dedicated, carrier-grade network for the Internet of Things. The collaboration on developing the hardware components of this network with LoRa Alliance® member companies TEKTELIC and Semtech will pave the path to commercialization of this network leveraging the LoRaWAN standard for connectivity. It is truly game-changing for our company from a value-creation standpoint and can bring even greater value to the addressable market for commercial and industrial IoT. Overall, within the LoRa Alliance there is a culture of real collaboration within the LoRaWAN ecosystem which we value highly.
What hardware is being developed as a part of the launch?
Barney Barnowski, TEKTELIC: The gateway, which TEKTELIC is manufacturing, is a dual radio product, which means it can support communications across two different frequencies. The gateway can also simultaneously transmit and receive information, which is a significant advantage over other gateways that have to suspend reception in order to transmit data. Robustness is another key factor: the gateway was designed to function in extreme weather conditions.
Terrence DeFranco: The gateway operating via LoRaWAN is being customized to communicate over the standard 915MHz frequency, as well as over our FCC-licensed 800MHz frequencies. This configuration is unique to us given our licensed spectrum, and also conforms to the LoRaWAN standard, resulting in significant flexibility to meet the needs of customer across many different market segments.
Why is the availability of the 800MHz frequency so important?
Terrence DeFranco: The use of LoRaWAN within the FCC-regulated spectrum really speaks to the value of the standard itself in terms of security, scale and collaboration within the ecosystem. Combining the LoRa Alliance support for LR-FHSS with our spectrum will add to the strong momentum of the LoRaWAN ecosystem to further enable critical infrastructure deployments, such as utility, smart city and health care applications, that may require more flexible connectivity with different channel sizes, higher power transmit levels and no time-on-air limitations.
Barney Barnowski: Since it's a licensed frequency, only users of the new offering communicate via that frequency, and they will have dedicated bandwidth for their applications without having to contend with interference issues.
How are sensors becoming more important to building management?
Terrence DeFranco: The Digital Revolution is in full-swing and new technologies are improving our everyday lives in profound ways. Commercial and industrial facilities are expanding how they leverage these new technologies to improve operations, enhance productivity and extend asset life. The standard built environment infrastructure that measures on temperature and humidity is becoming obsolete as managers strive to understand and control building conditions, and this is where IoT and specifically low power, battery operated sensors becomes so valuable. Sensors using the LoRaWAN standard can provide ubiquitous coverage, are low cost and are easy to implement wherever you want them, without having to run new wiring through buildings.
How do you see this offering as impacting IoT more broadly? How will it change the IoT landscape?
Terrence DeFranco: IoT demands ubiquitous, low-cost connectivity. That's why the LoRaWAN standard is exceptional, as it can provide extremely widespread connectivity, covering essentially the entire planet. As IoT expands, demand for low power, wide area (LPWA) connectivity will increase, and this is great news for the LoRaWAN ecosystem. New use cases leveraging LPWA are emerging now during the nascent stages and will become an embedded part of our infrastructure well into the future just as the evolution of cellular connectivity has grown over the last several decades.
Carlo Tinella, Semtech: We see this collaboration as bolstering the LoRaWAN standard and contributing to the expansion of LoRaWAN network coverages in the U.S., for the benefit of all users.
What use cases do you see this as being particularly compelling for?
Terrence DeFranco: We're focused on where we think LPWAN connectivity brings the most value, and that's in the built environment. Smart cities, smart buildings, Utilities and anything around infrastructure is what we are targeting.
Carlo Tinella: The offering will be particularly compelling for big cities, where IoT plays a major role in managing services for a multitude of high-value use cases. Smart metering, particularly, comes to mind. IoT infrastructure helps optimize energy distribution and improve efficiency.
Read more about the announcement on the IotaComm website.
Semtech, the Semtech logo and LoRa are registered trademarks or service marks of Semtech Corporation or its affiliates.