LoRa Enables Worry-Free Parking for Smart Cities
28 March 2018 / by Semtech Corporate Marketing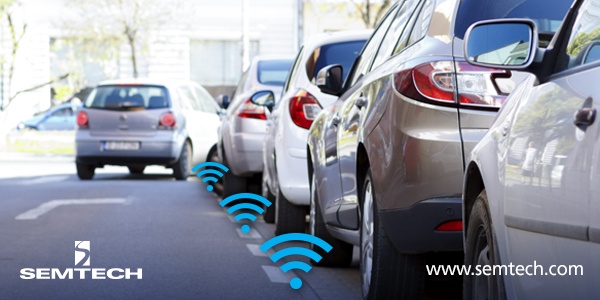 In the past, finding an open parking spot in a crowded area was simply based on luck and timing since historically, there was no way for parking lots to remotely communicate their availability with drivers.
This often resulted in uptight drivers navigating through crowded lots with no idea where to go. This unpleasant experience has not only caused frustration for countless drivers, but has also caused shopping malls and other public areas to lose business as unhappy drivers choose to avoid areas where parking is a hassle. LoRa® devices and wireless radio frequency technology (LoRa Technology) make it simple and affordable to transform commercial and municipal parking lots into "smart lots." These lots share data through LoRa Technology that can notify drivers of occupancies and vacancies in real time on their IoT connected devices, such as smartphones and tablets. Gone are the days of inefficient parking – LoRa Technology tells you where to park!
Making a Parking Lot "Smart"
Implementing a LoRa-based smart parking solution begins with deploying LoRa-enabled sensors in each parking space. The sensors communicate with either private networks, or public low-power wide-area networks (LPWANs). Upon deployment, the sensor transmits reliable information about vehicle activity to Cloud-based management applications. The Cloud shares this information with third-party applications that notify drivers via their connected devices – smartphones, tablets, etc. Parking data may also be shared with municipal traffic monitoring systems to predict congestion and prevent it.
Why Smart Parking with LoRa Technology?
When PNI Sensor Corporation, a leading manufacturer of precision location and motion tracking systems, developed the PlacePod, a high-accuracy smart parking sensor, PNI leveraged Semtech's LoRa Technology because it offered several unique advantages.
Sensors detect the absence and presence of vehicles. They can also be used with statistical software to create solutions for traffic and parking congestion.

Each sensor requires no external wiring. Additionally, the low power design means the sensor can run up to 10 years at a time.

Sensors boast a low operating cost because several maintenance tests can be done remotely.

The sensors' integrated LoRa Technology encrypts all communications, bolstering their defense from hackers.

Each sensor is capable of handling millions of messages per day ensuring durability.
"PlacePod addresses the most mission-critical aspects of parking management: accurate, real-time vehicle detection and location of available parking spaces," said Becky Oh, President and CEO of PNI.
With over 30 years of experience, PNI is one of the world's foremost experts in precision location, motion tracking and the fusion of sensor systems into real-world applications.
If you would like to see exactly how the PlacePod utilizes LoRa Technology to make parking easier, download the Parking Management Application Brief.
Semtech, the Semtech logo, LoRa and LoRaWAN are registered trademarks or service marks of Semtech Corporation or its affiliates.