Real-time Noise Monitoring for Smart Cities
10 December 2018 / by Semtech Corporate Marketing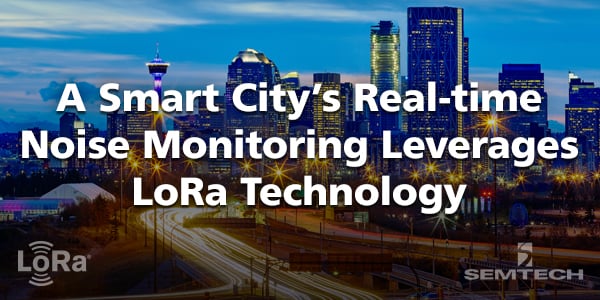 Noise pollution is a persistent problem for residents in an urban environment. Recent studies have estimated that nine in ten people in major cities are exposed daily to noise levels exceeding international guidelines. The negative health effects of excess noise include disturbed sleep, hearing loss, cognitive disorders, and high blood pressure. Municipal noise ordinances aim to reduce noise pollution, but assessments of noise and monitoring are performed infrequently and are primarily complaint-driven. The City of Calgary set out to build a network of low-cost acoustic sensors to enable continuous monitoring of noise in its urban environment. The Internet of Things (IoT) platform identified for the project: Semtech's LoRa® devices and wireless radio frequency technology (LoRa Technology).
Characterizing Sound with LoRa Technology
The Urban Alliance, a research partnership between the City of Calgary and the University of Calgary, was created to eliminate legal and financial red tape and coordinate the transfer of technology and research for the community's benefit. Dr. Henry Leung heads the Robotics and Sensor Networks Group in the Department of Electrical Computer Engineering at the University of Calgary. He collaborated with the Urban Alliance to build a LoRa®-based sensor using Edge analytics to characterize noise and initiate a pilot use case on Calgary's network based on the LoRaWAN® protocol.
"Our inspiration was the result of analyzing existing smart city noise monitoring applications. In New York City, they approached it using Wi-Fi and live streaming. This was rather expensive and took significant resources to reliably operate and sustain," said Leung. "We proposed developing our own solution without an electrical power supply to the device – just a battery."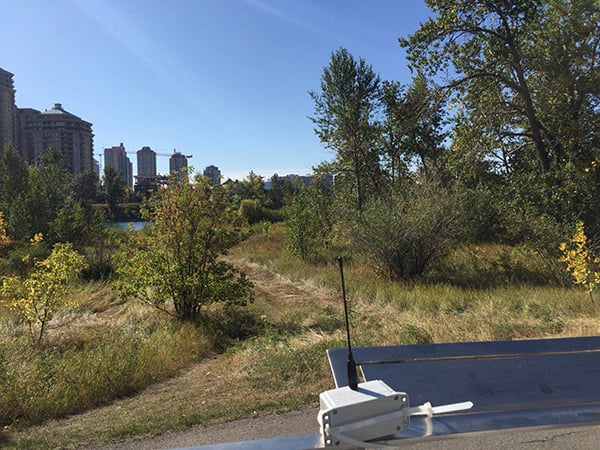 Leung's team's first contribution to the project was the hardware design of the sensor. Their fabrication used low-power wide area radio transceivers to enable data transmission between the nodes and network server. The LoRa-based sensors are battery operated for ease of deployment, low-power to limit network maintenance, robust for continuous operation in extreme weather conditions, and possess a limited amount of in-situ data processing.
The second contribution by the team was the development and testing of data analytic algorithms allowing sensors to autonomously detect and classify acoustic events. The researchers will use machine learning to distinguish between noise sources such as construction, traffic, gunshots, and music.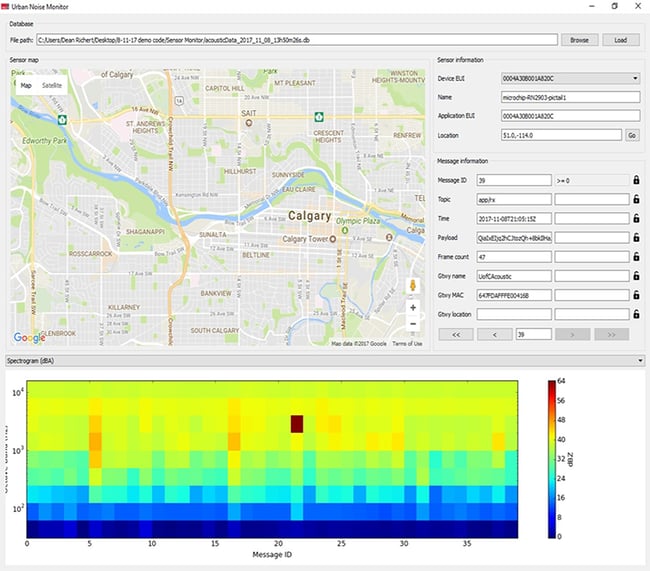 Improving the Quality of Life for Citizens
To put these innovations to test, several of the new LoRa-based sensors were placed at the Circle Carnival event at Shaw Millennium Park in September 2018. Installed at different locations around the park, the sensors were programmed to compute the average noise level every three minutes. When the noise level rose above 85dBC, the sensors sent a warning packet through the LoRaWAN-based network. In the future, this feedback can be proactively provided to concert promoters to ensure noise restriction compliance.
The next evolution is categorizing sounds such as trains, road noise, drag racing, gun shots, and construction, and spatially correlating it over time and location. This data will help improve noise management and enforcement during public events by automatically alerting bylaw officers when noise thresholds are exceeded, saving The City time and money.
Download the complete Urban Alliance use case and learn more about how LoRa-based solutions are revolutionizing smart cities.
Semtech, the Semtech logo, LoRa, and LoRaWAN are registered trademarks of Semtech Corporation.