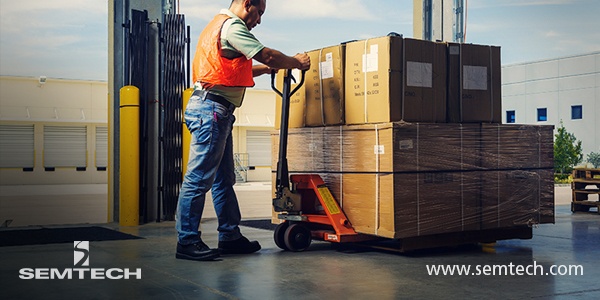 According to the United States Department of Transportation 2016 Annual Report, U.S. businesses ship over 56 tons of freight per capita in the U.S. – a four percent increase from 2012 estimates.
That staggering number, compounded by all the other shipments from businesses throughout the world, is the reason streamlined, data-driven processes are essential to support business and economic growth worldwide.
As businesses continue to expand both domestically and internationally, the need for an efficient freight tracking system has become increasingly critical. The Internet of Things, or IoT, allows businesses to transform their logistics and monitoring of goods, with enhanced analytics and efficiency.
How to Make Your Logistics Management Smart
Semtech's LoRa® devices and wireless RF technology (LoRa Technology) offers a solution for IoT that enables the feature set necessary to support long-range wireless connectivity, low-power operation for extended battery life and limited maintenance, and interoperability with existing hardware and infrastructure for easy implementation and scalability.
IoT technologies like LoRa Technology make objects "smart." This means the object is collecting intelligence on its condition and adjusting its activity accordingly. Here are two examples of how this is done:
A company sending fragile goods attaches vibration-detecting sensors to its shipping crates and boxes. The sensors will detect irregular vibrations of a package and alert the onsite manager of the problem, who, in turn, can take real-time actions to help mitigate potential damage to the package and goods inside while in transit.
A cargo truck that is transporting perishable food items equipped with temperature monitoring sensors will trigger air conditioning to turn on when the temperature of the cargo area exceeds a certain degree. This "smart" upgrade could save a company significant costs from losing inventory to spoiling and can help freight companies meet new government regulations – see below.
Find tools for LoRa-based developers:
Logistics Management for Food and Perishables
LoRa Technology and the Internet of Things can also be used by transportation companies to meet government regulations. The United States Food & Drug Administration (FDA) has shipping regulations for food and other perishable items to mitigate contamination and health risks. The Food Safety Modernization Act was introduced to "improve capacity to prevent food safety problems," and it includes stipulations for temperature in refrigerated cargo trucks, cleaning of transportation vehicles, sanitary food protection, and more. Notably, it requires transportation companies to maintain exhaustive and accurate records of its vehicles for tracking purposes – this allows the FDA to quickly track the dissemination of contaminated food and prevent widespread illness. LoRa Technology provides a more accurate and cost-efficient alternative to current manual tracking processes or short-range RFID systems used by transportation companies to meet the FDA's guidelines.
What else can IoT do?
Improved shipping quality is just one of many applications for LoRaWAN®-based IoT solutions. Beyond logistics managers, farmers, utility companies, municipalities, and others can benefit by making their tools "smart." One of the most, if not the most, exciting things about IoT is the limitless possibilities for integration. In theory, any inanimate object no matter how small or hard to reach can be equipped with LoRa Technology for enhanced data collection. As a key enabler of IoT technologies and founding member of the LoRa Alliance®, we bear witness to tons of new, innovative uses cases almost daily.
Explore most real world use cases for LoRa devices in smart logistics:
Semtech, the Semtech logo, LoRa, and LoRaWAN are registered trademarks or service marks of Semtech Corporation or its affiliates.