HolaBot Service Robot Delivers With LoRa®
19 August 2021 / by Mike Wong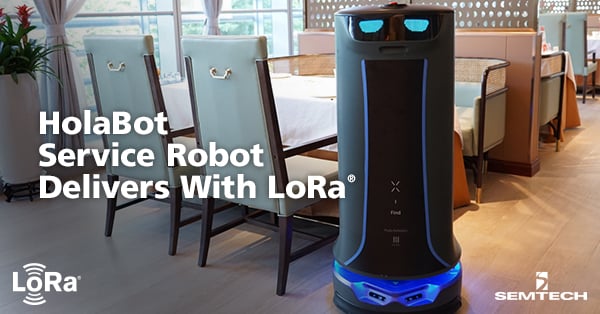 With the rapid development of Internet of Things (IoT) technology and Cyber-Physical Systems (CPS), the robot has been widely applied in numerous industries. It is not only common to see industrial robots used in industries such as electronics, automobile and chemical engineering, but also in more service roles used in families, hotels, restaurants, and other settings. Hence, great progress and development have been obtained in the global service robot technology in recent years, and a series of breakthrough applications have been achieved in family, education, public service, medical care, and other fields, laying a foundation for creating a better life and further improving production efficiency.
According to predictions from McKinsey Global Institute, by 2025, the global application of robots will have an economic effect of USD 1.7 to 4.5 trillion per year, of which service robots will account for about 70% of this market. The service robot industry in China is achieving faster development based on multiple factors, including an accelerating work pace, aging society, decrease in the working-age population, and increase in labor costs. These factors make it easier for a variety of service industries to deploy robots. Subsequently, service robots can improve production efficiency, liberating people from single and trivial work, and provide reasonable care for the elderly and the sick.

The intelligent service robot is a networking device. With factors such as large space, concrete sheltering and complex driving paths, many restaurants, hotels, hospitals, and retail outlets require IoT technology which has a longer coverage distance, a more flexible and convenient network structure and higher reliability. Semtech's LoRa® devices are well suited for the service robot industry because of its proven wide coverage, high reliability and flexibility.

As an industrial leading supplier of intelligent delivery robots and low-speed unmanned driving solutions, Shenzhen Pudu Technology Co., Ltd. (PuduTech) has adhered to the "inventor spirit" since its establishment, launching multiple robots applied in different scenarios and has improved business efficiency for users. HolaBot is an automatic collecting and dispensing robot launched by PuduTech, featuring a call notification function. HolaBot has been applied in multiple scenarios.

HolaBot has the following key features:
Ultra-large capacity and high carrying capacity:The carrying capacity is as high as 60kg. With 120L ultra-large volume and 4-layer carrying space, it can be used to collect dishes of multiple tables and clear tables quickly in the catering industry. In the medical application, it can complete the non-contact transport of medical waste from the production point to the designated storage room so as to improve the efficiency of medical waste treatment and reduce infection rates.

Remote watch calling: HolaBot supports remote smartwatch calling mode, calling the robot in real time and providing task instructions so the robot will be on call

Non-contact operation: Without touching a button, it is efficient and contact-free.

IPX5 waterproof cabin: IPX5 waterproof cabin can effectively resist all kinds of liquid splashing in the working environment so as to keep the body clean.
When defining and designing HolaBot, PuduTech observed that in complex scenes such as restaurants and hospitals, there is high mobility of people and many obstacles such as walls. To ensure communication stability and timely response, PuduTech adopted LoRa in the remote call watch. LoRa has the characteristics of low power consumption, wide coverage and strong signal penetration. Service personnel can easily call the robot via a smartwatch with LoRa.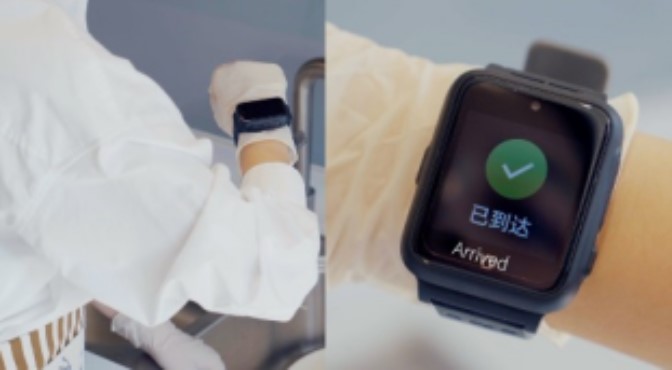 Remote call watch features LoRa for wireless communication
According to PuduTech, the HolaBot has been widely used in catering and other industries and greatly improved work efficiency. A restaurant in Shenzhen compared the number of dishes collected by single HolaBot and the per capita number of dishes collected. The result shows that the robot can collect dishes more efficiently, effectively supplementing the workforce. In addition, the robot also avoids breaking dishes during the collection of dishes, and can perform multiple tasks at once such as directly carrying bowls and dishes to the washing area. HolaBot also features an IPX5 waterproof cabin which does not become inhibited due to splashing, so the cleaning personnel do not need to take off water-soaked gloves, and can directly collect bowls and dishes. Later, the user can utilize hand gestures to direct the robot back to the standby point and wait for the next call.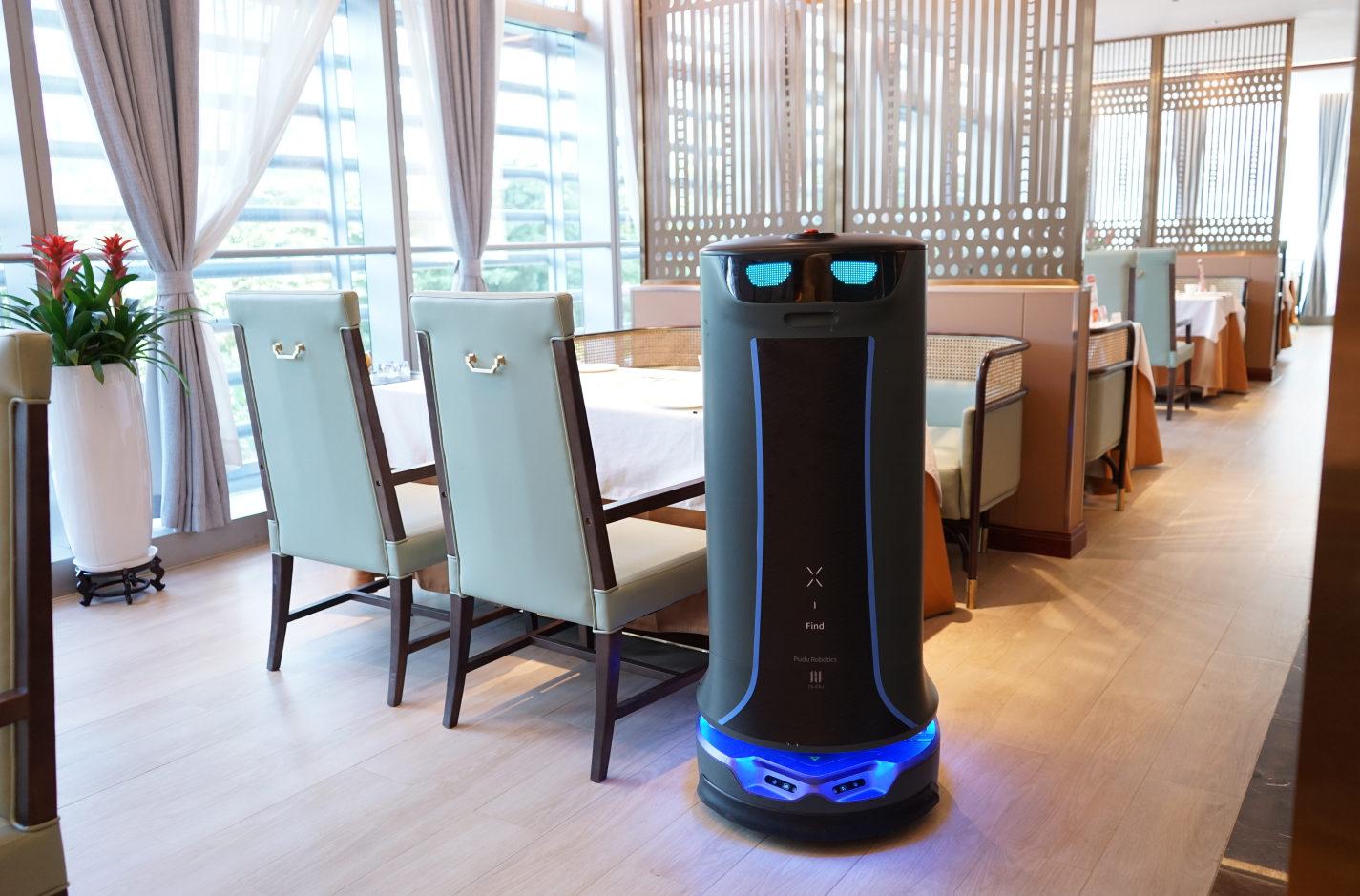 Zhang Tao, CEO of Shenzhen Pudu Technology Co., Ltd. says, "HolaBot is a multi-scenario and easy-cooperation collecting and dispensing robot launched by PuduTech, featuring a call notification function. Through our collaboration with Semtech, we have applied LoRa devices within the remote intelligent control of robots. Based on such characteristics of LoRa, such as a wide coverage area, strong signal penetration and high stability, we have achieved the "on call" function of HolaBot and helped users improve business efficiency. 'PuduBot', 'BellaBot' and 'Puductor' launched by PuduTech for other scenarios are also widely applied around the world."
As a leading supplier of intelligent delivery robots, PuduTech provided hundreds of "PuduBot" robots for multiple hospitals and isolation sites during the COVID-19 epidemic. These robots mainly took charge of delivery at the isolation points of hospitals and hotels. They could carry 3-4 layers of trays (475×400mm), with carrying capacity 2.5 times manpower. On average, 300-400 deliveries could be completed every day. Meanwhile, multiple robots can be scheduled to deploy simultaneously, efficiently delivering meals, medicines, drinking water, or other items requested by patients. Medical care workers can place items on the PuduBot without contacting patients directly, and the PuduBot automatically goes to the door of the ward. When hearing the voice prompt of PuduBot, the patient can open the door and take the items, which takes less than half a minute, without any contact operation. Then, the robot will automatically return to the site and continue to deliver after disinfection.
As delivery and collecting robots are applied and popularized in catering and other industries, and the innovative information physical system technology and the industry chain are becoming more and more mature, more industries closely related to human life and production activities will introduce delivery robots, and a variety of commercial service robots will be evolved according to different use scenarios.
The launch of PuduTech's HolaBot, which combines Semtech's LoRa devices with its service robots will improve the efficiency for catering, medical treatment and other industries. As a proven IoT technology, LoRa has been applied in intelligent products and solutions by many industries to provide a reliable and stable connection by virtue of its wide coverage, low power consumption and strong stability. We look forward to seeing our customers expand more innovative service robot products to other application scenarios.
Explore more applications of LoRa devices on our website.
Semtech, the Semtech logo and LoRa are registered trademarks or service marks of Semtech Corporation or its affiliates.