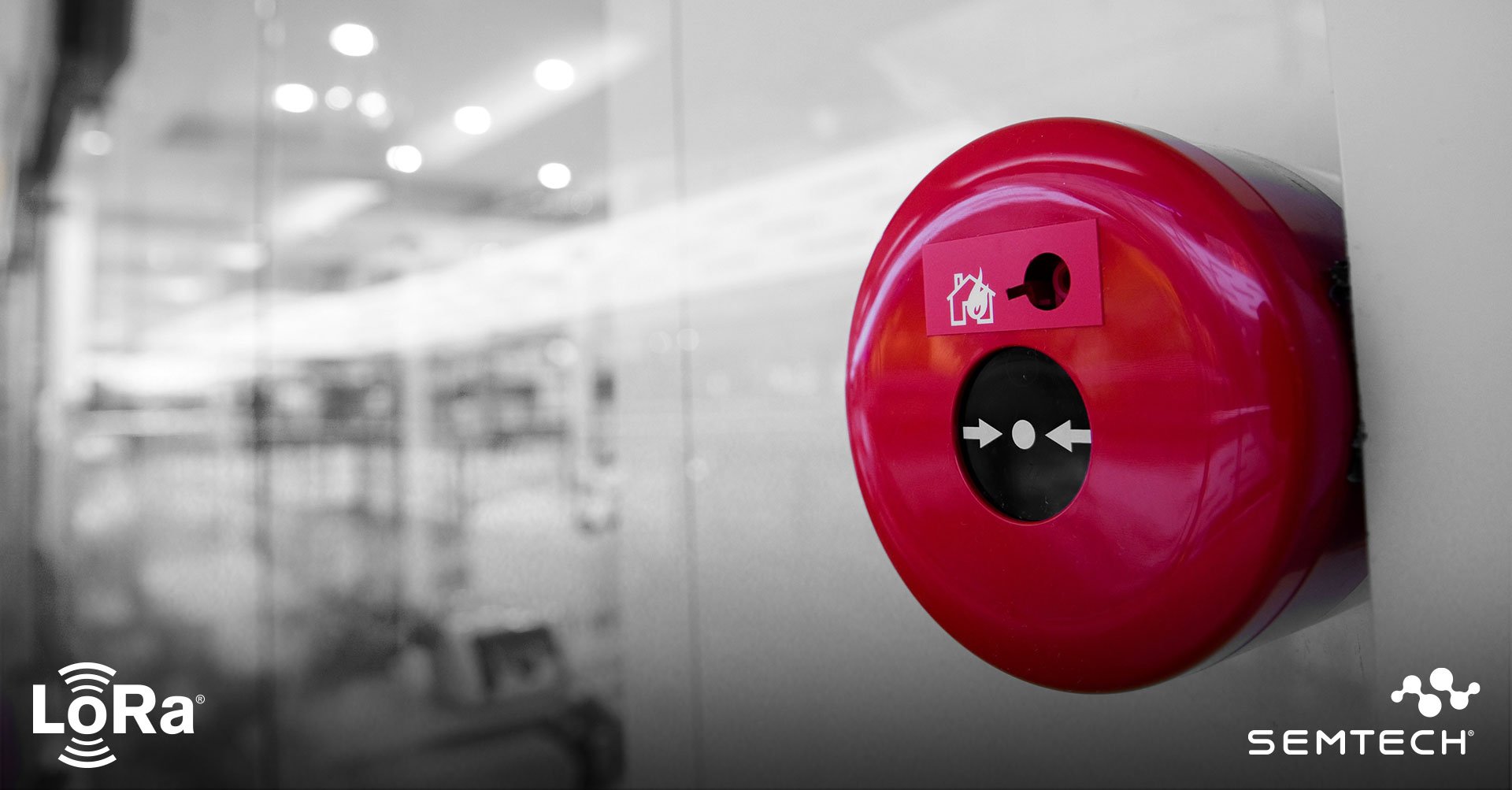 Semtech Launches Optimized FMS Networking Solution Enabled by LoRa®, To Provide Lightweight and Low-Cost Reference Design for Industrial and Other Applications
14 June 2023 / by Cheney Cheng
As one of the seven core industries of digital economy in China, the Internet of Things (IoT) has experienced a remarkable growth trajectory over the past few years. The "14th Five-Year Plan for Development of Digital Economy" proposes to improve the coverage level of the IoT in industrial manufacturing, emergency management and other fields, and enhance the collaboration between fixed networks and mobile networks, as well as the combination of wideband and narrowband networks for IoT. The Three-Year Action Plan of New Infrastructure Construction of Internet of Things (2021-2023) also proposes to accelerate new infrastructure construction to enable comprehensively sensing, ubiquitously connected, safe and reliable IoT. Professional IoT networking solutions will help improve sensor connectivity, efficiency, and reliability, thus helping enterprises achieve efficient management.

As a typical representative of low-power IoT communication technology, Semtech's LoRa® technology has been widely adopted in all walks of life in China. Many Chinese enterprises choose to design their private networks based on LoRa technology to have advantages in flexibility, cost, and development efficiency. To provide better technical support and an easy-to-use reference design for private network applications in industrial and other industries, Semtech launched a new FMS Networking Solution enabled by LoRa. This solution is suitable for many scenarios and applications that require real-time action in response to alarms (such as smoke sensing, fire prevention and security).
Semtech developed FMS 1.0 in October 2022 and completed testing with nearly 100 customers. Now, some customers have already launched their own product designs based on Semtech's FMS networking solution. After feedback and optimization based on FMS 1.0, the latest version of the FMS solution was recently launched in April 2023. Based on their individual needs, customers can use the FMS solution to help design their network, develop their own solutions based on FMS, or simply integrate some features of FMS into their own networking protocols.
Key Features of the FMS Networking Solution:
A new MAC process allows full acknowledgement of every packet, a fast, guaranteed response to alarm signals and more efficient spectral management.

An Embedded MAC (EMAC) has been embedded in master gateway to enable completely on-premise data collection and decision making.

Added alarm messages and packet processing methods of LoRaWAN®, added mechanisms like CSMA and LBT on the basis of ALOHA message processing, and limited the use of multi-spread factor while simplifying network management and system design.

A new multi-gateway design ensures the customizability and scalability of the system range and capacity, and reduces the cost making it suitable for applications from dozens to thousands of end devices

The solution supports noise interference and scanning for DTV avoidance to improve system reliability and meet the SRRC radio regulations.

The system duplicates the tried and tested security of LoRaWAN, but adds CSMA at single data rate, to allow a massive increase in bi-directional system capacity over comparable ALOHA based systems, all without introducing the implementation complexity of TDMA. This approach simplifies the network management and system design in a system dedicated to domestic Chinese applications.
Flexible Supports to Diverse Product Designs
Semtech's FMS networking solution provides customers with a variety of options in terms of adaptability. For applications that are well suited to the FMS design, customers can consider using FMS designs in whole or in part, to accelerate their LoRa-based project development.
In addition, the FMS networking solution can also be used as a basic template for the customers' own private network designs. When needed, customers can freely make modifications based on the FMS networking solution to better meet the needs of the industry applications that they are targeting.
In addition, the functional designs included in the FMS networking solution, such as frequency planning, gateway designs for multiple LoRa radios, noise interference scanning and avoidance, frequency hopping, and overall networking architecture, can all serve as good references for companies to design their own private networks.
Meeting the Industry's Needs
In recent years, industry applications have put forward higher requirements for IoT technology in terms of cost, scalability, and response speed. In terms of cost, all types of companies hope to complete digital transformation and upgrading with low-cost solutions. In terms of scalability, companies tend to have a networking design that can adapt to both large scale and small scale applications. In terms of response speed, customers want to be able to monitor and deal with alarms in a more timely manner.
The FMS networking solution launched by Semtech utilizes the inherent advantages of LoRa technology, namely long-range coverage, low power consumption and easy deployment. It can help support customers to complete deployments in industrial scenarios such as large campuses and factories in a low-cost manner. Compared with LoRaWAN, FMS is a lightweight networking solution. Its multi-gateway design can support up to 2,500 and even more nodes, meeting the needs of most applications in various industries.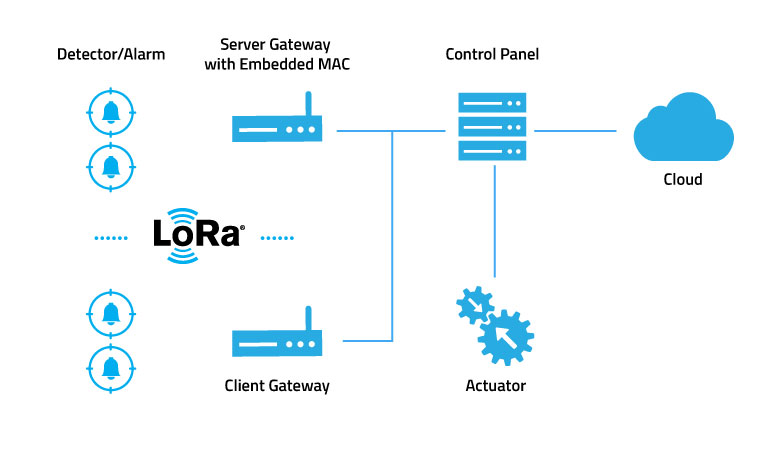 The structure of FMS networking solution enabled by LoRa®
Furthermore, the FMS networking solution based on LoRa technology can quickly take actions on alarms. Compared with the traditional solutions that use polling to wake up and complete alarm reporting, Semtech's FMS enjoys faster and smarter response with more power-saving. In emergencies, the solution can notify an operator more quickly to take timely action.
Staying connected to Cloud-based servers is another popular requirement of Industrial IoT solutions. But if the communication with the Cloud fails, it will affect the efficiency of the use in industrial IoT scenarios. Semtech's FMS networking solution embeds a NS into the FMS master gateway. By doing this, when an alarm is received, the local control panel can determine what immediate action is required first (such as activating local audible and visual alarms, notifying local firefighters by phone call and message, etc.), and then report to the Cloud afterwards, allowing customers to take prompt measures to deal with accidents as soon as possible and reduce any potential losses.
To learn more about the FMS networking solution, please contact the local sales representative.
Conclusion
The "Overall Layout Planning for Digital China" recently released by the Chinese government continues to release positive information to the IoT industry. Lightweight and low-cost IoT networking solutions help to support the digital transformation of companies. The LoRa-enabled FMS networking solution will help enable more systematic and efficient management for industrial companies, while also fueling the digitalization and connected upgrades of various industries.
Semtech, the Semtech logo and LoRa are registered trademarks or service marks of Semtech Corporation or its subsidiaries..