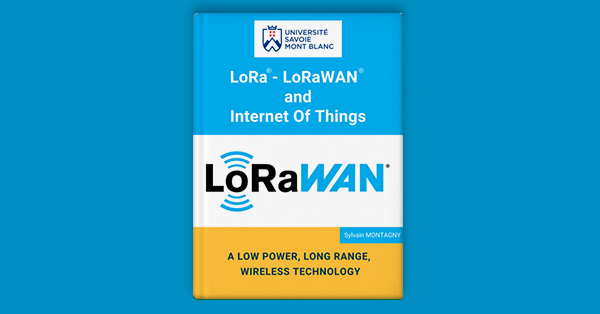 LoRaWAN® E-book from Savoie Mont Blanc University Now Available
05 April 2022 / by Katy Koenen
An associate professor at the Savoie Mont Blanc University, Sylvain Montagny specializes in microprocessor systems and the Internet of Things (IoT). In his role at the university, he is in charge of the postgraduate master's program in Electronics and Embedded Systems. Montagny and his colleagues on the teaching staff of Savoie Mont Blanc University have created a course dedicated to LoRa® and LoRaWAN®, based on the curricula of the following courses:
This course is now available to the public, both as an
e-book
and as a series of
130 videos
. The e-book is freely available for download, and you can sample one hour of the videos for free as well. Although the videos are currently only available in French, English versions are coming soon (May 2022).
As Montagny explains,
"We wish we could have called this book "LoRaWAN® for Dummies" because we focused on a step-by-step approach, clear explanations with a lot of examples. This document applies to all device types from all manufacturers, all LoRaWAN servers, and all IoT platforms. This means that we provide information that is useful for all objects and for all infrastructures. If you follow the document, you should be able to work with any device and any gateway and switch your infrastructure to any network server.

This book does not contain any "tutorial style" explanations; rather, it tries to give precise and valuable information for understanding the global LoRaWAN ecosystem.

This book is free of charge and you can find the latest version here. More content will be added regularly, and you can sign up to be notified of future updates.
Enjoy your reading!"
Lauded by Donna Moore, CEO and Chairwoman of the LoRa Alliance® as "a tremendous resource for anyone interested in LoRaWAN technology" this e-book has also been contributed to by Semtech, one of the creators of LoRa®.
For additional training and educational materials regarding LoRa and LoRaWAN, be sure to check out the Learning Center on the LoRa Developer Portal.
Semtech, the Semtech logo, and LoRa® are registered trademarks or service marks of Semtech Corporation or its affiliates.