LoRa® Is Solving Real World Challenges
02 June 2021 / by Marc Pégulu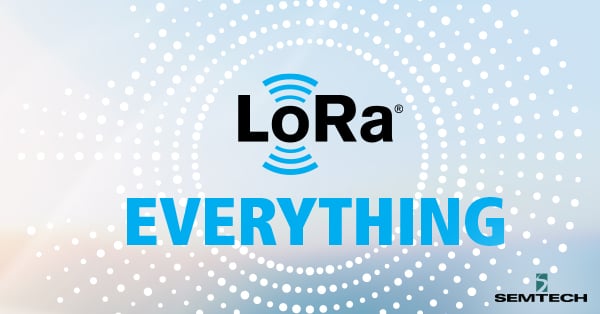 It is hard to believe it has only been six years since the introduction of Semtech's LoRa® devices and the LoRaWAN® standard. Everyone, from Internet of Things (IoT) developers, global corporations, to network providers have been contributing to a robust LoRaWAN ecosystem, enabling the digital transformation of multiple industries.
LoRa and LoRaWAN provide a "voice" to things. Like Wi-Fi, the LoRaWAN standard operates in the unlicensed band and supports indoor applications. Like Cellular, LoRaWAN is highly secure from end devices to the application server, and is suitable for outdoor applications. LoRa devices and the LoRaWAN standard combine these features of Wi-Fi and Cellular networks to offer an efficient, flexible and economical connectivity solution ideal for IoT applications, whether indoor or outdoor, and installed in public, private or hybrid networks.
It has never been easier to deploy IoT connected solutions. Now, there are 151 public or private network operators connecting 191 million end nodes to LoRaWAN networks.* This explosion of data and analytics has impacted an endless array of use cases to solve real world challenges. Watch the video and read more about those use cases below.
Agriculture
Agribusiness is leveraging LoRaWAN to boost production and optimize the supply chain. Farmers are able to better manage yield, improve inventory management and automate critical processes.
Precision irrigation reduces water resources up to 30%

Cattle health monitoring increases milk harvest by 1,200 liters per cow

Remote temperature monitoring of greenhouses ensures plant success
Utilities
Connected solutions can wirelessly measure usage data and trends in dense urban environments, indoors and even underground.
Predictive analytics identify infrastructure issues to be fixed before failure

Remote sensor applications replace costly manual processes

Advanced metering infrastructure increases grid efficiency up to 25%
Supply Chain
LoRaWAN has transformed asset tracking and management for transportation, logistics, food services, and healthcare companies by preventing loss and damage of valuable goods.
Remote temperature monitoring of refrigerated food ensures quality

Indoor/Outdoor geolocation asset tracking improves planning and operations

Fleet monitoring increases fuel efficiency and enhances delivery safety
Smart Home & Building
The foundation of "smart" is using IoT to securely connect systems and share information to make structures greener, more energy efficient, productive and protected.
Monitoring gas, electrical and water use reduces consumption

Real-time leak detection predicts and prevents property damage

24/7 monitoring of cracks, tilt and foundation strength improves safety
Adding to the momentum, Semtech recently teamed up with Amazon to collaborate on its network, Amazon Sidewalk. Leveraging the long range feature of LoRa, Amazon Sidewalk will enable device connectivity from the home to the garden, and into the neighborhood to benefit entire communities.
The Internet of Things and LoRa are providing the building blocks for innovation – helping to make a better, sustainable world to live, work and play. Explore these solutions and more in our new infographic.
*Semtech Q1FY22 Earnings Conference Call
Semtech, the Semtech logo and LoRa are registered trademarks or service marks of Semtech Corporation or its affiliates.