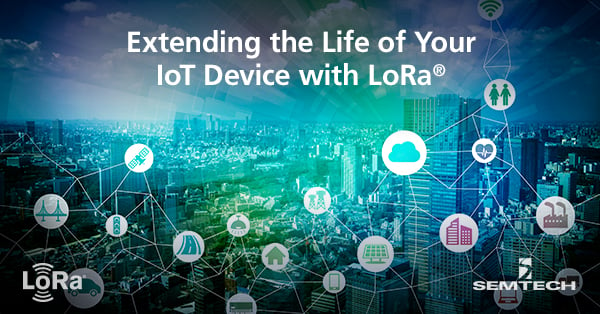 The Internet of Things (IoT) is rapidly gaining momentum. Predictions indicate total spending on IoT technologies will reach $2.5 trillion in 2022, with the total number of devices deployed estimated to be in the billions. In a world with a billion connected devices, the reality is that many will need to be deployed in hard-to-reach places making the ability to service them very challenging and expensive. To accomplish this, developers and system integrators have to take every possible measure to provide technology that will help devices operate as efficiently as possible and prolong device life with future-proof designs.
Recently, I presented in a webinar on "Extending the Life of IoT Devices," hosted by IoT M2M Council. Below are the key takeaways from my portion of the webinar, including advantages of Semtech's LoRa® devices for the extension of an IoT device's lifetime. To watch a replay of the webinar, as well as view developer resources for the developing of IoT solutions, visit the LoRa Developer Portal, a free community for LoRa-based developers.
LoRa and LoRaWAN® Fill a Technology Gap
The business case for the IoT only makes sense if the devices being deployed are low cost, can connect effortlessly to the Cloud from long distances, operate efficiently for years at a time, and can be monitored and upgraded remotely years into deployment. Semtech's LoRa devices and the LoRaWAN® protocol are the de facto choice for IoT applications, and offer a unique feature set to enable the extended lifetime of an IoT device for any imaginable use case. LoRaWAN minimizes the operational cost of IoT solutions, driving return on investment and making it a smart choice for many potential IoT deployments.
Wi-Fi and Bluetooth low energy (BLE) are mostly associated with high-bandwidth consumer business. These technologies are mainly suitable for short-range applications including video or audio streaming. Cellular, on the other hand, supports connectivity for high value assets in the B2B world that aren't sensitive to cost due to the nature of the licensed band. LoRaWAN, similar to Wi-Fi and BLE, uses the unlicensed band to span a wider range of network options and provide a highly secure dual encryption model to keep data safe during transfer. As a result, LoRaWAN is the perfect complement to both networking technologies, and its long range and low bandwidth capabilities make it ideally suited for the connectivity of high volumes of small things and LoRa-based sensors.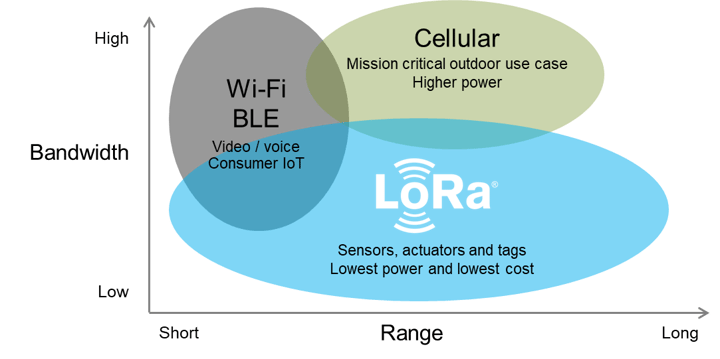 Device Lifetime: More Than a Battery Issue
Extending the life of one's IoT devices involves much more than just using the correct battery. Two key factors at play in determining device lifetime are low power usage, more importantly, how efficiently the device is using power, and the device's ability to be future-proofed over time.
Engineered for Low Power
In an ideal IoT device, data transmission is kept to a minimum to conserve power. LoRa-based devices help accomplish this by being "good listeners," meaning these devices receive data without expending much power over normal resting levels. LoRa-based devices also "talk only when necessary and think twice," meaning the power-costly transmission of data is done only when certain pre-programmed thresholds are met. Unlike other sensors that may be transmitting data constantly, a LoRa-based sensor will "think twice" and quickly determine if the input has reached the necessary threshold, and only transmit a data packet when it has to, expending energy in small, infrequent bursts. Upon transmitting a data packet to a gateway, the device will return to sleep mode, where energy use is at its lowest level. Additionally, a LoRa-based sensor does not need to pair with a gateway before sending data, which further reduces energy use and prolongs battery life.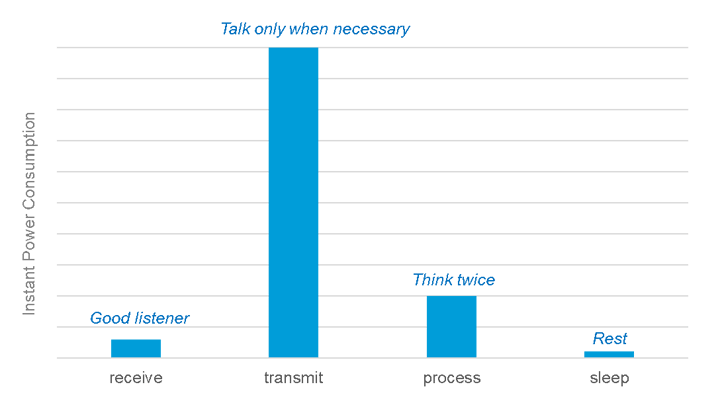 Smart Management, Future Proofing and Digital Twins
The smart, remote management of LoRa-based devices also plays a large part in driving down energy usage. Devices allow customers and engineers to remotely check battery status at any time. As a result, users can then evaluate how the battery is being used and troubleshoot any inefficiencies in battery optimization. Additionally, if certain devices in the network are not required to communicate for extended periods of time, these devices can be "muted" until needed. Another key factor in prolonging battery life in LoRa-based devices is adaptive data rate (ADR). With ADR, the amount of time a device spends "on air," or in data communication, can be reduced depending on how close the device is to the gateway. If a device is closer, the energy used can be reduced and battery life will be extended. For an in-depth look into ADR and other technical processes at play in LoRa-based devices, visit the LoRa Developer Portal video library.
Making sure your IoT devices continue to monitor data efficiently and successfully over time is an important factor when choosing any IoT technology. LoRa-based devices are successfully "future-proofed" and get smarter over time through a process known as firmware updates over the air (FUOTA). FUOTA enables devices to update software remotely, keeping the devices up to date to make sure they continue to function at a high level, even several years into deployment. As one can imagine, this is very important for devices deployed in remote areas or hard-to reach places where a physical update would be difficult. With FUOTA, LoRa-based devices increase in value over time while other sensors become obsolete.
A final factor in the "future proofing" of IoT devices with LoRa lies in the creation of "digital twins." Through Cloud-based applications, a virtual replica of an IoT device can be created in a given deployment using the data received from the device. This replica is known as a digital twin and enables simulation of how the device will perform, operate and handle different scenarios. The data received from these virtual tests predicts how a real device might perform in the real world. This data can be used to update a device and take measures to better enable success. Prediction allows optimized upload of device application firmware and optimized communication and processing, which will extend the lives of devices.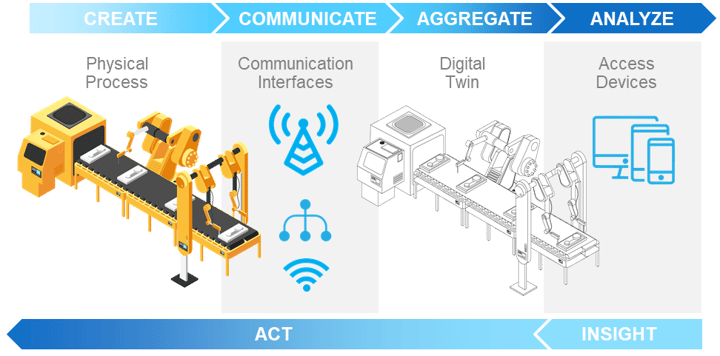 To watch Marc Pegulu's recent webinar on this topic, visit the LoRa Developer Portal video library.
Semtech, the Semtech logo, LoRa, and LoRaWAN are registered trademarks or service marks of Semtech Corporation or its affiliates