Everynet Launches National LoRaWAN® Network in U.S.
23 June 2021 / by Lawrence Latham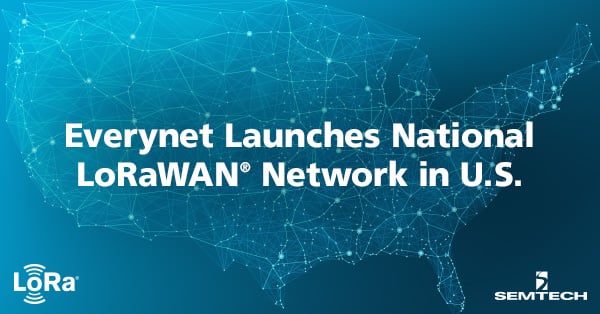 The number of Internet of Things (IoT) devices deployed across the globe is expected to triple over the next decade. As a result of this growth, there's a need for more low power connectivity to process the small amounts of data these devices produce quickly and securely. Moreover, with 2G and 3G networks sunsetting, enterprises are in need of a low power wide area (LPWA) network that is cost-effective and reliable in order to provide the connectivity needed to power IoT applications across a variety of industries.
To enable greater IoT connectivity and give enterprises more choices, Everynet launched a national LoRaWAN® network in the United States, adding another key geographical region to its established global footprint. In collaboration with Semtech and Crown Castle, the first phase of the rollout is anticipated to go live by the end of 2021 to the top 36 metropolitan areas and an additional 100+ key logistics intersections, airports and seaports. The deployment is expected to provide coverage to approximately 50% of the U.S. population.
Everynet's Advantages
Everynet is unique in that we are known for our ultra-low-cost neutral-host IoT networks that operate on a wholesale model. Specifically, we build coverage and enable our partners, like mobile network operators (MNOs), mobile virtual network operators (MVNOs), application service providers (ASPs), managed service providers (MSPs), and internet service providers (ISPs), to offer carrier-grade low power wide area (LPWA) IoT services to their customers. The wholesale model therefore allows multiple enterprises to benefit from the same coverage, choosing what type of connectivity works for their business need. Our network also offers massive scale – processing billions of messages.
Enabling IoT Use Cases
Some of the most needed use cases for our network is within the utilities, supply chain and logistics and smart infrastructure industries. By collaborating with Semtech, we are able to ensure customers can benefit from the LoRaWAN® standard, ensuring reliability and longevity from their IoT applications.
Scenarios within these industries where Everynet and Semtech could be of help include:
Water Consumption Monitoring – to easily manage water usage, smart LoRaWAN sensors can measure water consumption at a household or business and detect any waste or malfunctioning to ensure operational efficiency. As a result, utilities using Everynet's network have reduced operational costs by up to 15%.

Fleet and Cargo Tracking – to effectively track the movement of goods throughout the entire supply chain, assets can be securely monitored and located at any point, reducing the risk of stolen or damaged goods, offering solutions for the overwhelming $22 billion worth of cargo that is stolen each

Intelligent Parking System – to help ease the stress of finding a parking spot while also reducing CO2 emissions, drivers can be notified of empty spots when at a destination. This reduces the time spent parking, decreases traffic volume by up to 10% and even shrinks CO2 emissions by up to 38%.
We are committed to working closely with Semtech and its expansive customer base as LoRaWAN sensors go live on our new U.S. network. We anticipate lots of new use cases and customer applications to deploy in the near future. For any Semtech customers, we want to partner with you too – please reach out, I'm here to help.
Learn more about Everynet and our network rollout in the U.S.
Semtech, the Semtech logo and LoRa are registered trademarks or service marks of Semtech Corporation or its affiliates.