Building Sustainable Public Lighting With LoRaWAN®
09 November 2021 / by Raphael Atayi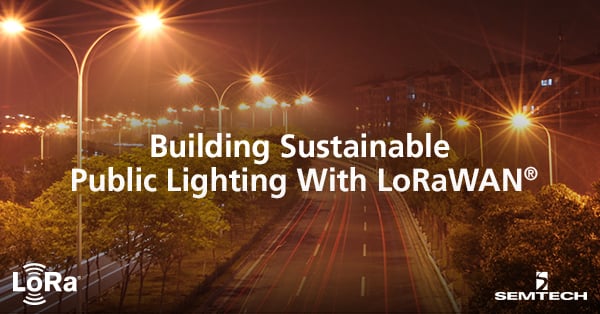 Semtech drives global change by creating innovative technology that facilitates a smarter, cleaner and more connected planet. Specifically, Internet of Things (IoT) applications leveraging Semtech's LoRa® devices and the LoRaWAN® standard enable a wide range of solutions that improve efficiency and reduce waste.
Cities and public utilities were both early adopters of IoT technology. Today, more than ever, communities need to increase sustainability and improve quality of life for citizens and visitors. As cities become more sustainable, public lighting infrastructure provides a unique opportunity to improve energy efficiency via Cloud-based monitoring and management as well integration with other urban IoT capabilities like smart metering.
Semtech's LoRa wireless radio frequency devices offer low power and long battery life, making it an ideal solution for a wide variety of smart city applications relying on battery-powered sensors and actuators. By deploying an IoT sensor network based on LoRa, cities can establish data-driven efficiencies that improve public services and rationalize costs.
Increasing Efficiencies in Public Lighting Infrastructure
Traditional public lighting is expensive due to several factors. These systems do not allow for carefully calibrated, real time control and data output, which means lighting units may stay lit even when they are not needed. Traditional lighting systems also require intensive field personnel operations to detect system anomalies.
With the rise of low power wide area network (LPWAN) technologies, new smart lighting solutions are proving to be a compelling alternative to other connectivity options for both IoT networks and smart cities applications. Smarter management and monitoring leads to cost and energy savings, which is critical in today's ecological climate. Unnecessary public lighting is expensive and inefficient. Utility providers can help address this issue via more effective management based on environmental data such as human presence and weather conditions, as well as real-time measurement of utility data.
By implementing a smart lighting infrastructure comprised of sensors and gateways utilizing the LoRaWAN standard, cities and utility providers can collect real-time data, analyze it and act on insights, enabling more efficient use of resources and personnel. Integrating new technologies into public lighting infrastructure has the potential to save costs, optimize processes and facilitate improved decision making. Smart lighting infrastructure lays groundwork for the implementation of a smart digital platform to manage other city services, an important step toward becoming a smart city.
Smart Lighting with Wellness TechGroup
IoT solutions provider Wellness TechGroup, which specializes in public utility digitization projects, created the WeLight software platform to maximize the potential of lighting infrastructure, enabling smart cities and driving intelligent, sustainable transformation. The solution, which can communicate wirelessly via the LoRaWAN standard, helps utility providers more efficiently manage and regulate energy consumption to maximize the potential of lighting infrastructure.
According to Wellness TechGroup, LoRaWAN was the most convenient wireless connectivity choice because it is easy to use and cost-effective to deploy a city-wide network for smart city applications with smart lighting as a core supporting infrastructure. The city then benefits from the convenience of the same LoRaWAN network all its smart utilities and smart metering applications.
Delivering software and hardware elements required to establish remote management of public lighting, WeLight equips lighting infrastructure with both intelligence and connectivity. Each lighting unit is converted into a data server, so lighting units become nodes in the IoT ecosystem, which paves the way for future investments. Smart street lighting enables smart cities, utilizing intelligent LoRaWAN network infrastructure, to support plug and play capabilities for additional smart technologies later on.
The solution provides highly accurate real-time data, allowing utilities providers take a more flexible and agile management approach, basing critical decisions on actionable data. Implementation of WeLight generates electricity savings and reduce CO2 admissions, making cities greener.
Explore more solutions for smart cities on our website:
Semtech, the Semtech logo and LoRa are registered trademarks or service marks of Semtech Corporation or its affiliates.