The LoRa Alliance® and Connected Farming Solutions at World Ag Expo 2020
07 February 2020 / by Emmanuel Mounier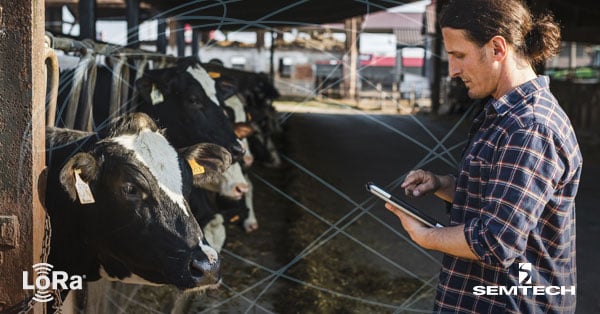 Every year, major stakeholders in the North American agricultural network meet at World Ag Expo, one of the continent's largest annual agriculture events. This year, the event will take place February 11 – 13 in Tulare, one hour south of Fresno in the heart of California's Central Valley, where farmers produce more than one fourth of all U.S. food and one fifth of all U.S. dairy products.
This year, the LoRa Alliance® will have a booth at this show for the first time, and members will present some of their most advanced farming solutions using Semtech's LoRa® devices and the LoRaWAN® protocol. More and more Internet of Things (IoT) solutions in the farming vertical market are leveraging LoRa-based sensors and LoRaWAN-based long range networking. The benefits of this particular low power wide area networking (LPWAN) platform include ease of deployment, long battery life and no dependency on Cellular operators.
Explore LoRa-based solutions for smart agriculture.
Farmers, co-ops, food processors, retailers, and other players of the U.S. farming industry attending the show have an opportunity to discover the latest innovations in LoRaWAN-based agriculture. LoRa-based wireless sensors allow farmers to continuously monitor fields, assets, animals, and buildings. Many LoRa-based solutions even offer longer sensor battery life with extended connectivity in rural areas. LoRaWAN networks provide significant advantages over traditional Cellular networks, such that farmers can deploy their own private network, similar to Wi-Fi.
These technological improvements drive increased productivity and yield while reducing waste, creating more effective processes for farmers and their employees.
California and Central Valley is recovering from a serious drought that lasted several difficult years. As a result of the drought, irrigation costs in the area have increased considerably. Therefore, it is a high priority for local businesses to increase sustainability in their processes. Among several solutions to be demonstrated in the LoRa Alliance booth, soil moisture monitoring and irrigation management will play a major role to show visitors how leading ecosystem applications help to address current industry challenges.
The following ecosystem members will demonstrate smart agriculture applications in the LoRa Alliance booth:
Farmers, as well as equipment manufacturers, agricultural retailers and cooperatives are invited to visit booth NS6 where LoRa Alliance members will exhibit and present the various solutions available and types of data collected on a LoRaWAN-connected farm. LoRa devices make the agriculture space smarter and more sustainable. Visit us in the booth to see how your business can benefit from LoRa-based precision farming applications.
Semtech, the Semtech logo and LoRa are registered trademarks or services marks of Semtech Corporation or its affiliates