The Building Block for Safe & Secure Workplaces in the COVID Era
23 July 2020 / by Alistair Fulton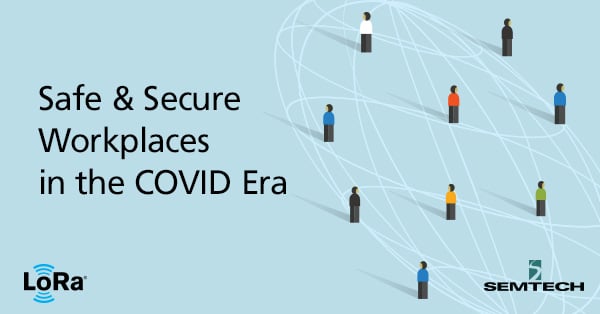 Leveraging smarter technology allows us to address the world's toughest problems. Semtech's founding principal of delivering advanced solutions that have a social and environmental impact is being fully realized in our challenge to combat the global COVID-19 pandemic today.
Never before have we been as hyperaware of just how connected we are to each other. Internet of Things (IoT) solutions, and Semtech's LoRa® devices in particular, are at the forefront in helping us connect and protect our communities by delivering solutions to promote healthy workspaces.
The Great Reset
A recent Just Capital & Harris Poll survey revealed that 90 percent of Americans want companies to prioritize health and safety measures in the workplace, and 69 percent would rather experience financial strain than risk their health or the health of others by going back to work too soon.
This "Great Reset" phase of the coronavirus crisis will surely introduce new safety policies and procedures. This transition also requires a new level of trust from employees to ensure their privacy and security for remote and in-person workspaces.
As human resources departments and facility managers are implementing actions to comply with government regulations and address best-practice guidelines, LoRa devices enable solutions to locate, detect and monitor data wirelessly. This powerful technology not only safeguards the health of workers, but encourages a secure work environment.
To minimize COVID-19 threats and promote a safe and secure workplace, LoRa-based end-to-end applications address key areas of concern:
Facility Hygiene – innovative tools and alerts to enable predictive cleaning practices, touchless sensors and supply systems
Contact Tracing – proximity sensing and automatic contact tracing of employees in work locations while addressing privacy concerns and limiting data access
People Counting – anonymous density control, maintain a maximum count and receive alerts when thresholds have been reached
Staff/Visitor Infection Control & Mitigation – automated sign-in and temperature kiosks, notify with critical data if individual is in contact with colleague that has tested positive for COVID-19
An Ecosystem of Innovation
Systems Integrators are instrumental in ensuring business continuity by recommending, deploying and managing solutions to keep workers safe, secure and healthy. Corporate enterprises seek proven and secure solutions that are accurate, reliable and easily integrated into business environments, and could operate independently from existing IT infrastructure if needed.
LoRa Alliance® members, including equipment and sensor manufacturers, telecommunication companies and entrepreneurial start-ups, have been quick to respond to the changing needs of businesses by repurposing existing IoT solutions. For instance, asset tracking and smart building management systems have evolved into solutions for proximity monitoring, geo-fencing, predictive cleaning, and occupancy monitoring.
This rapid innovation has been enabled by more comprehensive tools, in the form of easy to deploy sensor networks and powerful Cloud analytics systems such as artificial intelligence (AI) and machine learning (ML). The driving factors behind this innovation are changing as well. While the goal of IoT solutions will always be efficiency – using less to achieve more – sustainability, health and safety are now the top priorities. That which was once considered "nice-to-have" IoT has shifted to must-have technology.
The true value of safe and secure workplaces driven by LoRa-enabled solutions will become increasingly clear as communities manage the gradual reopening and businesses resume operations while ensuring new levels of safety for their workforce.
Visit our LoRa applications page to explore those COVID-19 support solutions available today.
Semtech, the Semtech logo and LoRa are registered trademarks or service marks of Semtech Corporation or its affiliates.