Following its origin 20 years ago, the Device Language Message Specification (DLMS) has become a universal standard for utilities. With a hundred million smart meters using DLMS installed worldwide, it is currently one of the most used smart metering standards today. On June 26, 2020, Semtech was approved by vote to join the board of the DLMS User Association during its recent general assembly.
As explained in a previous blog, the DLMS User Association and the LoRa Alliance® have been in close collaboration and on June 2, 2020 during DLMS webinar , the DLMS User Association announced the coming release in this summer of the first new communication profile of DLMS over a LoRaWAN® network. This achievement results from a continuous effort by the two ecosystems. The possible applications of this new DLMS profile are numerous, from smart metering to market applications benefiting from the combination of a high-level application standard over LoRaWAN.
Demonstrations from the Ecosystem
Semtech has been committed to working with the ecosystem to further the enablement of DLMS over LoRaWAN. At European Utility Week 2018, Semtech hosted a demonstration in a collaborative effort with the Euridis Association (of which Semtech is also a member) and the initial taskforce between DLMS and LoRa Alliance, to prove the feasibility of connecting DLMS-enabled devices over LoRaWAN networks.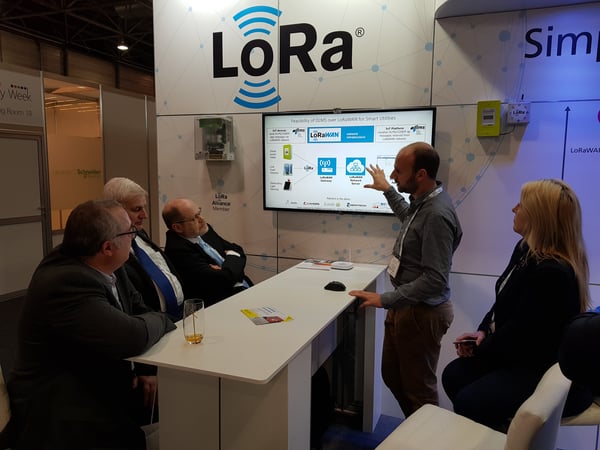 First DLMS demonstration of LoRaWAN connection presented by Semtech at European Utility Week 2018
In addition, the number of demonstrations has increased over time with more leading members of the ecosystem, from various manufacturers to operators and software companies.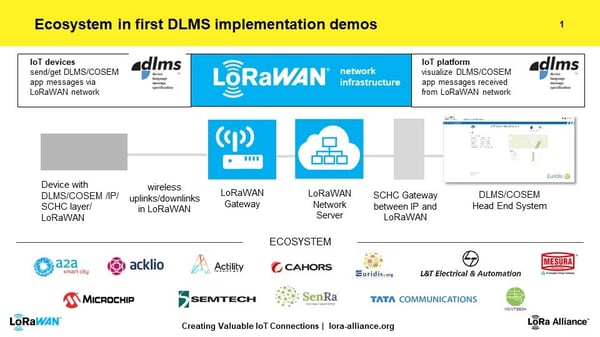 © LoRa Alliance
New demonstrations implementing the new profile for smart meters and other IoT devices were shown by the LoRa Alliance at European Utility Week 2019, and more recently in March 2020 at the India Smart Utility Week.
Semtech is a direct contributor to the Internet Engineering Task Force (IETF) specification on the adaptation layer Static Context Header Compression (SCHC) required by the DLMS profile. As Olivier Gimenez, Software Application Engineer from Semtech driving the contribution to IETF said, "We are proud to contribute into the specification to empower the continued use of IP-based protocols over LoRaWAN."
With the SCHC adaptation layer, the combination of DLMS over LoRaWAN is reliable, standards-based and interoperable.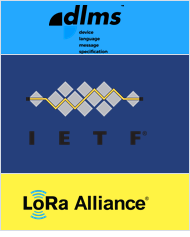 As a new board member of the DLMS User Association, Semtech will encourage the global adoption of DLMS/COSEM within the utility industry and continue to sustain cooperation between the LoRa Alliance and the DLMS UA.
DLMS Over LoRaWAN Webinar Takeaways
Semtech will help drive market education on the benefits of using DLMS over LPWAN networks, such as LoRaWAN. As illustrated during this recent DLMS webinar about applications over LoRaWAN, which I moderated for the LoRa Alliance, LoRaWAN networks have the capacity, as proven by a case study conducted by Lar.Tech, to support the typical DLMS applications of smart electricity metering.
The webinar outlined the three main arguments for DLMS over LoRaWAN for smart electricity metering:
LoRaWAN can support high levels of meter density and a 95 percent success rate for daily readings, both in urban and suburban areas, as shown by the simulation below.
The typical challenge for utilities in dense urban areas is to deliver a defined number of messages and ensure a sufficient reading rate daily. The average volume of data for DLMS over LoRaWAN is 1.5 kilobytes per day. This is for a configuration of meter readings every 30 minutes, including index, load curves, time of use, logbooks, all registers, alarms, etc.
The simulation, based on a common propagation model, proves LoRaWAN has capacity to support a density of more than 20,000 meters, with two repeats and a gateway spacing of 1km, while still ensuring a reading success rate of 95 percent per day. The network capacity in terms of meters per square kilometer follows gateway density per square kilometer. A higher density of meters can be possible with more gateways, or even with the use of new LoRaWAN data rates to scale up.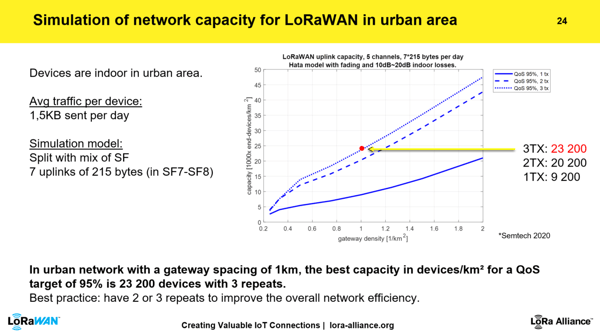 © LoRa Alliance
LoRaWAN can support the required service level agreements (SLAs) typically required in smart electricity metering. This was illustrated in a second presentation from Tech, based on a case study of more than 50,000 deployed smart electricity meters in Russia which have used DLMS since 2017. This use case confirmed LoRaWAN can support the service level agreement (SLA) with very high performance in reading rates.
LoRaWAN has a lower total cost of ownership (TCO). In a third presentation that compared LoRaWAN with ZigBee and PLC technologies, Lar.Tech illustrated the economic advantages of a LoRaWAN-based solution combined with less complexity in installation and configuration.


LoRaWAN is predicted to be a game changer for the smart electricity metering market as it has been already for the smart water metering.
Future Applications
Looking forward, Semtech will seek to explore new markets that would benefit from DLMS over LoRaWAN. New applications, such as electric vehicles are seeking the right choice of standard application protocol to ensure the secured exchange of data with interoperability, ease of deployment and strong reliability between all the stakeholders. With the increasing use of electric vehicles, use of DLMS over wireless like LoRaWAN can bring significant flexibility and ease of deployment for enabling interaction between the meter and charging station.
As another example, bolstered by public regulation, is the reduction of pollution and greenhouse gas, which will result in significant investment from utilities to improve remote maintenance, enable preventive maintenance and save more operational cost. A key sustainability use case is the remote control in smart grid infrastructure of water or gas with valve control and leak detection. For smart grid, the remote monitoring of power substations, often installed in far areas and needing the early detection of fire, flood, or intrusion, and automated collection of key parameters such as temperature and CO/CO2 levels, is also an application that's creating interest with customers. Beyond the development of health and usage monitoring systems, expansion in the new markets of smart appliances for industrial and residential, and smart cities are among the most interesting potential IoT markets for DLMS.
To learn more, download the LoRa Alliance white paper, "A Solution for Successful Interoperability with DLMS/COSEM and LoRaWAN."
Semtech, the Semtech logo and LoRa are registered trademarks or service marks of Semtech Corporation or its affiliates.