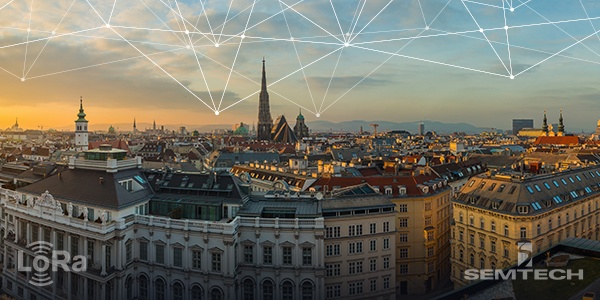 European Utility Week (EUW) 2018 will be held on November 6 to 8 in Vienna, Austria and all of the biggest names in metering and utility management are eagerly preparing.
The event first started in 1998 and attracted 200 attendees, however this year, it is expected to welcome more than 12,000 from over 100 countries. Semtech will be one of the 600 exhibiting companies at this year's installment of EUW, and will be exhibiting our leading technology platform for Internet of Things (IoT) smart metering applications, LoRa® devices and wireless radio frequency technology (LoRa Technology) in booth B.b70. Dozens of LoRa Alliance® member companies will also be exhibiting in the EUW exhibition halls (more on the ecosystem members below).
LoRa Technology for Smart Utilities
Traditional meters require manual reading by personnel in the field, which can often be a labor intensive and time consuming process, resulting in a subjective reading. A LoRa-enabled smart meter solution features the deployment of sensors and gateways embedded with LoRa Technology. This system is easy to implement into existing infrastructure, and connects the meter to the Cloud via a gateway. The meter then takes readings like it normally would and uploads this information to the Cloud in real-time. This information is accessible to the utility provider or business/homeowner on whose property the meter is deployed. To date, tens of millions of LoRa-enabled meters have been deployed around the world.
Read more about LoRa-based applications for smart metering.
Smart Metering Use Cases of Note
Recently, a few LoRa-based metering applications have made headlines:
Washington-based Apana developed a smart water solution with LoRa Technology designed to monitor the amount of water used by companies and cut down on waste. Since beginning in 2012, Apana has helped its customers drastically reduce their water use and cut costs. Costco Wholesale Corporation (Costco) introduced Apana's water solutions in several of its warehouses and measured a 20% reduction in water waste and 22% decrease on its monthly water bill per building. Costco has since rolled out Apana solutions in 500 locations, including all North American warehouses. Read the application brief or blog for more information.
Butano24, a Spanish company delivering IoT devices to energy and utility companies, successfully integrated LoRa Technology into a gas level measurement application to intelligently monitor tank levels. Using a sensor module embedded with LoRa Technology, a normal gas canister, containing butane or kerosene for example, can accurately measure the level of fill per tank. This data is then sent via the Cloud to the associated customer or distributer. When fill levels reach a certain threshold, a request for refill is automatically sent out. Read the press release or use case for more information.
Interested in an in-depth look at a LoRa-based smart metering use case? Download our Network Capacity Whitepaper for smart metering applications!
The LoRa Ecosystem at EUW
Additionally, the LoRa Ecosystem is expected to make a strong showing at EUW. The LoRa Alliance™ is a Gold Partner of the event and is hosting receptions at the event in Galleria Rooms 9 & 10 at 10:00 a.m. and 4:00 p.m. on Wednesday, November 7 and again at 10:00 a.m. on Thursday, November 8.
The following members of the LoRa Alliance will be present in the exhibit hall:
Not planning to attend European Utility Week this year? You can still meet the LoRa Ecosystem online. Visit our website.
Semtech, the Semtech logo, LoRa and LoRaWAN are registered trademarks or service marks of Semtech Corporation or its affiliates.