Semtech and LoRa Alliance® Prepare for European Utility Week
06 November 2019 / by Rémi Demerlé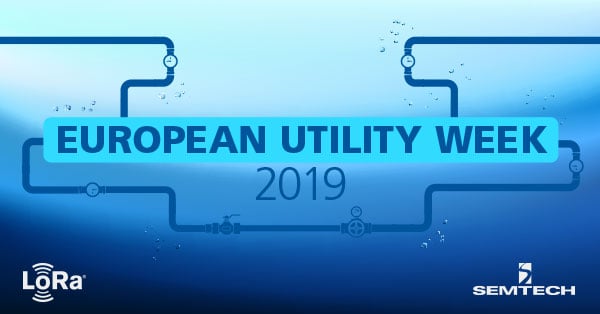 European Utility Week (EUW) will be held November 12 to 14 in Paris, France, and all the biggest names in metering and utility management are preparing for an exciting event.
When EUW started back in 1998, it attracted approximately 200 attendees. However this year, EUW is expected to welcome more than 18,000 visitors from 100 countries. Semtech will be one of 800 exhibiting companies at this year's installment, and will be exhibiting our leading technology platform for Internet of Things (IoT)-based smart metering applications, LoRa® devices and the LoRaWAN® open protocol, in booth Q90. Dozens of LoRa Alliance® member companies will also be exhibiting in the EUW halls.
Semtech Displays LoRa Devices for Smart Utilities
Typical solutions for smart utilities feature metering sensors embedded with LoRa devices. This system is easy to implement into existing infrastructure, and connects to the Cloud via a LoRa-based gateway. The meter then takes readings at intervals and uploads this information to the Cloud in real time. This information is accessible to the utility provider or business/homeowner.
Semtech will demonstrate a variety of LoRa-based systems for smart water metering and water management at EUW. Water management demonstrations will showcase a smart water meter from Diehl, smart valve from STREGA, smart temperature/pressure sensor from Decentlab, and a LoRa-enabled gateway from Gemtek.
Semtech's booth will also proudly present a "Wall of Water Meters," featuring:
Smart Watering Use Cases of Note
Recently, a few LoRa-based metering applications have made headlines:
Birdz, a subsidiary of Nova Veolia and a global leader in optimized resource management, leveraged LoRa devices and LoRaWAN networks for a smart water metering system in France. In 2015, Eau du Grand Lyon implemented Birdz's LoRa-enabled smart water sensors for the system's advantages for long-range connectivity and real-time usage data. The new water management approach identified 1,200 leaks in the distribution network, saves over one million cubic meters of water annually and increased water network efficiency from 77 percent in 2014 to 85.2 percent in 2018. Download our new white paper on this use case: Leading the Digital Transformation of Water Utilities by Enabling Automated and Remote Meter Reading
Hanbit, a provider of end-to-end automation solutions in smart gas, water and electricity metering, developed a new ultrasonic water metering (UWM) solution. Hanbit's UWM products utilize LoRaWAN-based connectivity to enable the near real-time transmission of accurate water use data. Hanbit's UWM smart meters use ultrasonic pulses to take precise measurement of water flowrate. In the event of a drop in water flow or other abnormality, the smart meter sends a warning message over the LoRaWAN network to enable a quick response. The low power capabilities of LoRa devices enable Hanbit to offer metering solutions with up to 20 years of battery life, reducing replacement and maintenance cost to the customer.
The LoRaWAN Ecosystem at EUW
Additionally, the LoRaWAN ecosystem is expected to make a strong showing at EUW. The LoRa Alliance will be showcasing its collaborations with the DLMS User Association, a non-profit organization that develops, maintains, supports, and promotes the DLMS/COSEM specification for data exchange for smart metering, smart energy management, and related fields, at stand N128.
The following members of the LoRa Alliance will also be present in the exhibit hall:
Not able to attend European Utility Week this year? Learn more about the LoRaWAN ecosystem online.
Semtech, the Semtech logo and LoRa are registered trademarks or service marks of Semtech Corporation or its affiliates.