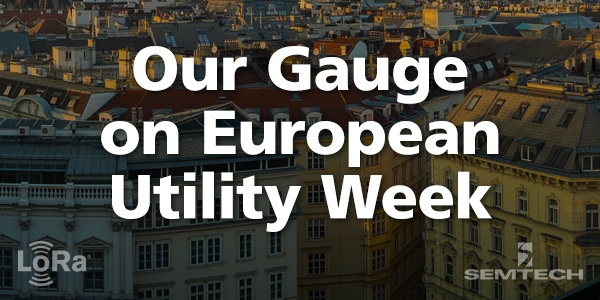 Semtech has just returned from European Utility Week (EUW) 2018 in Vienna, Austria and we are still reeling from the whirlwind of industry activity, innovation and the sheer buzz of companies developing and deploying Internet of Things (IoT) solutions today using Semtech's LoRa® devices and wireless radio frequency technology (LoRa Technology). While in previous years, EUW events explored the possibility of low power wide area network (LPWAN) wireless solutions, this year was less about the technology itself and much more focused on the real-world deployments of networks based on the LoRaWAN

®

protocol and sensors/meters, not only in the smart utility segment, but with a growing level of activity in other vertical segments too, such as smart buildings, smart cities and smart agriculture.
The three days in Vienna were packed with customers, presentations, product demonstrations and a fully sold-out Semtech booth teeming with activity, even to the last minutes of the exhibition. With over 25 LoRa Alliance® members, including many of the world's leading metering companies, each exhibiting at the event and many more members present from the LoRa Alliance's growing membership of over 500 companies, it's really no surprise that LoRaWAN is viewed as a de facto standard for IoT solutions in the LPWAN space today.
Here are the top four questions asked at the event.
1. What are the latest use cases in which Semtech's LoRa devices have been deployed?
According to the LoRa Alliance, there are currently 100 countries with LoRaWAN-based network deployments (and ever expanding). It's a race to keep pace with the diverse range of customer use cases. Just in the smart utility space, there are already hundreds of companies globally using Semtech's LoRa Technology.
For example, Czech Radiocommunications (CRA) in the Czech Republic has deployed LoRaWAN-based network covering over 75% of the country today, helping solve the challenge of modernising the utility infrastructure to real-time monitoring leading to more than 30% savings in water, electricity and gas in household consumption. Read the complete CRA use case.
IOTLABS also highlighted how they leveraged Semtech's LoRa Technology to deploy a network across the island of Mallorca to become the first LoRaWAN-based smart island. With its simple, proven and easy-to-deploy capabilities, LoRa-based devices enabled full coverage of the island. One of the many services is the real-time water management leading to citizen awareness and a 25% reduction in water use, a very valuable (and finite) resource for an island experiencing rapid population growth. Read the complete IOTLABS use case.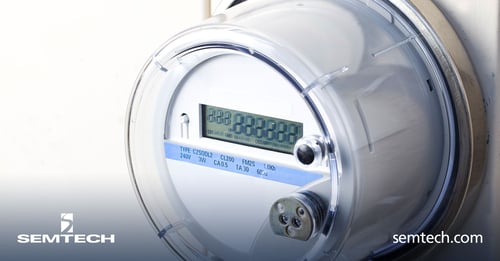 2. What is the current deployment status of LoRa®-based sensors globally?
By 2019, Semtech estimates there will be over 80 million LoRa-enabled nodes and over 200,000 LoRa-based gateways in place around the world. Additionally, the number of LPWANs based on the LoRaWAN protocol is expected to exceed 70 countries. These numbers indicate that Semtech's LoRa Technology and LoRaWAN together represent one of the leading LPWAN solutions globally.
3. How can organizations collaborate to enable LoRa-based smart metering application efficiency?
The smart utility segment is clearly a well-established vertical for LoRa Technology with several dozen metering companies present at the show and almost all showcasing smart meters and sensors using a number of messaging protocols. Working with several of our partners, there was a demonstration of DLMS with several meters and sensors sharing data over a LoRaWAN-based network. This is a clear example of the benefits of an open standards based solution allowing secure, long range and low power solutions to operate on a common network.
4. There are so many companies with an IoT offering, how can I select the right pieces and trust it will work for years to come?
This is indeed a huge challenge and could lead to lengthy evaluation trials and even failure of projects. Semtech has been working with its customers and partners on a range of use cases, nearly 40 published to date, which outline a real-world IoT challenge, identify the components used (e.g., sensors, gateways, network servers) and the business value for the partner achieved. There are many catalogs of available LoRa-based products and service, including those published by Semtech, (the LoRa Developer Catalog) and the LoRa Alliance (LoRaWAN Certified Products).
Maintaining and supporting products that are intended to operate for many years must be carefully considered. The LoRaWAN protocol includes provision for firmware updates over the air (FUOTA) allowing devices to receive software updates over their lifetime.
Please visit the LoRa Developer Portal to explore technical documentation, engage in our forum, shop for LoRa-based products and services, and contact the Semtech team with your IoT challenges – we look forward to hearing from you.
Read more from David Armour in these recent articles:
LoRa Mooted as Wireless Champion

Semtech, the Semtech logo, LoRa, and LoRaWAN are registered trademarks or service marks of Semtech Corporation or its affiliates.