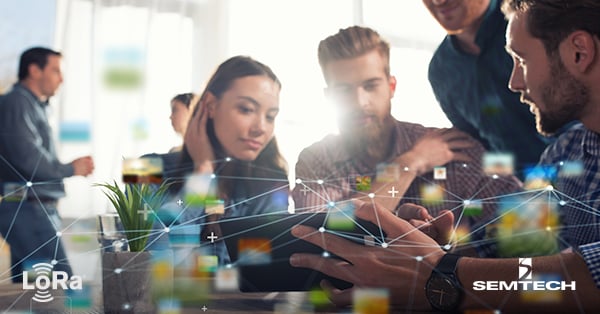 The LoRa Alliance® met in Berlin last month and hosted our most successful LoRaWAN Live! day to date. While over 60 presenters took the stage across both the business and technology tracks, a major highlight was the Momenta Partners LoRaWAN Startup Challenge finals. In their own way, the finalists represented a microcosm of the LoRa Alliance ecosystem with their wide range of offerings, and their decision to use the LoRaWAN® protocol, which is based on best-of-breed LoRa® technology. The quantity and variety of challenge entries made it clear why LoRaWAN has become the de facto industry standard for low power wide area networks (LPWANs).
The past year has seen phenomenal growth in the LoRaWAN ecosystem, with deployments moving from trials and proof of concept, to the market where LoRaWAN deployments are massive and scaling. Momenta's LoRaWAN Startup Challenge received high-quality entries from around the world, not surprising as the LoRaWAN protocol has one of the largest global developer ecosystems. LoRaWAN technology is widely available and easily accessible, offering a choice of connectivity either through public or private networks, further supporting innovation and application development. The LoRa Alliance's open, collaborative ecosystem continues to expand, ensuring that companies looking for IoT solutions can choose from a variety of vendors, and have options available across every part of the value chain, giving them flexibility in their solution design and deployment. Finally, LoRaWAN technology and the community behind it make it easier to build solutions and bring them to market faster.
Changing the World, One LoRaWAN Solution at a Time
What is really interesting about LoRaWAN – and which came through strongly in the Startup Challenge finalists' presentations – is that companies designing with LoRaWAN are doing more than just implementing another technology. IoT solutions leveraging LoRaWAN provide insightful information that benefits the world at a higher level – there is a real need and purpose to the work the ecosystem delivers. LoRaWAN provides data and valuable insights to improve the world and achieve a higher quality of life.
The Startup Challenge finalists demonstrated a variety of solutions enabled by the LoRaWAN protocol, including:
Chirpywan (U.S.) – A ready-to-use deployment application to build, test and validate LoRaWAN networks to simplify deployments
Skysens (Turkey) – An end-to-end LoRaWAN digital solution that transforms production areas into complete smart industries with 24/7, 360° monitoring
Polygravity (Germany) – A distributed ledger-based billing solution enabling monetization of LoRaWAN roaming
ConnectedFresh (U.S.) – A real-time temperature monitoring and cold-chain tracking solution that reduces waste and protects human health
Sensedge (Slovenia) – A large-scale producer of SenStick sensors and Internet of Things (IoT) solution developer supporting a wide range of vertical markets to accelerate adoption of IoT
I was proud to congratulate ConnectedFresh as the overall winner. Its solution leverages LoRaWAN to reduce food waste and improve health and safety by ensuring proper storage and delivery of fresh ingredients in cold-chain environments. ConnectedFresh identified a real need in the market that can be solved today using LoRaWAN and presented a strong rollout strategy that positions them well for future success.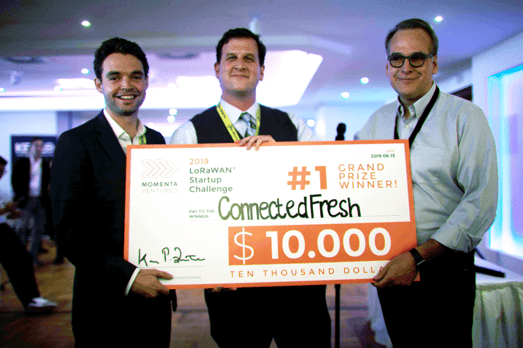 Limitless Applications for Numerous Industries
Beyond the ideas that came forward as part of the Startup Challenge, LoRaWAN is making a tremendous impact on a wide range of global needs. A small sampling of demonstrated applications include:
Human health and wellness, where solutions range from the automated monitoring of supplies and equipment, to smart refrigeration management for drugs, medical supplies, and diabetes management
Agriculture and farming industries use LoRaWAN solutions to track livestock, monitor endangered species populations, track pets, and manage crop health to improve yields
A wide range of safety applications, including accident prevention in high-risk environments, building and bridge structure and safety, and flood and radiation detection
Applications to improve the environment, where LoRaWAN CertifiedCM devices monitor air and water quality and waste, pollen levels, and conservation efforts of critical resources such as water, gas and electricity
LoRaWAN is transforming businesses, achieving substantial cost savings, increasing efficiency, delivering predictive machine maintenance, and ultimately it leads to new business models that improve bottom lines.
The reality is that 75% of the massive IoT market is in the low power, small data messaging space. The main areas of market focus right now for the LoRa Alliance and our members include smart cities, building automation, industrial IoT, utilities, agriculture, and asset tracking. However, we are deploying in many other areas due to the application-driven nature of the market.
Look for the Mark – LoRaWAN CertifiedCM
LoRaWAN is the perfect protocol for massive IoT implementations, with millions, and soon to be billions of connected LoRaWAN Certified devices. Certification is a must. Having a rigorous certification program guarantees that LoRaWAN Certified products have been tested for RF performance and interoperability, meaning the LoRaWAN Certified mark provides consumers and integrators with confidence that their systems will perform as specified. With our new LoRaWAN Certification Test Tool (LCTT), our finalists, along with all LoRa Alliance members, will have access to the best support for pretesting their devices and ensuring they meet the standards required to pass certification.
The LoRa Alliance is proud to welcome all of the Startup Challenge finalists entry into the largest IoT developer ecosystem. As their solutions demonstrated, we believe the market forecast trends will actually exceed current predictions. As innovation continues to soar and the volume of applications expands exponentially, so too will the universe of billions of connected LoRaWAN Certified devices.
Semtech, the Semtech logo, and LoRa are registered trademarks or service marks of Semtech Corporation. LoRa Alliance, LoRaWAN and LoRaWAN Certified are registered trademarks or certification marks of the LoRa Alliance.