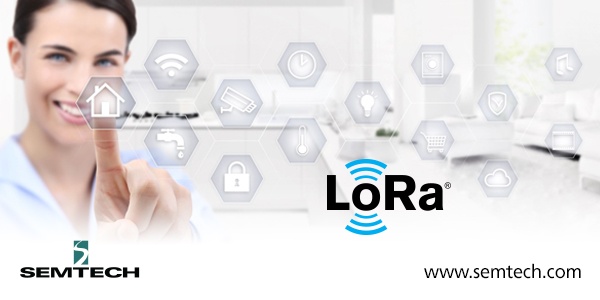 If you didn't make it to the LoRa Alliance™ 10th All Members Meeting & Open House in Vancouver, Canada this week, not to worry. We are recapping some of the action here!
At the conclusion of the evening's events on June 6, Marc Pégulu, Semtech's Vice President and General Manager of its Wireless and Sensing Products Group, and Low Power Wide Area Network (LPWAN) subject matter expert, presented his keynote on mass adoption of LoRa Technology and LoRaWAN®-based networks. The key takeaways from his presentation, an update on the rapid global adoption of LoRa-based devices and the LoRaWAN open standard, can be found below:
Semtech's LoRa® devices and wireless radio frequency technology (LoRa Technology) for the internet of things (IoT) is a groundbreaking platform enabling a smarter planet. Public and private networks leverage LoRa Technology to connect virtually any connected devices together, facilitating applications that make living and conducting business easier and smarter. The LoRa Alliance is an open non-profit association of more than 500 member companies that are devoted to the promotion of the LoRaWAN protocol and its continued success becoming the de facto leader powering the IoT.
LoRa: By the Numbers
Real-World Use Cases
LoRa Technology at Home
Semtech's LoRa Tag™ Disrupts Market
Key Takeaways
Use cases have proven the need for simple sensor solutions. These capture data which can fuel analytic platforms. There are new use cases emerging every day, ranging from water protection to energy sustainability to parking management, and Semtech's LoRa Technology is the flexible and scalable IoT platform of choice. LoRa Technology is uniquely positioned to feed the data demanded by artificial intelligence and machine learning platforms. By leveraging an established infrastructure, LoRa Technology addresses the market and technology gap for an IoT platform that's easy to deploy and features long-range, low-power capabilities and a multi-year battery life. There are increased opportunities for network operators to capture services beyond connectivity. Semtech's LoRa Technology has become the obvious choice among LPWAN IoT solutions.
Dig deeper into the various applications for LoRa Technology by downloading our white paper on the ecosystem, applications, and benefits:
Semtech, the Semtech logo, LoRa and LoRaWAN are registered trademarks or service marks of Semtech Corporation or its affiliates.