LoRa Technology: From Protocol to Product
28 August 2018 / by Semtech Corporate Marketing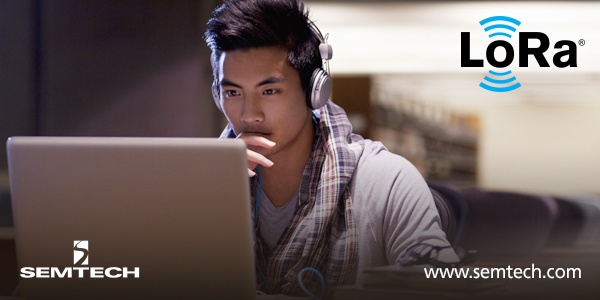 Looking for a long range, low power, and proven solution for IoT applications that's easy to use? LoRa® devices and wireless RF technology (LoRa Technology) might be what you need. With LoRa Technology, sensors and application servers can communicate crucial data and diagnostics back and forth between each other, enabling advanced Cloud-based analytics for smarter solutions in a wide variety of verticals.
In the videos below, experts from Semtech break down just how LoRa Technology works to communicate bi-directionally between sensor an application server. Watch these videos to learn more about how to turn your LoRa-based device prototype into a successful product.
What is LoRa, LoRa Modulation Technology and LoRaWAN® Protocol?
With LoRa Technology, devices communicate over longer ranges than Bluetooth or Wi-Fi using a protocol that enables creation of flexible, large-scale IoT networks that can be used in any environment, from cities to rural agricultural areas. LoRa modulation allows for long range data links using chirp spread spectrum, which is resistant to interference, making it perfectly suited for harsh and dense environments. As a result, LoRa modulation allows for better signal demodulation than FSK modulation. The LoRaWAN® open protocol, promoted by the LoRa Alliance®, allows network devices to be connected to create IoT solutions, and defines how devices talk to each other easing scalability, implementation and flexibility.
What is LoRaWAN? LoRaWAN Network Protocol Overview
The LoRa Technology ecosystem includes everything from silicon to services. Semtech makes the LoRa chips while others in the ecosystem make modules with built-in LoRaWAN capability that enables devices to be linked together in an IoT network.
Here's how it works: LoRaWAN gateways bring in sensor data from end node devices in a star network configuration. They forward data to a network server, allowing for centralized connected solutions on a scalable long-range low-power network.
What is LoRa? Learn more on our website.
LoRa Technology: Low Power
Low power is the fundamental aspect of LoRa Technology. As a result, LoRa and LoRaWAN enable significant improvements in battery lifetime for sensors in the field. This cuts down on a significant part of cost to sensor makers, as well as potentially prohibitive replacement costs for operators and service providers. Increased battery life means less required maintenance; operators and service providers can set up LoRa-based solutions and not have to worry about replacing batteries for years – a crucial benefit when installing in hard-to-reach areas.
LoRa Low Power Capability Demonstration
Battery-operated sensors in the field using next generation LoRa Technology can have up to a 30% increase in operational life of the sensor. In the video demo above, you'll see how LoRaWAN development boards with first generation LoRa transceivers (SXS1276) and next generation LoRa transceivers (SX1262) compare in terms of improved power consumption.
Why LoRa? Learn more on our website.
Sensor Prototyping
It's easy to get started with creating LoRa-based sensor products. Development tools for prototyping can be created by combining a shield with a LoRa receiver and a microcontroller unit. Evaluation kits can come in several formats, such as with direct USB connection, antenna or modules ready for proof of concept or prototyping. And finally, existing code to get started can be found in mBed and GitHub.
Join and Bi-Directional Network Demonstration
LoRaWAN allows for bi-directional networks, meaning that crucial data, diagnostics and messages can be transmitted from sensors to application servers, and vice-versa. In order to connect to the network, devices need to go through join and activation processes. Once provisioned by a network server, join accept is indicated by an LED light. As an example, the myDevices Cayenne platform offers the ability to track sensor data in a useful dashboard via a connected IoT application.
Device Overview
Different platforms can be used for development, enabling implementation of IoT-based technology across a wide variety of uses. For example, a LoRa-based rodent trap, once triggered, can wake up from sleep mode and notify users that a rodent has been caught in real-time via email or text message. This is especially beneficial in areas like the food service industry, where time is of the essence in dealing with pest control. This is all thanks to the bi-directional nature of LoRaWAN, which allows sensors and applications to communicate back and forth with each other.
Find additional technical resources, a developer forum, and acces to the LoRa technical support team in Semtech's LoRa Developer portal.

Semtech, the Semtech logo, LoRa and LoRaWAN are registered trademarks or service marks of Semtech Corporation or its affiliates.