LoRa® Helps Prevent COVID-19 From Entering Workplaces
27 January 2021 / by Ron Rieger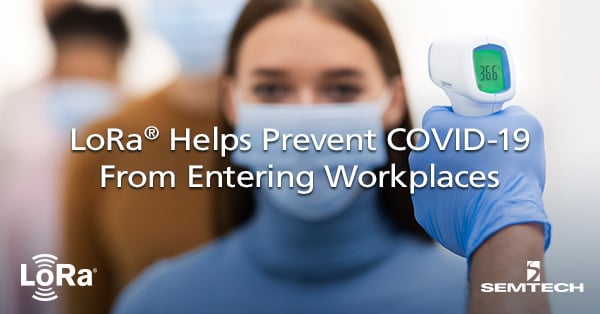 The Internet of Things (IoT) and Semtech's LoRa® devices have emerged as the building blocks enabling safe and secure workplace solutions – allowing companies to adopt and maintain practical facility re-entry systems.
Solutions comprised of sensors and gateways operating on the LoRaWAN® protocol offer the technology and safety measures that human resources departments and facility managers desire to protect their employees.
Enterprises cannot eliminate the possibility of a person with COVID-19 from entering a facility, but there are precautions that can be taken to reduce risk as businesses reopen. These following solutions can be deployed simply and quickly to enable smart safety and health practices while ensuring employee privacy.
Daily Questionnaire
First, a customizable questionnaire should be filled out by employees on a daily basis before entering the main workplace. The questions can be made available through a touchscreen, using finger protectors or a stylus, or via a mobile phone.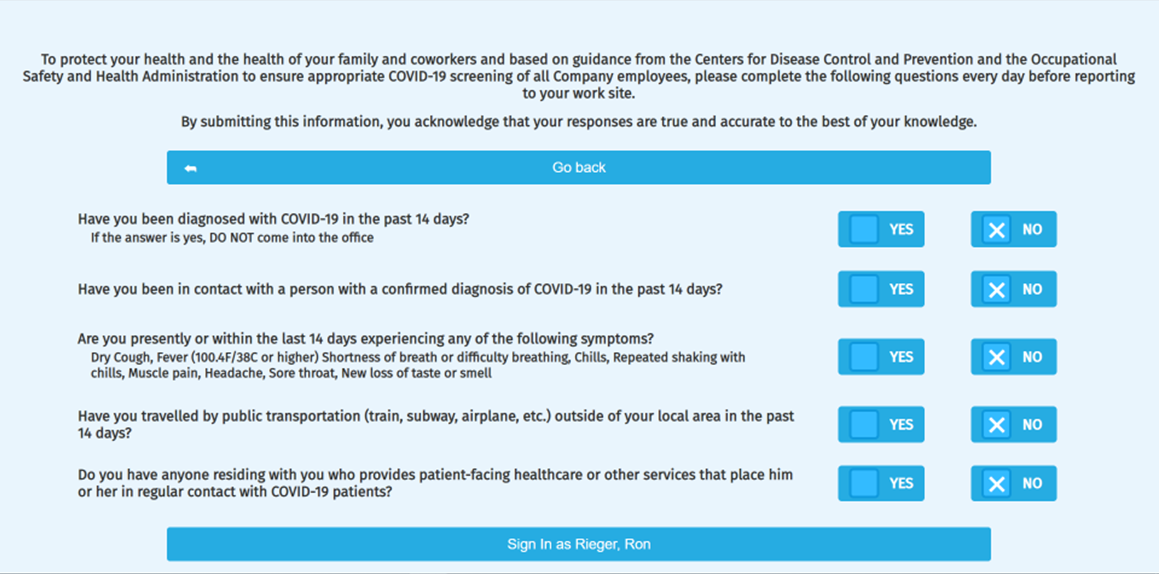 Example Sign-In Questionnaire Screen
Employee answers and contact information should only be available to Human Resources and kept for a limited amount of time. If a worker or guest answers YES to any of the questions, they cannot enter the facility. Best practices suggest the person speak with someone from Human Resources who may allow entrance after a brief discussion and proper analysis.
Daily Automated Temperature Check
Following the successful completion of the questionnaire, employees have their temperature taken via an automated thermal camera. This automated temperature system should address the following requirements:
Meets FDA recommendations for demonstrable accuracy to at least +-.5o

Supports different employee heights without special adjustments to the camera

Uses the eye for temperature taking (most accurate temperature)

Uses LoRaWAN networks for communicating PASS/FAIL results to the system

Works with masks on face

Uses a "Black Body" device to improve accuracy and reliability

Relatively fast (e.g., <10 seconds)

Clearly signals employee their PASS/FAIL result

Temperature Check System
If a screened employee has an elevated body temperature, it is recommended that a secondary screening is completed by a trained person with an FDA-approved handheld thermometer. Unless the employee passes the secondary test, they are not allowed to enter the building. If they pass, the handheld result overrides the primary failure. In all cases, HIPAA compliance is adhered to.
End-to-end solutions featuring LoRa, including automated sign in kiosks and infrared temperature sensors, provide an interactive experience to streamline check-in, promote safety, and monitor traffic. As a matter of fact, we have implemented these solutions and suggested protocols within Semtech's facilities. Intelligent touch-free infrared body temperature screener solutions, such as those offered by Polysense, Seek Thermal, NEX, and Richtech can easily be integrated into existing work environments.
To learn more, download our infographic, "Five Considerations for Reopening Safe and Secure Workspaces," for tips to safeguard the health of workers and enable a safe working environment. Also, be sure to read our previous blog in this series about mitigating COVID-19 spread inside facilities by using contact tracing and people counting applications.
Semtech, the Semtech logo and LoRa are registered trademarks or service marks of Semtech Corporation or its affiliates.