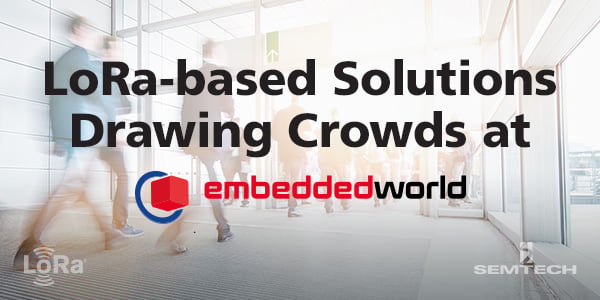 Semtech was back again at Embedded World this year showcasing our leading technology for the Internet of Things (IoT), LoRa® devices and wireless radio frequency technology (LoRa Technology). Embedded World is recognized as the leading international trade fair for embedded and system technologies and attended by the world's leading silicon suppliers, as well as a huge ecosystem of developers, software companies and manufacturers. Semtech's booth was again packed during the three days in Nuremburg with customer meetings spilling over from our meeting rooms onto the main hall, even into the nearby lounge areas.
Crowd Favorite: Smart Building Analytics Demo
One of the attractions drawing the crowd to our booth was a smart building analytics demonstration, presenting the data collected by LoRa-based sensors and transmitted by a LoRaWAN®-based gateway in a smart building to illustrate the simplicity and ease of deployment of LoRa Technology and the LoRaWAN open protocol. With a long battery life, sensors can monitor such metrics as desk occupancy, light levels, noise, air quality, and energy usage. A dashboard presents detailed real-time analysis of sensor data to show a facility manager conditions throughout one or more buildings, enabling the identification and monitoring of operational efficiency improvements and cost savings.
LoRa Technology is Here Now
As my team and I have observed at other IoT events over the past year, the industry mood has transformed from exploring how LoRa Technology works to a clear execution phase with an increased tempo of real-world deployments of LoRa-based gateways and sensors into many vertical markets such as asset tracking, buildings, cities, utilities, and agriculture.
Although Mobile World Congress was underway in Barcelona the same week (read my colleague Olivier Beaujard's blog here), it was incredible to see such a large number of module, gateway, sensor, and services companies of the LoRaWAN ecosystem exhibiting at the show. Semtech Design Partners for LoRa Technology IMST GMbH, Laird, and Proant AB each exhibited at the show.
In addition to the many customer meetings the team had during the show, I had the opportunity to share the latest news regarding LoRa Technology developments and real world deployments with the many industry press and analysts keen to learn more about how rapidly the LoRaWAN-based ecosystem is evolving.
Security
Implementing the right level of security is an increasing requirement for connected IoT devices, particularly in enterprise and industrial sectors. While other IoT connectivity options can be challenging to fully secure, the open LoRaWAN protocol includes multi-level AES encryption at the core of the protocol itself. Data from sensors (or other end-nodes) is fully encrypted across the entire end-to-end path, through a local gateway, the Cloud, and finally to the end user. Learn more about LoRaWAN security in the LoRa Alliance® white paper on the very topic.
Network Availability
LoRa Technology is seeing booming growth with more than 100 LoRaWAN-based network operators already deployed in over 100 countries worldwide. The LoRaWAN protocol offers the flexibility to deploy as a private network which enables users to immediately deploy a network wherever they are located.
Firmware Updates Over the Air
Not all low power wide area network (LPWAN) solutions are capable of delivering a firmware update to devices deployed in the field, resulting in significant operational support costs and sometimes requiring that devices be physically replaced or obsoleted, adding considerable cost to the customers. For LoRaWAN-based devices, customer flexibility and future proofing are ensured thanks to the support for Firmware Updates Over the Air (FUOTA) provided by the LoRaWAN protocol, ensuring that devices can be maintained in situ during a product's lifetime, which could be 10-15 years for some devices.
NB-IoT or LoRaWAN?
Based on the flexibility of network deployment options, greater overall power efficiency, interoperability, and thus suitability for a wide range of business models, Semtech's LoRa Technology offers advantages over Narrow-band IoT (NB-IoT) for many IoT applications. Find a technical side by side comparison here.
More Highlights from the LoRa Technology Ecosystem
Why wait when LoRa Technology can solve your real-world IoT challenges today? Visit the LoRa Developer Portal to contact the Semtech team with your IoT challenges and look forward to exciting new updates to our developer ecosystem in the coming months – we look forward to hearing from you.
Semtech, the Semtech logo, LoRa, and LoRaWAN are registered trademarks or service marks of Semtech Corporation or its affiliates.