LoRa: A Leading Choice for IoT Technology (IMC Webinar Recap)
15 August 2018 / by Vivek Mohan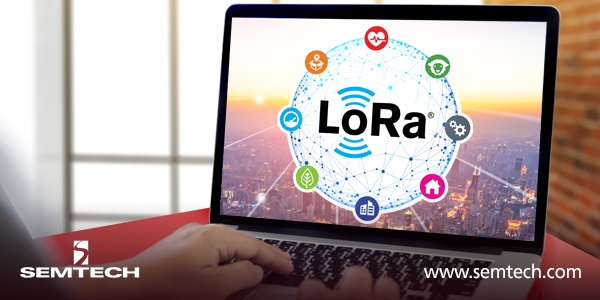 Today's Internet of Things (IoT) market consists of various low-power wide area network (LPWAN) solutions that serve a wide range of applications and use cases. With a feature set that is well-suited for a variety of verticals, Semtech's LoRa® devices and wireless radio frequency technology (LoRa Technology) is quickly becoming the de facto technology for the IoT.
I recently presented on key benefits of LoRa Technology during an IoT M2M Council (IMC) Webinar on "Choosing the Right LPWAN Solution for Your IoT Application." Other presenters in the webinar included Daniel Quant, Vice President of Product Management & Strategic Marketing at MulitTech, Ben Bannister, Director, Mobility & IoT Services at Tata Communications and Erik Kling, Vice President Sales IOT Americas at Vodafone.
Below, I will discuss the key takeaways from that webinar, including advantages of LoRa Technology and why it has become a leading solution in the IoT space.
Widespread Adoption
LoRa Technology is a leading IoT technology based on its widespread adoption, which is evident by a large number of deployments. Over 60 million sensors have been deployed, transmitting data worldwide to public, private and hybrid networks. To date, over 100 countries have access to a LoRaWAN® network and according to IHS Markit, more than 40% of all LPWAN public network connections are expected to utilize LoRa-based devices by 2019. Today, there are over 400 LoRa-based sensor and gateway products available in the LoRa Community Catalog that can be utilized for LPWAN applications in both indoor or outdoor settings and on public, private or hybrid networks.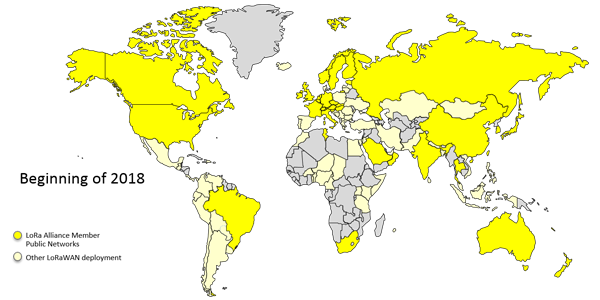 As MultiTech's Daniel Quant presented in the webinar, LoRa Technology has enabled innovation in new verticals. Some use cases he cited include precision agriculture applications with WaterBit and a smart parking solutions with PNI Sensor Corporation. In situations where a Wi-Fi range is too limited and cellular can be cost prohibitive to return on investment, LoRaWAN can offer a desirable solution. LoRa Technology use cases help businesses improve efficiencies, save money, differentiate, and produce a richer set of services for their customers such as predictive maintenance, leak detection, facility management, precision agriculture, and more.
Rapidly Growing Ecosystem
The LoRaWAN ecosystem is very strong and is bolstered by the fastest growing technology consortium, the LoRa Alliance®. There are currently over 500 members in the LoRa Alliance including equipment manufacturers, sensor makers, system integrators, semiconductor companies such as Semtech, and Cloud companies, including Alibaba Cloud and Google Cloud. The LoRa Alliance has vast operator diversity with over 80 LoRaWAN operators ranging from cable to utility companies. The diverse mix enables users to choose a network best suited for their application and industry.
Benefits of LoRa Technology
There are many reasons why the adoption of LoRa Technology is on the rise. LoRa Technology is a long range, low-power and flexible solution with a fast time-to-market. Its long battery life makes it a smart choice for hard-to-reach areas where users can't easily replace batteries. Its long range modulation can more easily penetrate metal containers, warehouses, and even concrete walls behind elevator shafts and pipes. Unlike other connectivity platforms, LoRa Technology is able to reach a long distance at a fraction of the power and fraction of the cost.
The flexibility of LoRa-based devices and the LoRaWAN open standard is another unique feature that users value when it comes to deployment strategy. Users can choose from public network, private network or hybrid networks, indoor or outdoor; whatever best suits their needs. The LoRaWAN protocol stack is free and open source, enabling users to download the stack from Github and use it to start their product. Ultimately, the key features of the technology, ease of installation and a strong ecosystem make LoRa Technology an appealing solution.
Popular Applications and Use Cases
Some of the main applications and use cases for LoRa Technology include smart agriculture, smart supply chain and logistics, smart cities, smart homes and buildings, and smart metering. For agriculture, LoRa Technology is well-suited for precision farming to manage soil moisture and nutrient content, and can result in a positive impact on crop yield, greenhouse gas emissions and water conservation. An organic commercial farm saw up to 20% water savings with LoRa-based sensors with real-time water usage monitoring.
LoRa Technology has become more prevalent in airports, warehouses and construction sites to track assets and monitor conditions. Cities are using its abilities to reduce energy usage and manage parking and street lights. Metering companies and insurance companies are also using the sensor-generated data for predictive maintenance.
Various verticals have seen the benefits of LoRa-based platforms firsthand and have saved up to 25% in water leak prevention in commercial buildings, approximately 30% in energy cost in smart homes and about 20% in cost savings for gas metering.
Choosing the Right IoT Solution
When it comes to selecting an LPWAN technology to connect to the IoT, users must balance business requirements, technology specifications, applications that need to be supported, and commercial outcomes that need to be achieved. Carefully considering requirements such as bandwidth, capacity, battery life, coverage, mobility, location, bi-directional communication, and cost can help decision makers narrow down the choices.
If looking for the ultimate battery life and range, and the business model is capital expenditure-driven, then unlicensed spectrum solutions like LoRa Technology are well-suited. If the business model is operation expenditure-driven and applications are mission critical, cellular spectrum connectivity like NB-IoT may be the preferred choice. (A recent blog compares LoRaWAN and NB-IoT side by side.)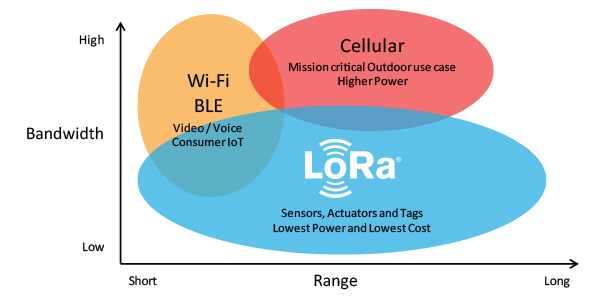 A dual technology strategy, or heterogeneous network (HetNet), may be a possible solution as well. As Tata's Ben Bannister noted, combining multiple technologies may produce the best outcomes for the application and business. He cited a smart city use case in which LoRa Technology is leveraged to monitor waste bin capacity, with a GSM 4G backup system. In another example, Vodafone's Erik Kling noted an application that uses LoRa Technology to collect sensor data within an extremely dense indoor environment, but relies on a 4G gateway to backhaul data.
As all speakers agreed, IoT connectivity technologies are more complementary than competitive. Solution selection depends on the business case and desired outcomes. With all LPWAN technologies growing in adoption, it's not a question of competition, but a question of best fit. The global IoT market should be large enough to sustain all technologies in the future.
With rapid adoption, various benefits, and over 600 unique applications and growing, the future is promising for LoRa Technology. If you are interested in learning more about real life use-cases, or to see if LoRa Technology might be a fit for your design, download Semtech's Smart Cities e-book.
Semtech, the Semtech logo, LoRa, and LoRaWAN are registered trademarks or service marks of Semtech Corporation or its affiliates.