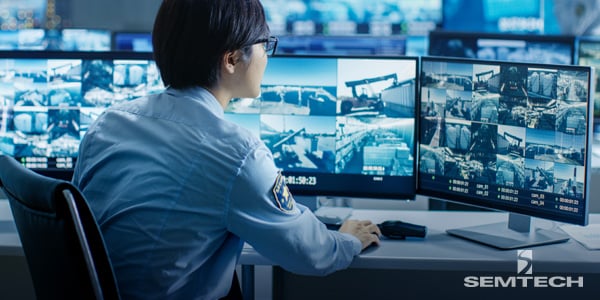 "AV-over-IP Interoperability" was certainly the buzz at Integrated Systems Europe (ISE). Thanks to LANG AG, Europe's premier systems integrator and visual presentation provider, attendees had the chance to see live demonstrations of software defined video over Ethernet (SDVoE™)-based products from a variety of vendors work seamlessly together as a platform for AV distribution and signal processing.
In rental and staging, some customers have a short list of preferred product vendors, yet often no single vendor can serve all of their needs. The platform interoperability provided by SDVoE allows designers and integrators the opportunity to choose from multiple providers to create an ideal system. Being able to mix systems together in such a highly flexible way is one of the powerful benefits of SDVoE previously unavailable with proprietary AV-over-IP systems or matrix switching systems.
LANG AG at ISE 2019, YouTube.
During the featured demonstration on the LANG AG stand, encoders and decoders from Christie, ZeeVee, IDK Corporation, and PureLink were shown to interoperate with each another as one AV-over-IP signal transmission system using a NETGEAR SDVoE-ready M4300 Ethernet switch. Video signals from the four vendors were seamlessly switched together in wall mode, switched from one vendor's encoder to another vendor's decoder, some changed to 4K and others to HD — with zero-latency and uncompromised quality in each instance.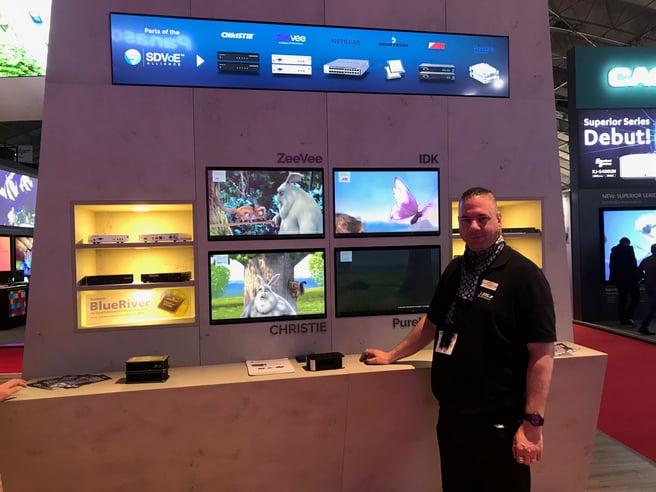 Fred Lang, Imaging Process Specialist for LANG BARANDAY AG, demonstrates interoperability of SDVoE-enabled solutions.
BlueRiver® is Transforming the Matrix
Semtech's BlueRiver technology, with AV-over-IP chipsets and a common API, is responsible for reaching this new level of full interoperability across manufacturers' encoders and decoders. An industry first, Semtech's BlueRiver NT chipsets enable transport of zero-latency Ultra HD/4K HDR with uncompressed image quality over standard Ethernet.
BlueRiver delivers a single programmable system on chip (SoC), which can be used to replace traditional AV/KVM extenders, matrix switchers, video wall controllers, and windowing processors with a simple network of transmitters, receivers and off-the-shelf Ethernet switches.
Rapidly Growing SDVoE Ecosystem
In just two years, the SDVoE Alliance™ has grown to over 40 member companies shipping 158 products. The community made a big impression at ISE with 29 member companies exhibiting their SDVoE-based solutions. In addition, the diversity of SDVoE endpoints continues to expand with Alliance members poised to deliver upwards of 150,000 AV endpoints in the coming year.
BlueRiver is a registered trademark of Semtech Corporation or its affiliates, and SDVoE is a trademark or service mark of the SDVoE Alliance.