How to Mitigate the Spread of COVID-19 Within a Facility
11 January 2021 / by Ron Rieger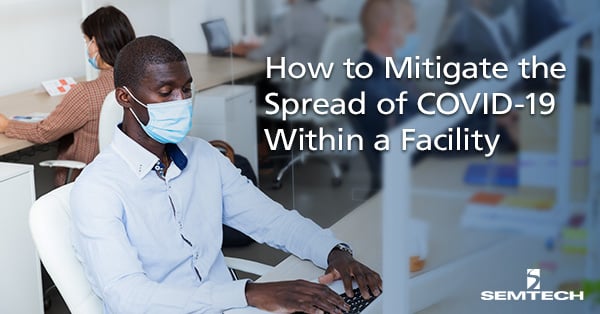 It is anticipated that during the course of 2021, in most countries, there will be either lightening or lifting of the current COVID-19 lock-downs, impacting many businesses in respect to staff returning to workplaces facilities. This will require companies to improve facility hygiene and implement safeguards to protect employees from a virus outbreak. Many enterprises – in particular factories, distribution centers and logistics warehouses where people work very closely to each other – will also have to revisit standard operating procedures.
Ideally, we would like to prevent COVID-19 from entering a building as discussed in our previous blog, but due to reasons such as pre-symptomatic and asymptomatic individuals, this will not always be possible. Businesses of all sizes must now create safe and secure workspaces to mitigate infection risk and protect the health of workers inside of its facilities.
Masks
According to a recent survey by Bain & Company, property managers must adopt several safety measures to alleviate workers' fears before they will go back to work. The highest ranking safety measure is the availability and enforcement of masks.
The Occupational Safety and Health Administration (OSHA) recommends that employers encourage workers to wear face coverings. Masks are intended to prevent wearers who have COVID-19 without knowing it from spreading potentially infectious respiratory droplets to others.
The following chart presents a guide to how transmission risk may vary with setting, occupancy level, contact time, and whether face coverings are worn.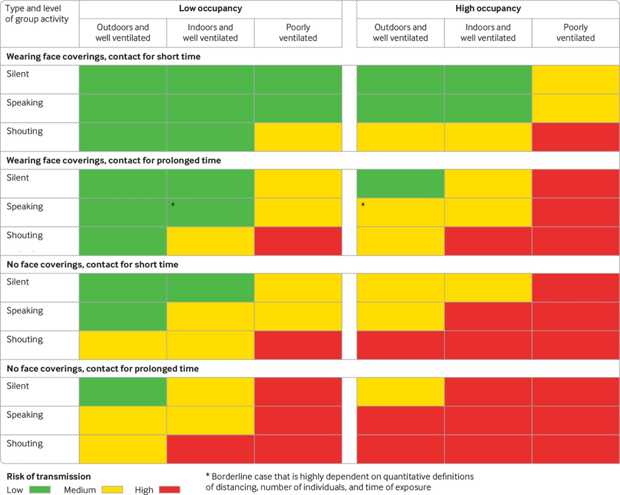 Source: Yuguo Li, ASHRAE
Facility Hygiene
The Internet of Things (IoT) and Semtech's LoRa® devices have emerged as building blocks that allow companies to adapt and maintain new levels of hygiene.
Within Semtech's facilities, we have replaced all touch utilities (e.g., soap dispensers, faucets and towel dispensers) with non-touch equivalents. We also have increased even more the many hand sanitizer stations placed throughout our buildings. When these run out of sanitizer, an inventory refill button utilizing the LoRaWAN® protocol is used to request a refill, providing a low cost and reliable way for building occupants to maintain proper hygiene.
Businesses can monitor restrooms and other potentially high use areas for traffic to determine cleaning requirements. This is done by using tracing devices for LoRaWAN networks and an appropriate fixed location beacon to get an approximate count of the number of people using the area.
Contact Tracing
Enterprises are turning to technology to aid in their challenge to protect staff, facilitate early detection and enable the quarantining of colleagues who have come in contact with a coworker who has tested positive for COVID-19. Enterprise contact tracing solutions have evolved and are very effective in reducing spread of the virus inside facilities.
Workers can carry a badge or wear a wristband or lanyard, which includes a proximity sensor and a combined Bluetooth Low Energy (BLE), Ultra Wide Band (UWB) or LoRa receiver that detects whether two devices have been close together and then communicates data with a gateway using LoRa within the building.
At Semtech we use tracing devices leveraging the LoRaWAN protocol to keep a history of team members who have come within 10 feet of one another for 10 minutes or more and/or those who have been socially distanced within the same room for more than one hour.
This data is retained for no more than 60 days and employee confidentiality is maintained by only associating badge or wristband IDs with specific employees within our already secure HR systems.
If an employee is discovered to have COVID-19, all employees having contact with the employee within the previous 14 days are notified and, where appropriate, commence quarantine periods in line with CDC guidance.
The LoRaWAN protocol's unique combination of rapid, cost effective deployment and use with low power end devices, coupled with ease of use and the enhanced confidentiality of a dedicated private network-based solution, offers has enabled the rapid adoption of this solution by our team with little operational overhead.
Air Quality
There is growing evidence that the COVID-19 virus remains airborne in indoor environments for hours, potentially increasing in concentration over time. This is especially true of COVID-19 aerosols close to the 1µm size. Unless adequate precautions are taken, the longer a space is occupied without proper ventilation, the greater the potential for airborne transmission of the virus.

Source: Paul Baron, CDC/NIOSH
For starters, it is recommended to use high quality high-efficiency particulate air (HEPA) filters in air conditioning systems. The next step is to ascertain where there may be a problem with air quality in any indoor space.
At Semtech we are using sensors working on the LoRaWAN protocol (e.g., Netvox, DecentLab, GlobalSat, Elsys), to monitor CO2, humidity and temperature in high use areas as well as track outdoor and indoor air quality. With this information, we can adjust airflow and ventilation based on changing occupancy levels. Additionally, high quality air purifiers controlled by the above sensors and triggered by smart plugs for LoRaWAN networks (Netvox and Moko) or proprietary networks (YoSmart) are triggered during periods of occupancy to reduce the amount of virus in the air.
The true value of safe and secure workplaces driven by solutions leveraging LoRa devices and the LoRaWAN protocol will become increasingly clear as businesses resume operations while ensuring new levels of safety for their workforce.
Semtech, the Semtech logo and LoRa are registered trademarks or service marks of Semtech Corporation or its affiliates.