Helping Schools Safely Reopen With LoRa® Devices
30 September 2021 / by Roelof Koopmans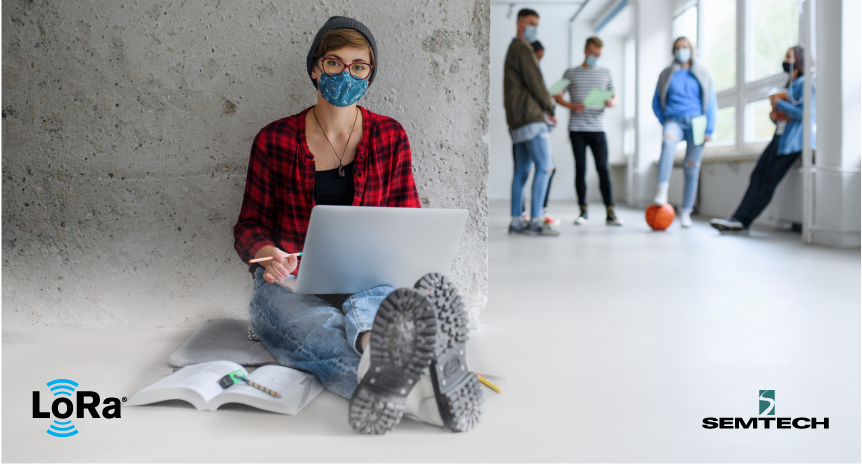 After more than a year of lockdown, schools are now reopening and faced with the difficult challenge of ensuring a safe learning environment, or risk returning to remote learning.
In the United States, a March 2021 survey conducted by the National Center for Education Statistics, part of the Institute for Education Sciences, found nearly half of public schools in America were open for full-time, face-to-face classes. The survey results include a representative sample of schools serving fourth and eighth grade students, the first attempt by the U.S. federal government to assess the state of education since schools closed en masse in 2020.

In Portugal, the government started to ease some of its lockdown measures in March 2021, reopening nurseries and primary schools for classroom teaching. While in the Netherlands, secondary school pupils are now having lessons at school for at least one day a week, and from April 2021, university students have been able to attend at least one day of classes as well.
Return-to-Learn
Now many countries are encouraging mitigation measures as part of their reopening plans, such as universal face mask use, increasing physical distance by de-densifying classrooms and common areas, and increasing room air ventilation.

There is growing evidence that the COVID-19 virus remains airborne in indoor environments for hours, potentially increasing in concentration over time. Unless adequate precautions are taken, the longer a space is occupied without proper ventilation, the greater the potential for airborne transmission of the virus.
Air Quality Control Systems
In order to reduce COVID-19 exposure in schools, France's Auvergne-Rhone-Alpes region has chosen Adeunis sensors as part of an ambitious plan to ensure safe air quality. Air quality monitoring in nursery and elementary schools has been compulsory in France since 2018, and compulsory in high schools and colleges since 2020, with the spread of COVID-19 making accurate monitoring even more critical.

To safeguard student health, the region has plans to install 2,000 air purifiers in area high schools, and Adeunis will provide air quality sensors, which utilize the LoRaWAN® standard, to measure air quality. Adeunis intends to partner with energy solutions provider Advizeo to process sensor data in order to establish alert thresholds for unsafe conditions.

Adeunis COMFORT CO2 sensors measure carbon dioxide, temperature and humidity to identify pollution sources and maximize comfort and safety. The sensors integrate into connected environments and enable automation of air quality regulation and maintenance, ensuring optimal air quality.

Frank Fischer, chairman and CEO of Adeunis, said: "We are very happy to have been selected to support the Auvergne-Rhone-Alpes region in the implementation of large-scale policies in favor of health and the protection of citizens. Indoor air quality is a major consideration at Adeunis, and we want to duplicate this model in other regions, as well."

Leveraging the Internet of Things (IoT) and Semtech's LoRa® devices and the LoRaWAN standard, smart technology is now presenting viable ways to return children to school while minimizing health risks. There are several other companies in the LoRa Alliance® that offer LoRaWAN end devices (e.g., Netvox, DecentLab, GlobalSat, Elsys) to monitor CO2 levels in schools and business environments.
Semtech, the Semtech logo and LoRa are registered trademarks or service marks of Semtech Corporation or its affiliates.