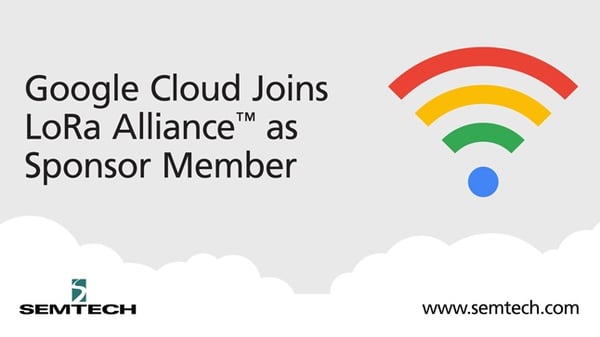 Next week, telecom companies, system integrators, sensor manufacturers, entrepreneurial start-ups, and LoRaWAN®-based IoT enthusiasts will convene in Vancouver, Canada for the LoRa Alliance® 10th All Members Meeting & Open House.
Attracting LPWAN IoT leadership and influencers from around the globe, the event is slated to serve up a content-rich agenda from IoT pioneers and LPWAN subject matter experts. To sweeten the deal, the LoRa Alliance released its newest addition to the keynote lineup and sponsor member: Google Cloud.
In the May 31 news release, the LoRa Alliance announced that Google Cloud has not only joined as a sponsor member, but Travis Hagens, Cloud Strategic Partner Manager, will deliver a keynote on the morning of June 7 focused on "Accelerating IoT ROI with Data Driven Insights." Google's decision to join the LoRa Alliance is indicative of the global adoption of the LoRaWAN protocol and LoRa® Technology as the de facto standard for IoT connectivity.
Google's statement from the news release:
"The vision of the LoRa Alliance around interoperability and openness aligns with our mission to build the world's most open cloud and enable faster innovation and tighter security," said Antony Passemard, Head of Product Management for Google Cloud IoT. "With the rapid growth of the LoRaWAN ecosystem, we look forward to contributing to the growth and acceleration of this technology and simplify the process of developing, deploying, and managing IoT solutions."
In addition to the keynote from Google, Semtech's Vice President and General Manager of its Wireless and Sensing Products Group, Marc Pégulu, will present a keynote on "LoRa Technology and LoRaWAN: Mass Adoption" on the evening of June 6. Pégulu's keynote will present how LoRaWAN and Semtech's LoRa® devices and wireless radio frequency technology (LoRa Technology) are uniquely positioned to enable the IoT revolution. The keynote will highlight innovative LoRa use cases including 30% reduction of water usage in commercial farms and growth of smart building applications in Europe by over 100%.
The All Members Meeting & Open House will take place June 4-7 in Vancouver, Canada. The Open House & Market Place, June 6 -7, is open to the public. Semtech is a gold sponsor of the event and will offer demonstrations of LoRa-based devices in the Market Place.
Stay up to date on news and thoughts from our leadership by following Semtech on social media.
Semtech, the Semtech logo, LoRa and LoRaWAN are registered trademarks or service marks of Semtech Corporation or its affiliates.