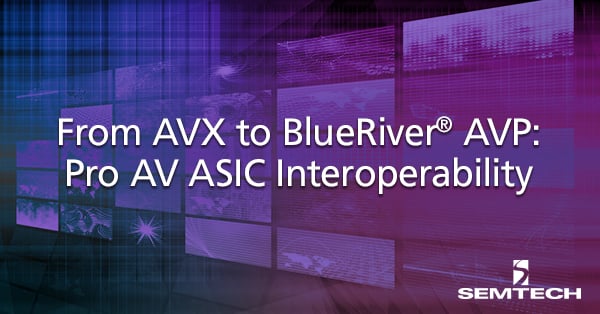 It's been almost a year since the official launch of Semtech's ASIC platform for Pro AV extension, routing and distribution. Two dedicated platforms were launched: AVX for point-to-point AV extension applications over copper category cable and optical fiber, and the BlueRiver® AVP series of devices for AV-over-IP and Software Defined Video Over Ethernet (SDVoE™) network-based applications. And what a year it has been! Despite the COVID-19 pandemic, customer uptake and product developments have certainly exceeded expectations, and 2021 will see the launch of an exciting range of Pro AV products powered by the new AVX and BlueRiver AVP ASICs.
However, whichever platform our customers have chosen to adopt, there is one key, unique feature that everyone can benefit from: interoperability between AVX and AVP! That's right, an AVX-based product will work with any AVP-based product. Not only is the physical interface and protocol compatible between the two product families, but they both can be configured and controlled using the SDVoE Application Programming Interface, or API. The SDVoE API standard interface manages switching, configuration and processing with single system-level control for any number of interoperable ASIC-based endpoints. I'll talk more about the benefits of a common API later, but first, let's look at physical connectivity.
Physical Layer Interoperability
What do we mean by interoperability? Both AVX and AVP use standard 10 Gigabit (10G) Ethernet connectivity and IP protocol to extend HDMI video up to 4K, multichannel digital audio and control interfaces, such as USB and RS-232, over 100m of copper category cabling, or many hundreds of meters over optical fiber. The key difference is that AVX devices provide point-to-point 10G connectivity, while AVP powered products permit flexible IP networking capability using standard 10G Ethernet switches. As shown in the following diagram, it's possible to connect any AVX endpoint directly to any AVP endpoint and AV traffic will flow from end to end, fully plug-and-play. And with transceiver-enabled endpoints, HDMI traffic will flow in both directions simultaneously, without limitation.

Point-to-point AV Extension with AVX & AVP Transceivers © Semtech Corporation
As more and more of our customers provide native SDVoE connectivity on their products, interoperability with AVX ensures that this interface can be used even when simple, single source point-to-point connectivity is all that is required. For example, the same cable infrastructure can be used for an SDVoE-enabled ceiling mounted projector, whether it is used standalone with a local AVX extended source, or connected to a network for SDVoE AV-over-IP connectivity.
Customers using AVX today who may not be ready to make the move to IP-based AV distribution can benefit from knowing that this compatibility gives them a path to AV-over-IP as the Pro AV industry marches steadfastly in this direction. With Semtech's AVX and AVP devices also providing full footprint compatibility, today's investments in point-to-point, matrix style switch products are fully offset by the opportunity to migrate to future, fully networked solutions, simply by replacing devices in existing hardware. One design for AVX today and AVP tomorrow!
A Hybrid Approach
Some installations may require a hybrid approach to AV distribution, where the core is based around IP networking, while in-room AV extension need only be point-to-point. Installers can use a mix of AVX and AVP, where AVP-based endpoints talking to AVX can be re-purposed for future expansion to fully networked capability at a later date. The following diagram illustrates this hybrid approach.

Hybrid AVX/AVP Installation Example © Semtech Corporation
Common Control API for both AVX and AVP
Along with distributing AV content via IP networks, another key benefit of AVP-based products is their ability to be monitored and controlled centrally via that same network. The SDVoE API server simply sits on the same network as all the AVP endpoints, while user-friendly client software communicates through the API for setup and control, plus receiving the status of all AV sources and sinks for real time system monitoring. This software model allows system designers to abstract the hardware from the user experience itself. The common API ensures that software can be developed to work with any existing or future SDVoE-enabled product.
As a point-to-point connectivity solution, AVX devices do not distribute AV content over an IP network. So how are we to take advantage of a common API? Well, all AVX devices provide a 1G Ethernet interface which can be connected to the same network as the API server. The API server will discover all AVX endpoints, including those connected remotely across the 10G AVX Link which are not connected to the network. This is illustrated in the following simple 2x2 AVX matrix switch system diagram example.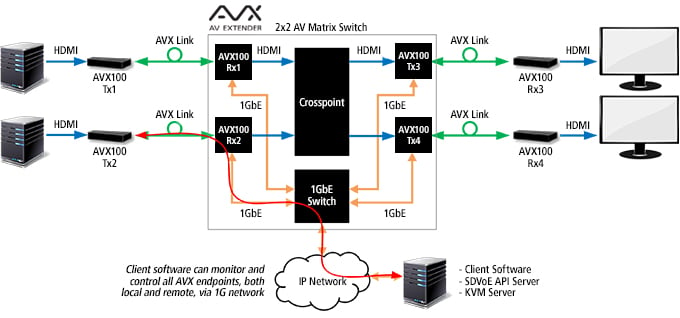 AVX 2x2 Matrix Switch with API Control © Semtech Corporation
As the red arrow shows in the above diagram, client software can monitor and control AVX devices, both local to the matrix switch and remotely, via the AVX Link. Remember, AVX still uses standard IP protocol between devices across the AVX Link. Other servers may also exist on the same network, to intercept USB traffic generated by USB devices connected to remote AVX endpoints for advanced KVM applications, such as single user control of multiple hosts.
Thanks to the flexibility of the SDVoE API, any software developed for AVX can be repurposed or reused as-is for AVP-based solutions, significantly reducing development costs and providing end-users with a flexible, common control set across both point-to-point AV extension and AV-over-IP systems.
You can learn more about the power and flexibility of BlueRiver solutions for AV-over-IP in the webinar, "BlueRiver ASIC: Enabling a New Class of SDVoE Products," and why AVX is the ideal choice for low-cost point-to-point AV extension in the "AVX ASIC: Superior AV Extension" webinar.
Two Comprehensive ASIC Platforms Available Now
The BlueRiver ASIC product line is comprised of three devices: the AVP1000 provides high-performance switching and distribution of AV content up to true 4K60. Exceeding the performance required by a traditional Pro AV matrix switch, the AVP1000 includes the ability to transport HDMI signals with HDR, stereo or multichannel audio, and control signals including Infrared, RS-232 and USB. The AVP2000 includes all of the functionality of AVP1000 and adds the BlueRiver AV Processor, which provides broadcast-quality image scaling, video compositing for multiviewer applications and video wall processing with bezel correction. As the flagship offering of the AVP product family, the AVP2000T adds true transceiver functionality for bidirectional HDMI in a single chip.
Semtech's Pro AV offering is rounded out by the AVX chipset, for high performance AV extension, with the entry level AVX100 for low-cost copper category cable-based AV extenders. The flagship AVX200T device offers unprecedented levels of performance for AV extension applications, with integrated broadcast-quality image scaling and full HDMI transceiver capability. As the Pro AV industry moves to optical fiber infrastructure for many applications, the AVX200T uniquely targets long reach extension, providing transport over fiber from distances of 500m to over 40km.
Both AVP and AVX chipsets are in full production today, so don't miss out on this exciting opportunity to be a leader in Pro AV connectivity, and discover more about these game-changing products from Semtech at the following links.
Semtech, the Semtech logo and BlueRiver are registered trademarks or service marks of Semtech Corporation or its affiliates. SDVoE is a trademark or service mark of the SDVoE Alliance.