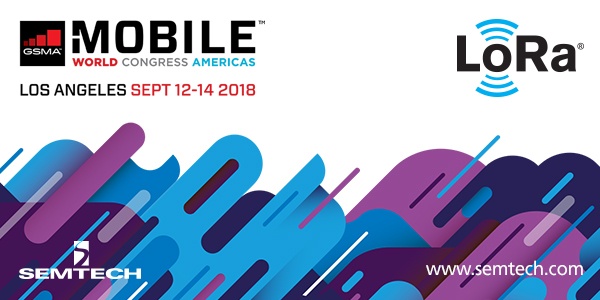 The North American installment of GSMA's Mobile World Congress conference will be held in Los Angeles, September 12-14, 2018. This year's event theme, "Imagine a Better Future," is an inspiring rally cry for the 25,000 expected attendees representing more than 110 countries, coming together to explore what's new in Internet of Things (IoT) and smart city innovation.
Among the plethora of sessions, exhibits and networking opportunities, Semtech is excited to feature its LoRa® devices and wireless radio frequency technology (LoRa Technology) at the center of many of the conference's activities. While you're making plans for your #MWCA18 experience, be sure to add the following events and LoRa Technology ecosystem partners to your must-see list. Here's what we're looking forward to at this year's Mobile World Congress Americas:
1. Members of the LoRa Alliance® will assemble in the IoT Zone at South Hall Stand 2524 to present a sampling the latest and greatest in LoRa Technology innovation.
Representing the LoRa Alliance at its exhibit space will be sponsors Actility , Digital Matter, Haxiot, Kerlink, myDevices, Orbiwise, and Semtech. Within the exhibit space will be the a LoRaWAN® Live Demo Hub where several more LoRa Alliance member companies will showcase real-world use cases and live demos. Attendees can experience LoRaWAN live demonstrations from Actility, Everynet, Guangdong DAPU Telecom Technology Co., Haxiot, Longview, Microshare, and myDevices. Here are the highlights of what to expect from each of these LoRaWAN ecosystem companies:

2. Within the MWCA expo halls, other LoRa ecosystem and LoRa Alliance members will be active at the event:
3. On Thursday, Sept 13, Semtech's Alistair Fulton, VP IoT Product Management and Marketing, will represent Semtech's LoRa Technology in a panel with Bluetooth, Z-Wave, and Wi-Fi leadership, titled "From Bluetooth to Z-Wave, LTE to LoRaWAN, Narrow Band to Wi-Fi."
The 3:45 PM session in Gold Ballroom 1 is part of the IoT 101 – Digital Transformation University tract presented by James Brehm & Associates. The panel session promises to explore the challenge of selecting the right connectivity platform depending on the use case, and navigating the alphabet soup of IoT. Furthermore, the panelists will discuss the future of network interoperability in heterogeneous network (HetNet) environments.
In preparation for the session you can read a recent blog on selecting the IoT platform for LPWAN applications.
4. Thursday night, Semtech will co-host a cocktail party with Comcast's IoT service, machineQ, at the Grammy Museum at L.A. Live.
The party will celebrate the IoT's rising star, LoRa Technology, and bring together VIPs for an evening of networking and entertainment. The party is by invitation only, so contact your machineQ or Semtech representative for details.
Not planning to attend Mobile World Congress Americas this year? You can still meet the LoRa ecosystem online. Visit our website!
Semtech, the Semtech logo, LoRa, and LoRaWAN are registered trademarks or service marks of Semtech Corporation or its affiliates.