Leadership Diversity at Semtech
03 October 2018 / by Semtech Human Resources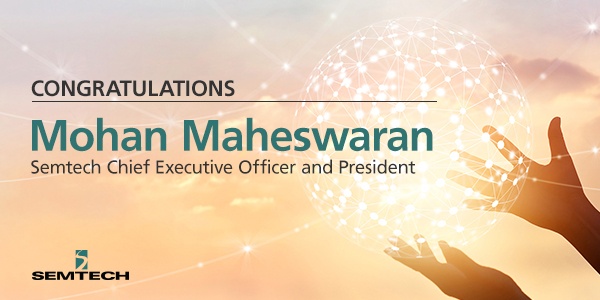 Every year the National Diversity Council honors exceptional leaders who have demonstrated extraordinary achievement in their roles. This year, Mohan Maheswaran, Semtech's President and Chief Executive Officer, received this distinguished honor at the Southern California Diversity and Leadership Conference. The National Diversity Council, a 501c3 organization committed to diversity and inclusion, evaluates award recipients based on excellence in professional leadership, effective and efficient management, and innovation and vision.
Strength in Diversity
Mr. Maheswaran, a Sri Lankan-born American and British citizen who joined Semtech in 2006, has emphasized the value of diverse leadership and workforce. Semtech's 12-person leadership team includes individuals from 10 different countries of origin, representing eight different ethnicities and six different native languages. With over 30 offices worldwide in 15 different countries, the global workforce's diversity mirrors that of its leadership team.
Growth Drivers
In the 2018 annual report to stockholders, Semtech reported its Wireless and Sensing and its Signal Integrity Products Groups both delivered record annual net sales while the Protection Products Group achieved its second consecutive year of strong annual growth, which contributed to fiscal year 2018's strong operating performance. The industry megatrends enabling this growth are the Internet of Things (IoT), Smartphones & Wearables, and Cloud & Data Center markets. Semtech's integrated circuit designs offer industry-leading solutions for each of these markets. The Wireless and Sensing Products Group provides a leading IoT solution for low power wide area networks with its LoRa® devices and wireless radio frequency technology. With over 50 years of industry expertise, the Protection Products Group leads the industry in electrostatic discharge (ESD) protection devices. Semtech's Signal Integrity Products Group, the #1 supplier to the Datacom optical transceiver industry, provides leading Clock & Data Recovery (CDR) with its ClearEdge® platform and Physical Media Devices (PMDs). Learn more about each of Semtech's business units in the video playlist below.

Giving Back to the Community
In addition to his contributions to diversity and leading the business to a strong performance, Mr. Maheswaran has inspired a culture of community within the Semtech organization and communities in which its offices are located. Semtech annually hosts a charity golf tournament at its headquarters location, benefiting local non-profit organizations. In 2018, Semtech honored Interface Children and Family Services, a nationally-recognized non-profit social services agency based in Ventura County, for its community response during and after the Thomas Fire, one of California's largest and most destructive fires in modern history.
Semtech is always seeking talented individuals to join its diverse and growing organization. Learn more about life at Semtech and current career opportunities.
Interested in learning more about Semtech's business? Learn about our technologies on our website.
LoRa is registered trademark of Semtech Corporation.