Newest Cloud IoT Trends from Google Next
02 August 2018 / by Vivek Mohan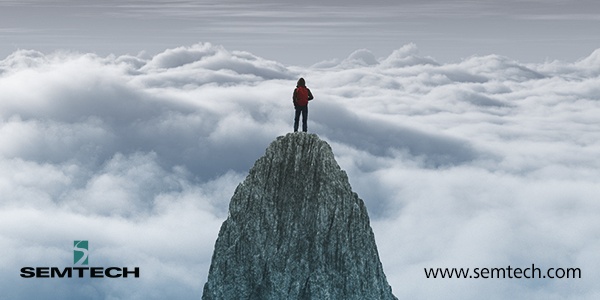 One of the hottest new terms in the technology world is 'Edge Computing.' If you're not familiar with the term, the 'Edge' is simply a device or hub that processes data and makes decisions closer to the end device rather than sending data to the Cloud for a response. This allows for lower latency and in some cases additional security. The Edge device may still send data to the Cloud to improve machine learning (ML) models and artificial intelligence (AI) algorithms, but this may be a subset of data received at the Edge and sent less frequently.
Edge IoT Takes Center Stage
At Google Cloud Next '18, this year's installment of Google's annual Cloud conference, much of the focus was around Edge IoT. It was a sold-out event with roughly 23,000 attendees, conducted over three days in beautiful San Francisco, and I had the privilege of attending and speaking on behalf of Semtech along with LoRa Alliance® members Google Cloud and Objenious. Many sessions at Next were about Cloud and Edge computing and understandably delivered from a Cloud services point of view. Terms such as Containers, Kubernetes, Docker, MQTT, Machine Learning, and Artificial Intelligence were buzz words of the week and it was great to hear from Google's Cloud IoT team about their vision to improve efficiency for enterprises and services for consumers. According to Google, there were a staggering 105 announcements at the event.
It was obvious from what I heard that the promise of machine learning and artificial intelligence relies on massive amounts of data fed into the Cloud from all types of IoT devices. The Edge is an important part of the overall strategy to connect physical things to Cloud services – we saw this reflected in the conference keynotes by Sundar Pichai and Diane Greene, and sessions including a fireside chat with John Hennessy and David Patterson (computer architecture gurus). One thing became clear at the event: to realize the full potential of IoT it is critical that designers of sensor/gateway hardware and Cloud services co-develop end-to-end vertically integrated solutions to keep costs to a minimum and allow shorter, more agile development cycles.
I know there are others like me that get excited with embedded wireless technology and hardware – part of the reason I'm at Semtech working on LoRa® devices and wireless RF technology (LoRa Technology), one of the most innovative radio technologies to have been successfully commercialized for IoT – and it was inspiring to hear from them.
Find tools for LoRa-based developers in Semtech's developer portal:
After attending multiple keynotes and breakout sessions at Next, there were a few other observations that came through consistently for me.
Low Power Wide Area Network (LPWAN) Connectivity is Key
Cloud services are ready to ingest data from millions of IoT devices, but getting the data from many physical things to the Internet remains challenging for enterprises to tackle. Reference designs and demos around Cloud services generally use Wi-Fi and Bluetooth, which are great for short range devices that have access to line power or can be recharged frequently. While these are ubiquitous today in smart home devices such as Amazon Echo, Google Home, Nest, etc., they are simply not optimized for long range, low power sensors that require multi-year battery life – like sensors that would be found on a farm, in factory environments or behind concrete walls and pipes in a building. This means the usual technologies like Wi-Fi and Bluetooth end up being too expensive or over-designed for many types of use cases. LoRa is well on its way to addressing the challenge of extracting data from sensors at a fraction of power and cost of other technologies – making it easier, more cost effective, and more energy efficient to implement IoT solutions.
Watch the Google Next presentation now:
IoT Edge Gateways are an Important Bridge Between Sensors and the Cloud
In order to provide low latency, security and local intelligence for some applications, such as parking structure gates where drivers will not wait minutes for a response from the Cloud, or for enterprises that do not want certain data to leave the premises, Google is investing significant time and effort on AI and ML solutions for Edge devices (e.g. gateways). They announced Edge TPU, a tiny processor IC that can run AI models and ML inference tasks with low power consumption together with a development kit that can run Linux or Android Things and Cloud IoT Edge for faster data processing and ML inferences on Edge devices. Adding LoRa Technology to these Edge devices can potentially open up access to millions of public and private LoRa-based sensors deployed today, many of which may already use Google's Cloud services for long range, low power solutions (new product idea for Edge gateways here!).
Partner Ecosystems and Open Standards Are Critical for Everyone's Success
It was obvious that Google recognizes the value of partner ecosystems that drive open standards and interoperability. We at Semtech agree ― open standards and partner ecosystems, all the way from 'things' to the 'Cloud' in IoT, are critical for driving innovation and alignment, which is why Google Cloud is now a LoRa Alliance member. A few breakout sessions on IoT ROI, for a vineyard in Arizona and track and trace sensors for asset management, showed how LoRa can be used for these LPWAN use cases – and we're looking forward to seeing all the innovative ways that others use LoRa to solve their business challenges.
I'm excited (as I'm sure my colleagues are as well) to work on and contribute in a small way to the many technological advances in the IoT space and look forward to innovation from our fantastic set of partners and customers in the LoRa Alliance. Opportunities to innovate abound from chip-to-Cloud, and the market potential is massive. We are just scratching the surface of what AI and ML can deliver. I believe we have the right mix of complementary connectivity technologies such as LoRa, Wi-Fi, Bluetooth, Cellular, etc. to deliver massive IoT data to the Cloud to drive improved efficiencies in smart metering, supply chain and logistics, smart cities, agriculture, and smart homes and buildings with new insights, use cases and customer stories in each segment.
Finally, congrats to Google's Cloud team and their IoT folks for hosting Google Cloud Next '18 with so many informative sessions for their massive ecosystem, and thanks for inviting Semtech to be a part of it.
Subscribe to Semtech's blog for a monthly digest of news, trends and event recaps like this delivered straight to your inbox.
LoRa and LoRaWAN are registered trademarks of Semtech Corporation.