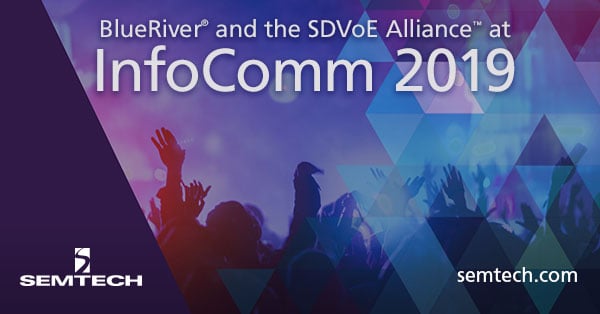 The largest annual professional audiovisual tradeshow in North America, InfoComm, is taking place next week from June 8-14. The AV industry's biggest names will be descending on Orlando to showcase their newest products. Ranking as one of the fastest growing shows for attendance by Trade Show News, InfoComm offers the greatest collection of audio, digital signage and visual products of any tradeshow all under one roof. A crowd of 44,000 attendees from 110 countries will be flocking to InfoComm's 1,000 exhibitions to get a glimpse into the industry's future.
Semtech will be one of those exhibitors, and will be presenting our leading BlueRiver® technology platform for Software Defined Video over Ethernet (SDVoE™) solutions in booth #1143 with fellow members of the SDVoE Alliance™ (more on SDVoE Alliance members below).
SDVoE Networking vs. the Matrix Switch: a One-on-One Demo
The SDVoE Alliance booth will feature a simple one-on-one demonstration of SDVoE technology for Ethernet-based AV networking and a traditional matrix switch design. Each system will consist of four 4K UHD screens displayed in a small video wall, and both walls will be simultaneously controlled by a touch panel. The SDVoE system will utilize a mix of receivers and transmitters from various ecosystem members as part of its network.
Semtech and the SDVoE Alliance invite visitors to observe how BlueRiver-enabled SDVoE networks provide several key advantages over traditional switching, including:
Built-in multiview compositing capabilities without added hardware
Synchronized video wall processing eliminating image tearing and motion jitter
Instant switching for seamless content transitions
Image scaling without typical one- or two-frame latency penalties
A standardized API making it simpler to manage devices via legacy control systems
Multi-vendor interoperability reducing the risk of stranded investment as business needs change
Substantial savings in installation, maintenance, system changes, and expansion cost
Read more about how BlueRiver technology's advantages are disrupting the market and molding the future of Pro AV in this Q&A blog.
Ecosystem Speakers in the SDVoE Alliance Booth
More than 20 different education sessions on SDVoE technology and the future of the Pro AV industry will be held in booth #1143 on Wednesday, Thursday and Friday. Speakers will present relevant topics from the Pro AV world in easily digestible 20-minute sessions.
Semtech will be offering the following presentations:
Helgi Sigurdsson, Sr. Product Manager of Pro AV Products, will present "The Codec Triangle: Why Compromise?" on Wednesday, June 12 at 11:00 AM. "Codec, bandwidth, latency, and quality," we hear these terms so often in the context of AV, but what do they really mean? Helgi will define each, and break down how they interact to determine the picture on your screen.
Kamran Ahmed, Vice President and General Manager of Pro AV Products, will present "IT over AV: a New Concept for Convergence" on Wednesday, June 12 at 12:00 PM. With AV over IP, AV over IT, and IT over AV, it is easy to get confused as to how AV signals and the Internet is utilized in each network format. Kamran's presentation will debunk the myths and discuss the implementation and results of convergence for Pro AV networks.
Gareth Heywood, Sr. Market Manager of Video Products, will present "Why Broadcast Standards Don't Matter to Pro AV" on Wednesday, June 12 at 4:00 PM. Gareth will compare broadcast and Pro AV, and touch on the workflows, video formats, standards, and other factors that define each.
A Growing Ecosystem Takes InfoComm
The SDVoE Alliance will make a strong showing at the conference. Meet the following ecosystem members (in booth #1143 unless otherwise specified):
Not able to attend InfoComm this year? Stay up to date with the latest conference news, announcements and more for Semtech's BlueRiver technology. Follow Semtech Pro AV on LinkedIn and Twitter!
Semtech's BlueRiver technology is transforming the matrix switch by delivering high fidelity and low latency AV solutions. Learn more about our revolutionary platform for SDVoE.
BlueRiver is a registered trademark of Semtech Corporation or its affiliates, and SDVoE is a trademark or service mark of the SDVoE Alliance.