Best of LoRa Technology: 2018 in Review
02 January 2019 / by Vivek Mohan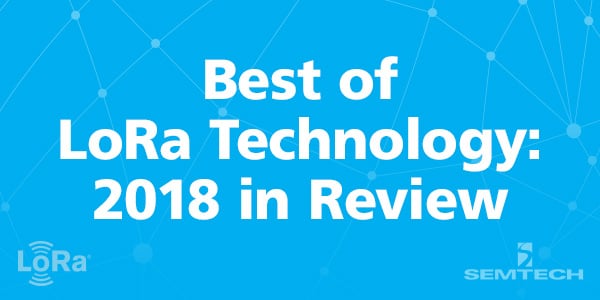 It's been an impressive year as Semtech's LoRa® devices and wireless radio frequency technology (LoRa Technology) made significant strides toward becoming the de facto platform for the Internet of Things (IoT) solutions. According to the LoRa Alliance®, by the end of 2018, LoRa and the LoRaWAN® protocol will be deployed in over 100 countries. In addition, tens of millions of end nodes were deployed, bringing an endless number of use cases in key vertical markets including smart buildings, smart metering, smart agriculture, and smart cities. This past year represented a historic period for LoRa Technology, with several highlights that we believe are worth revisiting.
Next-Gen LoRa Chip Announced
Released in January, the new SX126x family of LoRa products addresses the need for cost-effective and reliable sensor-to-Cloud connectivity in any radio frequency (RF) environment.
LoRa-based IoT Sensors Connect to the Cloud from Space
In February, Semtech announced that Lacuna Space created a LoRaWAN-based network for a series of European Space Agency (ESA) satellites. The application uses a group of orbiting satellites to receive messages from LoRa-enabled sensors on the ground. Lacuna CEO, Rob Spurrett, further explained how it all works, and discussed his experiences at February's The Things Conference in a guest blog.
Google Cloud joins the LoRa Alliance and Semtech presents at Google Cloud Next
In May, the LoRa Alliance reported that Google Cloud had joined as a sponsor member, marking a clear endorsement from Google of the LoRaWAN protocol, and the LoRa Alliance's commitment to interoperability for the future of IoT. Watch my presentation from the event: Deploying Large Scale, Long Range, Low Power Networks with LoRa & Google Cloud IoT.
New nanoSmart® Released to Support LoRa-based Applications
In July, Semtech revealed the addition of a new member of the nanoSmart platform of low power, Low Dropout (LDO) regulators. These unique circuits can enhance LoRa-based IoT technologies by helping devices conserve more power while continuing to function without disrupting radio signal. Semtech nanoSmart LDO regulators can further enhance low power and long battery life for the applications in which LoRa Technology already excels.
New Neo-Iso™ for IoT-capable Alarms
The newest member of the Neo-Iso solid state relay portfolio was introduced in August. This particular product is aimed specifically at enabling LoRa-based IoT-connected devices requiring quick switching and low power.
Cutting Water Waste and Cost with Apana
At Mobile World Congress Americas in September, Semtech shared its collaboration with Apana on a LoRa-based water leakage detection solution. Apana's biggest customer is Costco Wholesale. Costco found that with the Apana's water management solution, each warehouse could reduce its water use 20% and water bills 22% in the process.
Alibaba Cloud Commits to LoRa and Takes to the Skies
In October, Semtech participated in the Alibaba Cloud Computing Conference in Hangzhou, China. At the conference, LoRa Alliance member Alibaba Cloud announced its impressive plan for the IoT, committing to the promotion and popularization to LoRaWAN-based networks and LoRa Technology.
LoRa for GPS-free Geolocation
In late October, at the LoRa Alliance All Members Meeting in Tokyo, Semtech previewed the further development of LoRa Technology for better asset tracking and geolocation services. Specifically, Semtech is broadening access to network-generated location data and providing Cloud services to support the rapid development of location-based solutions for LoRa Technology.
The City of Calgary – Tomorrow's Smart City Today
In November, Semtech shared that the City of Calgary in Alberta, Canada, had deployed a citywide LoRaWAN-based network. The network was developed in tandem between the City and University of Calgary and would make use of TEKTELIC Communications' infrastructure. So far, Calgary has made use of its network in a number of innovative ways.
LoRa Wins Analog Semiconductor of the Year
The new SX126x LoRa Technology ICs introduced in January were named the Analog Semiconductor of the Year at the Elektra Awards on December 5. The Elektra Awards are an annual celebration of the electronics industry's best new products, technological innovations and company performance.
LoRa is the DNA of IoT, enabling devices, networks and applications, and a proven champion for the IoT, creating solutions that are scalable and easy to deploy. We look forward to adding to these LoRa Technology milestones in 2019 and beyond.
From all of us at Semtech, we wish you a happy and healthy new year!
Make a new year's resolution to keep in touch: follow Semtech on social media.
Semtech, the Semtech logo, LoRa, LoRaWAN, and nanoSmart are registered trademarks or service marks, and Neo-Iso is a trademark or service mark, of Semtech Corporation or its affiliates.